Groves: Left hook to win it
George Groves claims he will snatch Carl Froch's IBF and WBA super-middleweight titles on Saturday by stopping him with a left hook.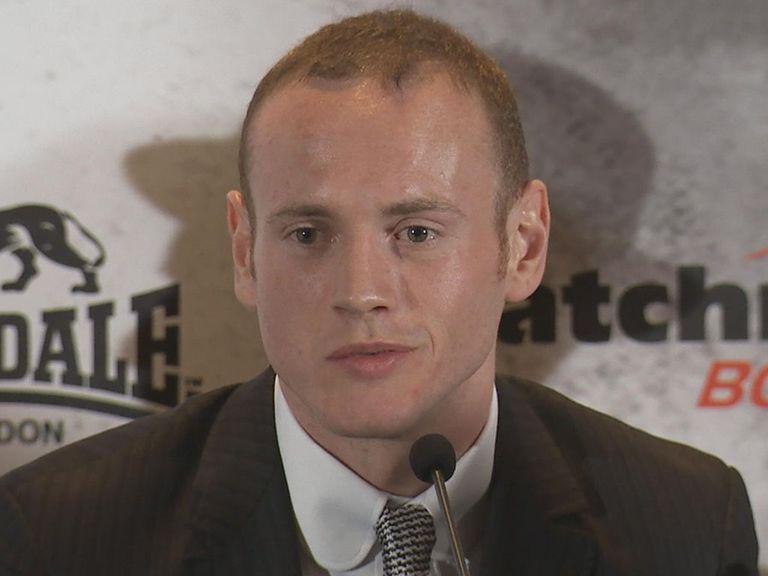 The 26-year-old is planning to ignite the sell-out Wembley crowd by knocking out the champion and gaining revenge for the ninth round stoppage defeat in November which caused such controversy.
Groves famously informed Froch that he was hit him with two early right hands in the first round of their first encounter and lo and behold, sent the Nottingham veteran sprawling to the canvas with a blockbusting right in the very first round.
This time, though, a suited Groves told the final press conference: "Anyone who's watched me and watched the open workouts knows that we've been working on the left hooks, that the left hook will work and the left hook will finish Carl Froch.
"I'm very excited to be here. I think for me we've worked towards perfetion in camp but this couldn't be more perfect. I'm going to become world champion in London in front of so many people.
"What an opportunity and what a time and place to arrive. I thank you all for backing this fight. 56 hours seems a bit too long to me.
"I'm going to go out and perform, looking very good in becoming world champion on the biggest stage. You can be the best but you need people to fight and people to watch. I'm fortunate I'm in that situation.
"No stone's been left unturned. We are fully prepared and I just can't wait."
Groves again poured cold water on the notion he is unable to produce his best work going into the latter stages of fights, adding: "I know I could go 12 rounds. I could've gone 12 the first time but the referee stopped the fight and that's why we're here right now. It's why it's being called Unfinished Business. We're picking up from where it left off.
"I'm going to get better and better with every round. I'm not going to give everything away but round on round, I will get better and it's up to Carl to hang in there. I can got 12 rounds if needs be. It'll be one-sided from the start.
"There have been plenty of questions since the last fight and before it about my ability. You'll see as complete a performance as possible on Saturday night and certainly a lot of people will sit up and take note. I plan to arrive as a legitimate world champion and someone to be feared and chased. I want to be a great ambassador for British boxing on the world stage."
The Hammersmith man's trainer Paddy Fitzpatrick kept his input short and sweet, stating: "Nothing much to say. He's perfectly prepared and he's in a beautiful place and he's looking forward to becoming a world champion."