Khan deserves Mayweather chance
Our Simon Crawford believes Floyd Mayweather should give the public what it wants and fight Briton Amir Khan.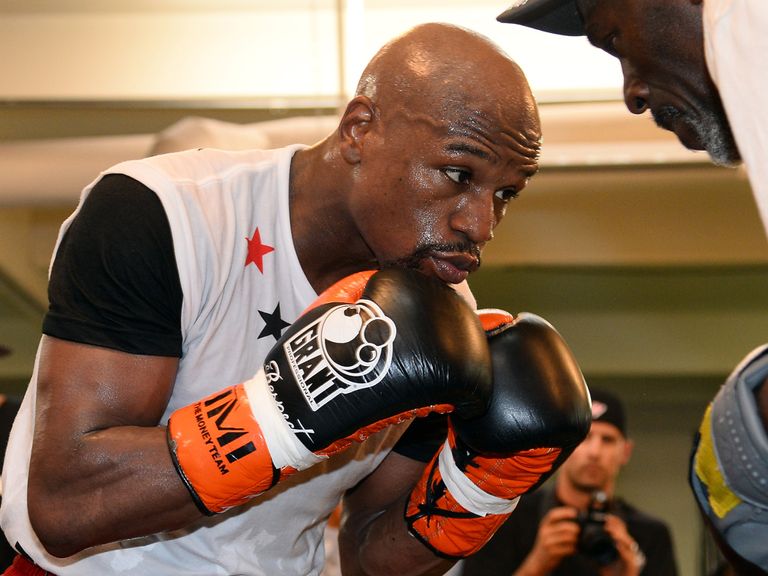 Floyd Mayweather took his professional record to 46-0 with a less than convincing points victory over Marcos Maidana last weekend.
The 37-year-old is coming to the end of what has been a truly glittering career, that has seen him become a five-division world champion and be regarded by many experts as the best pound-for-pound fighter ever to step into the ring.
He has conquered the likes of DeMarcus Corley, Arturo Gatti, Oscar de la Hoya, Shane Mosley and, of course, our own Ricky Hatton and will quite rightly enter boxing's hall of fame when he does finally hang up his gloves.
However, as brilliantly talented as 'The Money' undoubtedly is, there are still going to be questions asked about why he never fought another P4P legend in Manny Pacquiao.
Despite predictions it would be the highest grossing fight in history, annoying disagreements between the two boxers' camps on terms for the fight prevented it from coming to fruition
Like it or not, boxing is an entertainment business and while any figher has the right to say 'no', surely the powers that be also have the right to insist that such a fight does take place for the good of the sport.
An era can count itself fortunate if it has had a Mayweather or a Pacquiao to grace it, but to have them both at the same time is outrageous.
However, it looks as though the boxing public is going to miss out on seeing the two gladiators clash, especially now their best days are behind them.
That, I'm afraid, is nothing short of a boxing tragedy.
Maybe Mayweather is now actually scared of losing that '0' on his record.
He took the unusual step earlier this year of asking his Twitter fans to help him decide whether to fight Maidana or Briton Amir Khan next.
Khan actually won but was overlooked and it was Maidana who Mayweather fought last Saturday evening in Las Vegas, edging to a majority decision after one judge had the fight level at 114-114, the other two scores were 117-111 and 116-112.
On the same bill, Khan showed his class by knocking down rugged southpaw Luis Collazo three times en route to a unanimous decision victory in his first fight in the welterweight division.
Khan insists that he should be Mayweather's next opponent.
"People want to see a fight between me and Floyd," Khan said.
"Floyd hasn't seen speed. He's fighting people with explosive power. But styles make fights and I think my style will give him a lot of trouble.
"Floyd looks beatable. He's getting a little older now and that's why a lot of people want the fight now because they want a young lion to come up and they want to see him get beat. I think the only person who has the chance to do that is me."
It's hard to disagree with him.
However, the bout will definitely not happen in 2014 as Mayweather's next intended fight date in September is too close to the Muslim fasting period of Ramadan for Khan.
But no sooner had Mayweather's win over Maidana been announced than the two combatants began talking about an immediate re-match.
Other than rewarding Maidana's bravery at the weekend, I see little point in that fight taking place.
Mayweather beat him once and he'll do so again.
I'm not saying that Amir Khan is a Manny Pacquiao - he's not in his league and never will be.
But like it or not, he's a big name who draws in the crowds, he's an entertainer and he also beat Maidana back in 2010 so surely deserves his chance on that fact alone.
Mayweather is in danger of damaging his legacy if he starts to avoid legitimate challenges and like him or loathe him, Khan is that.
There is no dispute that Mayweather v Khan would be a massive event on both sides of the Atlantic.
And if the American could be persuaded to come over to the UK, then it would put even the 80,000 crowd at Wembley for the Carl Froch v George Groves rematch at the end of the month in the shade.
Come on Floyd, you are a truly great boxer - so for the good of the sport prove it by accepting Khan's challenge.
---
New Sky Bet customers: Free matched bet up to £30
---