Mayweather, Khan to shine
Our Simon Crawford is predicting wins for Floyd Mayweather and Amir Khan in Las Vegas this weekend.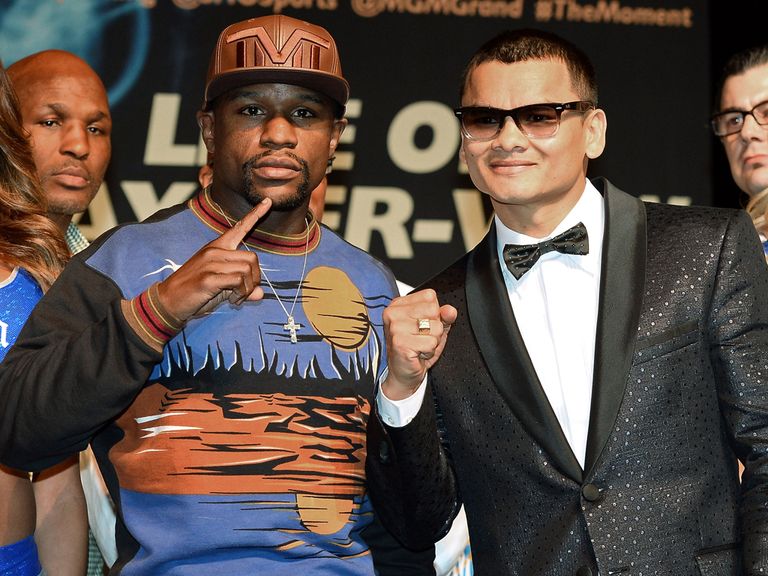 Floyd Mayweather's clash with Marcos Maidana dominates a quality night of boxing in Las Vegas this weekend, with chief support seeing Briton Amir Khan facing a tricky test against the dangerous Luis Collazo.
Mayweather, unbeaten in 45 fights, conducted a poll on his own website as to who his next opponent should be and although Khan won it and fully expected to take on 'The Money' on Saturday night, Maidana was chosen instead.
The chances are that should Mayweather successfully defend his WBC welterweight title and stretch his perfect professional record to 46-0, he will fight the winner of the Khan v Collazo clash so there is plenty at stake for all concerned.
Mayweather is the sport's pound-for-pound king and there are few currently out there with a realistic chance of dethroning him.
Maidana (35-3 31KOs) is the latest in a long line of fighters being touted as the man to finally conquer Mayweather and certainly his stock rose dramatically when he twice floored and emphatically outpointed the previously unbeaten Adrien Broner last December.
He is a hard puncher with an 80 per cent knockout ratio so that will always give him a chance, but has he got the ringcraft to create an opening against an opponent whose defence is so solid?
I think not.
Expect Maidana to start at a fast pace and maybe even win a couple of early rounds on workrate, but once Mayweather has weathered the storm and works out exactly what he is facing then he will take over as he has done so many times in the past.
He will start to pick off Maidana as he comes in and will simply out-work him as fatigue sets in for the Argentinian 30-year-old.
You might even see a late stoppage but my feeling is that Mayweather will be happy to totally nullify Maidana's challenge and romp to a big points win.
Certainly it's a challenge Mayweather is relishing as he said: "I want this guy to bring his best because he could actually be the first guy that makes me dig into my bag of tricks and bring out my A-game.
"So hopefully he makes me pull out my A-game because my whole career I've only had to use a D and C-game to beat every guy. I've never had to use an A-game or B-game so we'll just have to see."
As you would expect, Mayweather starts as a huge favourite with the layers who also see no sign of an upset, with Maidana regarded as a 15/2 chance.
A Mayweather stoppage is 7/4 and 5/1 for it to happen in rounds 10-12.
But my money is on a Mayweather points win and at 8/13 I'm happy to go with that because, quite simply, he WILL win this fight.
Meanwhile, Khan (28-3 19KOs) has it all do against Collazo in what will be the first fight of his career up at welterweight.
The Bolton fighter has not fought since since April of last year, when he had to get up off the canvas to outpoint Julio Diaz in Sheffield.
Collazo (35-5 18KOs) is a fully-fledged welterweight but at 33 appeared to be coming to the end of his career before he breathed new lift back into it by sensationally stopping Victor Ortiz in January.
To add to Khan's worries, the New Yorker is a southpaw who the Brit has struggled against in the past and he also gave Ricky Hatton a very testing night back in 2006 when the Mancunian - at the height of his glory - was taken the distance.
Add to that the fact Collazo can bang and will be physically bigger and stronger, then you immediately think back to Khan's dodgy chin and those horrific KO losses at the hands of Danny Garcia and Breidis Prescott.
So was this a wise move by Khan's camp to take this fight?
Only time will tell but certainly the Briton needs to impress Mayweather and his promoters if he is to be given the chance of facing the P4P king and beating Collazo would at least make them sit up and take notice.
Khan's fast hands will undoubtedly be a weapon that will trouble Collazo, but his hopes could quickly unravel if he allows himself to get drawn into a tear-up - a mistake he has repeatedly made in the past.
He needs to keep the contest at long distance and use fast attacks, before getting back out of range again. We know he has power but will it still be as effective up at 147lbs?
Defeat is not an option for Khan but he will have to be patient, disciplined and even a little cautious to get the win.
I believe he will sit behind his jab and use his ring skills and speed to edge home on points in what is very much a 50/50 match up.
Khan is a strong favourite with the layers at 4/11, with Collazo 9/4.
I'm instead going to dip into the method of victory market and will take the evens money for a Khan win on points.