World stage for Ashley Theophane
The eyes of the entire boxing world will be on Floyd Mayweather's light-middleweight unification fight with Saul Alvarez in Las Vegas on Saturday night.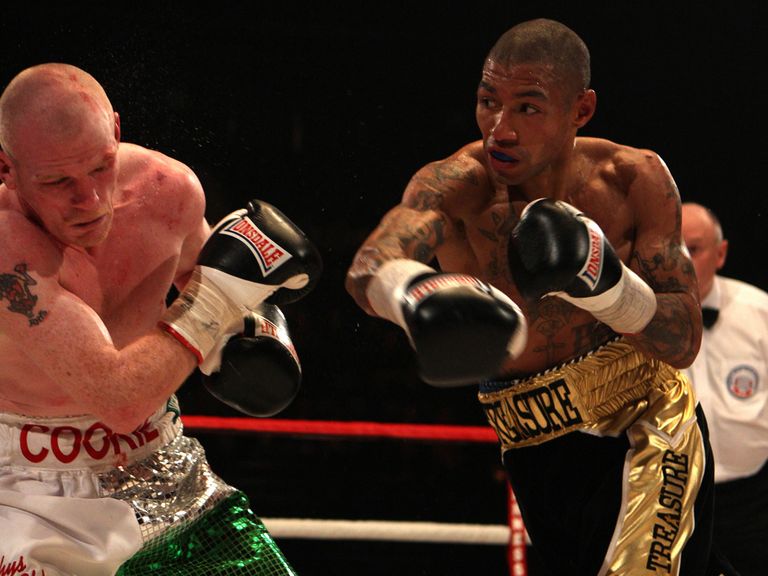 It is predicted to eclipse the 2.44 million record pay-per-view sales and sales of more than $130 million racked up by Mayweather's meeting with Oscar de la Hoya back in 2007.
It thoroughly deserves to be labelled a 'mega-fight'.
But while Mayweather and Alvarez will be the main attractions of what promises to be a glittering show at the MGM Grand, it's also a huge night for London welterweight Ashley Theophane.
The 33-year-old, a former British light-welterweight champion, has been handed a lucrative place on the pay-per-view portion of the bill after recently signing a three-year deal with Mayweather Promotions.
Theophane impressed the American superstar last year during Mayweather's training camp for his fight against Miguel Cotto.
The Brit, training in New York, decided to go to Las Vegas for two weeks and was allowed to work at Mayweather's gym where he was one of the world champion's sparring partners.
Now Theophane finds himself on the biggest stage of them all.
"It's a mega event and to be from Britain and be opening the show is a very big honour," Theophane told sportinglife.com
"I know a win will bring me a world title shot. It's a life-changing opportunity and a career-defining fight."
"To be part of Mayweather promotions is huge for me - look at the chance they have given me.
"I went to a couple of Floyd's training camps (Cotto and Robert Guerrero) and he was great. I had a decent reputation in the States and Floyd wanted to get to know me and was very interested in my career.
"Then I got to spar with Floyd and it was just step-by-step - I just kept working hard which is what I've done my whole career.
"I think I showed I was a good boxer and then the rest is history. I signed up with Mayweather Promotions to take it to the next level."
Known as the 'Treasure', Theophane (33-5-1 10KOs) has been handed a tricky assignment against 23-year-old Mexican Pablo Cano who has 20 knockouts from his 26 victories in the paid ranks.
But Theophane is already looking beyond Cano and insists that he can still conquer the world at 33.
"Only people in the media mention a sportsman's age but they don't know how things work," said Theophane.
"Look at Shane Mosley and Bernard Hopkins ... look how old they are. Floyd is older than me and he's a world champion. What about David Beckham. He was older than me and still playing football at the highest level.
"I signed with Mayweather Promotions to become a world champion and I need to prove now that I'm good enough. If I don't win this fight then the dream is over - it's as simple as that."
Ashley Theophane
"I'm super fit and I've not had many hard fights. I've been a pro 10 years and I still feel like I'm young in the game so age is no issue in my eyes. I eat well - I don't drink, I don't smoke.
"Cano is a good fighter - but I've beaten better. I've beaten Delvin Rodriguez and DeMarcus Corley and dropped a split decision to current world champion Danny Garcia, who knocked out Amir Khan.
"Yes, he's been in with some big names (Erik Morales, Paulie Malignaggi and Shane Mosley) but he's lost to those big names.
"Although he gave a good account of himself he still came up short so it's a fight I do expect to win.
"I've been preparing with the best in the world so I'm full of confidence and raring to go. I signed with Mayweather Promotions to become a world champion and I need to prove now that I'm good enough. If I don't win this fight then the dream is over - it's as simple as that.
"But I feel there is no limit to what I can achieve with Mayweather Promotions behind me - and they believe I can be a world champion in 12 months."
So what is like to share a ring with man widely regarded as one of the best pound-for-pound fighters the sport has ever seen?
"Well first of all it's a dream come true - it's amazing for me because I'm sparring with the best in the world," said Theophane.
"I had always watched Floyd's fights so to get to know him and train with him is brilliant for me.
"Believe me he's as good in the ring as you'd think! He's super-fast, smart, elusive, skilful and technically superb.
"But the thing that has impressed me the most is how hard he works. I think that's what gives the top sportsmen the edge over the rest and it made me realise that I also had to step my own game up.
"I can only see a Mayweather victory on Saturday - he will have too much for Alvarez and it will just be a case of how he wants to get the job done."
* Mayweather vs Alvarez is live and exclusive on BoxNation (Sky Ch. 437/Virgin Ch. 546) on Saturday 14th September. To subscribe visit www.boxnation.com
---
Sky Bet Free Bet Club: £10 free bet - £5 free every week
---