Khan sights set on Mayweather
Amir Khan insists his best is still to come as he sets his sights on a blockbuster showdown with Floyd Mayweather Jr next year.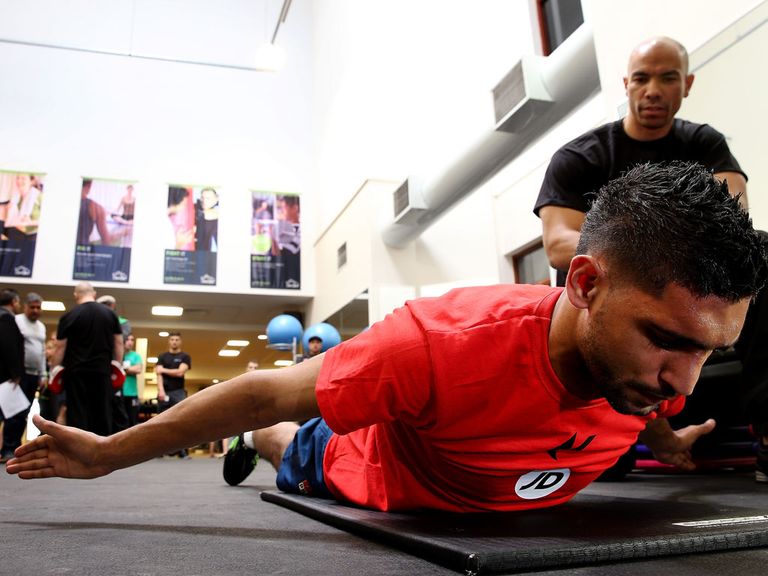 The 26-year-old Bolton fighter (27-3 19KOs) is looking to impress when he faces the vastly experienced Julio Diaz in Sheffield on Saturday night at a non-championship weight of 143lbs - his first fight on home soil since he beat Paul McCloskey in April 2011.
Olympic silver-medallist Khan suffered back-to-back defeats against Lamont Peterson and Danny Garcia on American soil, before defeating Carlos Molina in December and knows he cannot afford any slip ups against two-time former IBF lightweight champion Diaz (40-7-1 29KOs).
The British light-welterweight would like to avenge the defeats he suffered to Peterson and Garcia, before moving up to 147lbs and a potential fight with eight-time world champion Mayweather Jr.
"I can't afford to look past the Garcia fight because he's going to be a very tough opponent," Khan told sportinglife.com.
"However, I am getting bigger as I get older and I'm looking to move up to 147lbs where there are some huge fights - and nothing bigger than Mayweather.
"Time is on my side. People forget I'm only 26 and I know I haven't reached my peak yet. It's all about taking the right fights at the right time.
"I'd like to fight Peterson and Garcia again as I'd like to leave the 140lbs division as a world champion. Then it's Mayweather at 147 and I'm confident I can bring the titles home."
It will be a rare chance for British fight fans to see Khan in action at the weekend, now he spends most of his time in the United States.
"It's always nice to fight on home soil - it's been over two years and I'd like to put on a big performance for my fans," said Khan.
"There will be extra pressure on me being at home, but to be honest there is pressure all the time to deliver. I know I have to win and I have to win well.
"My training camp has been superb in the States - it's been very hard but I feel great.
"It's only the second one I've had with my new trainer Virgil Hunter but I feel we are both getting to know each other now and I'm learning so much from him."
It's going to be a special night for the Khan family with Amir's younger brother, -year-old Haroon, set to make his professional debut on the same bill at super-flyweight against Bulgarian Stefan Slavchev.
"It's going to be amazing that the two of us are fighting on the same bill," added Amir. "We did it a couple of times as amateurs, but to be honest I didn't think it would ever happen with both of us being pros.
"We get on really well and we drive each other on. Hopefully I'll be able to watch Haroon's fight in the changing rooms, but if it's early I might be ringside.
"I think he'll be fine to be honest. He's been training hard and I'm very confident in him. At the weight he's at I don't think there are many fighters with his skill or ability.
'He's been pushing himself. I can give him advice here and there but I don't have to because he's doing everything well.
"It's going to be a big night for both of us ... but the big dream is for both of us to be on the same bill fighting for world titles."
* Tickets for Amir Kahn's fight on Saturday fight can be purchased from www.motorpointarenasheffield.co.uk or by calling 0114 256 5656.
---
Click here for completely free £10 bet with Sky Bet
---