Mal Boyle's Placepot analysis
Each day Malcolm Boyle, the author of 'How To Win at the Tote Placepot' and a former odds compiler, will give his unique analysis of the feature meeting from a Placepot perspective.
Newmarket. Click here to bet.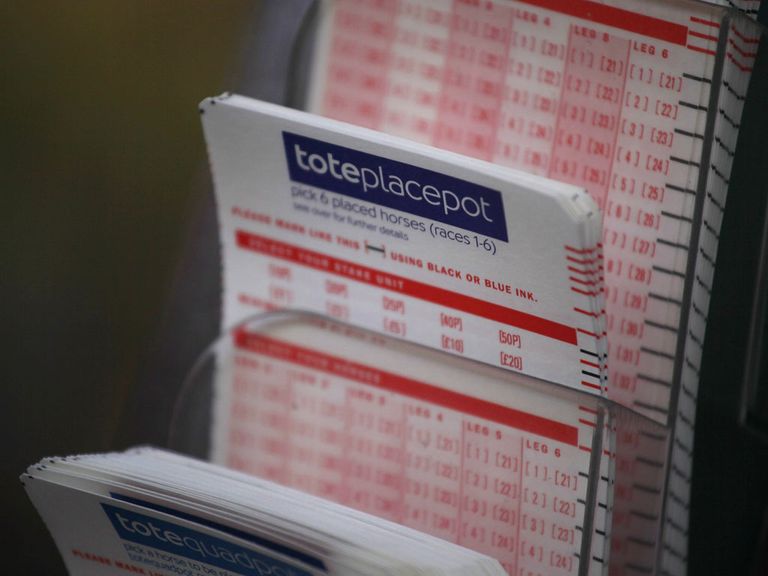 His general preview for the following day's racing will appear at around 1700 BST the day before with the actual selections available around two hours before the first race on the day of racing so factors such as non-runners and going conditions can properly be taken into account.
NEWMARKET - APRIL 16
Recent toteplacepot dividends pertaining to this meeting:
2013: £381.30
2012: £5,470.80
2011: £25.00
2010: £186.70
2009: £19.70
2008: £17.00
2007: £92.60
2002-2006 (three day meeting average): £363.75

Average toteplacepot dividend at this meeting (12 years) £667.68

Average toteplacepot dividend at Newmarket (Rowley Mile) in 2006: £304.23 (18 meetings)-in 2007: £283.77 (18 meetings)--in 2008: £958.04 (19 meetings)--in 2009: £424.66 (19 meetings--Rowley Mile)--in 2010: £751.85 (19 meetings--Rowley Mile)--in 2011: £424.11 (18 meetings--Rowley Mile)--in 2012: £495.42 (16 meetings--Rowley Mile)--in 2013: £232.34 (17 meetings--Rowley Mile)
1.45 Seven of the 10 horses that John Gosden saddled at Newbury at the weekend won and though the trainer suffered a couple of reversals at Windsor on Monday, it would come as no surprise if PROVIDENT SPIRIT won the opening race at Newmarket this year. There was little to discourage potential investors given his debut effort though that said, John only won with two of his 12 runners on the Rowley Mile last year before Newmarket's July course took centre stage until September. The other experienced runners in the field failed to pull up any trees between them as juveniles whereby I will take Roger Varian's pair of newcomers as the potential 'spoilers' on this occasion, namely EMIRATI SPIRIT and DYNAMIC VISION.
'Favourite factor': Four of the 15 favourites have won via the last 13 renewals, whilst 10 market leaders finished in the frame. That said, the shortest priced favourite finished unplaced at odds of 1/2. 10 of the last 12 winners have scored at odds of 8/1 or less.
2.20 Favourites come to this year's gig on a seven-timer, whilst this race has proved to be a positive pointer towards Royal Ascot in recent years. The 2009 winner (Art Connoisseur) went to win the Coventry Stakes whilst Gilded set the standard by landing the 'Queen Mary' having won this contest eight years ago. Spirit Of Sharjah (2007) finished third in the Norfolk Stakes before running second in the 'Flying Childers' later in the season. The 2011 winner Jack Who's He was 'only' beaten six and a quarter lengths in the 'Coventry' when sent off a no hoper at odds of 50/1. The 2012 winner won on the continent later in the season, before last year's gold medallist (Vodka Time) let the side down by failing to add to his victory in this contest. Richard Hannon only saddled a silver medallist since securing his fifth success in the race between 2004 and 2010 and 'Team Hannon' look to have a good chance of extending their good run with FLYBALL, who followed up his third placed effort in the 'Brocklesby' be scoring at Leicester on his next assignment. That said on a line through Doncaster runner up Paddy Again, Bill Turner should know where he stands with Flyball via his Southwell winner ABSCENT FRIENDS. Charlie Appleby's Shamardal newcomer PORTAMENTO could prove to be the pick of the debutants on this occasion. Related to a dual winner, Charlie's March foal will give the trainer a good marker for the 'juvenile spring season' I'll wager.
'Favourite factor': 10 favourites have prevailed during the last 16 years, whilst 13 market leaders claimed toteplacepot positions during the period. 14 of the 16 gold medallists were returned at odds of 5/1 or less, the other winners having both scored at 10/1.
2.55 Course and distance winners TOOFI and WEDDING RING appear to be 'well in' here according to official ratings and drawn in stalls seven and 13 respectively, you could do worse than to trust this pair given that at least one of them should not be inconvenienced if a bias emerges via the stall positions. The ground should offer no excuses for either horse from what we have witnessed of their efforts in the past, whilst others for the overnight mix include BON VOYAGE and HATHA HOOH. The first named raider hails from Richard Hannon's yard and 'dad' saddled more winners (five in total) than any other trainer in April/May on the Rowley Mile last year.
'Favourite factor': Two of the four favourites have finished in the frame via three renewals, statistics which include one (100/30**) successful market leader.
'Draw factor' (six furlongs):
3-15-4 (15 ran-good)
10-3-7 (10 ran-good to firm)
1-9-11 (13 ran-good)
3.30 The European Free Handicap always brings to mind the excellence of Pat Eddery who won this race five times during the course of an eight year period for five different trainers between 1989 and 1996! Pat equalled Lester Piggott's haul of eleven championship titles, having won this race eight times during his career. Upwards and onwards to the present now, especially as we look set fair for a fine renewal of this event, with five of the six contenders having won on their debuts last year whereby we could presume that they are not 'stuffy' types who need an outing or two bring them to their peak. PARBOLD lost little (if anything) is his defeat in the 'Gimcrack' at the end of last season and with Richard Fahey having secured this prize twelve months ago with Garswood, the trainer will have primed the Dandy Man colt for this assignment, especially when taking into account how many of Richard's inmates could have contested the event. SHIFTING POWER is (jointly) the least exposed horse in the field coming to the gig in his quest of landing a hat trick to maintain his 100% record. MUSHIR boasts similar successful form lines, albeit via much short winning distances thus far.
'Favourite factor': Four of the last eight favourites have prevailed, whilst 10 of the last 16 market leaders have snared toteplacepot positions, statistics which include five winners. All 16 winners during the study period were returned at odds of 9/1 or less.
4.05 John Gosden is the only represented trainer to have saddled two winners of this event during the last decade whilst Valentine Waltz also scored for the trainer back in 1999. John saddles DOROTHY B this time around and the Fastnet Rock filly looks ideally placed to figure prominently, having been given four outings to make her experienced enough for a battle without being over exposed at this stage of her career. I liked the way that MAJEYDA came back to win a soft ground race here on the Rowley Mile on her last assignment having been a dual good going winner earlier in the season, whilst ALONG AGAIN was not out of her depth in Group 3 company at Ascot on her third and final start in 2013. Sir Michael Stoute (ALONG AGAIN) has waited 14 years for another gold medallist since Petrushka became his third winner of the race at the turn of the Millennium. Only one winner of this event in recent times (Speciosa in 2006) has gone on to win the 1000 Guineas after landing this event.
'Favourite factor': Five favourites have won this trial for the 1,000 Guineas in recent times, whilst nine market leaders have claimed toteplacepot positions during the 16 year study period.
4.40 Mark Johnston has won four of the last 10 renewals, which does not take into account the fact that the trainer was not represented in three of the relevant contests! Mark saddles his Dynaformer colt SOMEWHAT who should bounce off the drying conditions on the heath on Wednesday. The only penalised winner in the line up for a Listed victory, the official figures suggest that the top weight should still be in there pitching by the time the 10 runners reach the distance. Connections might have most to fear from BARLEY MOW and MASTER THE WORLD on this occasion. BARLOW MOW hails from Richard Hannon's yard as does TRUTH OF DARE down the bottom of the list. MASTER THE WORLD represents trainer David Elsworth won with three of his five runners at Newmarket last year before racing switched to the July course for the duration of the summer.
'Favourite factor': Eight of the 17 favourites have secured toteplacepot positions in the last 14 years, statistics which include four winners. The last eight winners have scored at a top price of 8/1 in the toteplacepot finale.
BEVERLEY:
Recent toteplacepot dividends pertaining to this meeting:
2013: £25.50
2012: £5,527.30

Average toteplacepot dividend at this meeting (2 years) £2,776.40

Average toteplacepot dividend at Beverley in 2006: £388.92 (18 meetings)-in 2007: £214.08 (20 meetings)--in 2008: £369.81 (20 meetings)--in 2009: £230.90 (19 meetings)--in 2010: £303.41 (20 meetings)--in 2011: £696.40 (20 meetings)--in 2012: £950.62 (16 meetings)--in 2013: £242.33 (20 meetings)
CHELTENHAM:
Recent toteplacepot dividends pertaining to this meeting:
2013: £3,944.60
2012: £216.50
2011: £19.30
2010: £2,453.70
2009: £238.20
2008: £180.60
2002-2007 (two day average meeting--3 days from 2007): £288.85

Average toteplacepot dividend at this meeting (12 years) £622.13

Average toteplacepot dividend at Cheltenham in 2006: £719.95 (17 meetings)-in 2007: £987.65 (16 meetings)--in 2008: £1,023.31 (15 meetings)--in 2009: £605.91 (17 meetings)--in 2010: £2,973.71 (17 meetings)--in 2011: £500.75 (16 meetings)--in 2012: £261.38 (16 meetings)--in 2013: £492.54 (14 meetings)
SEDGEFIELD:

Average toteplacepot dividend at Sedgefield in 2006: £172.23 (19 meetings)-in 2007: £454.76 (17 meetings)--in 2008: £252.16 (17 meetings)--in 2009: £130.56 (15 meetings)--in 2010: £113.39 (15 meetings)--in 2011: £158.33 (20 meetings)--in 2012: £135.19 (15 meetings)--2013: £413.86 (15 meetings)--in 2013: £413.86 (15 meetings)
SOUTHWELL (NH):

Average toteplacepot dividend at Southwell (flat) in 2008: £249.22 (79 meetings in total--NH & flat)--in 2009: £1,165.40 (15 NH meetings)--in 2010: £228.11 (11 NH meetings)--in 2011: £114.77 (13 NH meetings)--in 2012: £612.54 (14 NH meetings)--in 2013: £260.02 (18 meetings)
2014 average toteplacepot returns thus far (336 meetings):

Favourites failing to reach the frame in all six races: £44,616.30 (1)

1 race with at least one favourite in the frame: £612.25 (4)

2 races with at least one favourite in the frame: £1,555.79 (33)

3 races with at least one favourite in the frame: £460.44 (90)

4 races with at least one favourite in the frame: £227.00 (98)

5 races with at least one favourite in the frame: £57.08 (75)

All 6 Placepot races with at least one favourite in the frame: £14.73 (35)

All references to placed horses on these pages are based on an exact science regarding general place terms offered by bookmakers & totepool.com
Biggest toteplacepot dividends in 2014:

Cheltenham--£44,616.30--Friday March 14

Pontefract--£26,272.90--Tuesday April 8

Warwick (NH)--£6,946.60--Sunday March 9

Wolverhampton--£5,122.30--Friday April 11

Southwell (NH)--£4,820.20--Thursday January 22

Stratford--£2,571.90--Saturday March 22

Lingfield (A/W)--£2,320.10--Saturday March 22

Catterick (NH)--£2,105.50--Wednesday January 1

Doncaster (Flat)--£2,002.40--Sunday March 30

Leicester (NH)--£1,653.50--Friday March 7

Ayr (NH)--£1,578.50--Friday April 11

Lingfield (A/W)--£1,469.90--Wednesday March 5

Haydock (NH) -£1,448.60--Saturday February 15

Wolverhampton--£1,416.10--Saturday February 8

Windsor--£1,222.00--Monday April 7

Cheltenham--£1,147.10--Wednesday January 1

Carlisle--£1,115.40--Sunday March 16

Wincanton--£1,047.20--Thursday March 6

Newcastle (NH)--£1,043.10--Saturday January 4

Taunton--£1,033.60--Monday March 10
Flat Turf venues:

Total Flat Turf meetings (£2,273.92--14 meetings)

Doncaster (£1,036.70--2 meetings)

Catterick (£28.50--1 meeting)

Leicester (£306.10--1 meeting)

Newbury (£344.50--2 meetings)

Newcastle (£354.90--1 meeting)

Nottingham (£18.20--1 meeting)

Pontefract (£13,144.30--2 meetings)

Redcar (£15.70--1 meeting)

Thirsk (£787.90--1 meeting)

Windsor (£636.35--2 meetings)
A/W venues:

Total A/W meetings (£215.65--142 meetings)

Kempton (£132.38--30 meetings)

Kempton NH Bumper (£134.05--2 meetings)

Lingfield (£215.92--37 meetings)

Lingfield NH Bumper (£27.70--1 meeting)

Southwell (£177.91--28 meetings)

Southwell NH Bumper (£17.00--1 meeting)

Wolverhampton (£274.14--43 meetings)
N/H venues:

Total NH meetings (£580.62--180 meetings)

Aintree (£676.70--3 meetings)

Ascot (£144.23--3 meetings)

Ayr (£360.01--8 meetings)

Bangor (£271.67--3 meetings)

Carlisle (£247.32--4 meetings)

Catterick (£375.36--7 meetings)

Cheltenham (£7,890.71--6 meetings)

Chepstow (£240.40--5 meetings)

Doncaster (£290.41--7 meetings)

Exeter (£424.64--5 meetings)

Fakenham (£137.80--4 meetings)

Ffos Las (£340.25--4 meetings)

Fontwell (£195.89--4 meetings)

Haydock (£661.47--3 meetings)

Hexham (£472.80--3 meetings)

Huntingdon (£153.00--6 meetings)

Kelso (£310.15--4 meetings)

Kempton (£164.40--4 meetings)

Leicester (£382.19--5 meetings)

Ludlow (£69.70--6 meetings)

Market Rasen (£118.86--6 meetings)

Musselburgh (£372.37--6 meetings)

Newbury (£209.60--6 meetings)

Newcastle (£454.85--6 meetings)

Newton Abbot (£217.30--1 meeting)

Plumpton (£146.32--5 meetings)

Sandown (£119.00--3 meetings)

Southwell (£1,017.46--5 meetings)

Sedgefield (£258.00--7 meetings)

Stratford (£690.25--4 meetings)

Taunton (£161.20--8 meetings)

Towcester (£148.68--5 meetings)

Uttoxeter (£336.85--2 meetings)

Warwick (£1,287.67--6 meetings)

Wetherby (£93.64--7 meetings)

Wincanton (£187.78--8 meetings)

The average toteplacepot dividend in 2014 stands at £500.73 (336 meetings) up to and including Monday April 14
---
New Sky Bet customers: Free matched bet up to £30
---