Luisa set for big break
Chris Hammer looks ahead to tonight's final of Celebrity Big Brother and thinks Luisa Zissman could well run hot favourite Jim Davidson close.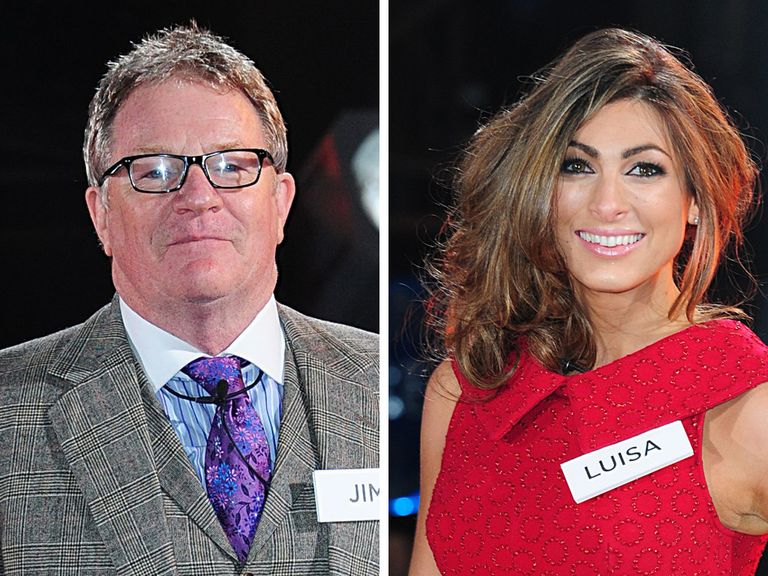 For those of us who have invested too much time (and money) watching Celebrity Big Brother over the years, there can be little doubt that the current series will rank among the most entertaining.
That's probably more damning about previous editions than anything else but nevertheless, the antics and arguments of Jim Davidson and co have certainly boosted all their chances of being upgraded from Z list to somewhere closer towards the lower mid-table area of the alphabet.
Now 'just' six remaining housemates are desperately, albeit secretly in some cases, hoping to be crowned the winner in Wednesday night's grand final although the odds suggest Jim Davidson can't be stopped.
Jim came in to the house as a 20/1 outsider but despite continually being branded as sexist and chauvinistic by some of his housemates - predominantly Linda Nolan and Luisa Zissman - the public and punters warmed to him pretty quickly and has been favourite for around two weeks now.
His short odds were initially justified during the eviction show in which Lionel Blair was booted out on day 15, as we were all given a strong indication of which celebrities were polling best in the public vote.
Big Brother host Emma Willis effectively revealed that either Jim Davison or Sam Faiers had topped the 'vote to save' poll, meaning they had avoided elimination before the lines were re-opened, while the next two celebrities saved - in 'no particular order' - were Dappy and Ollie Locke.
Of the remaining four in the running for the chop, Lionel sadly left the house as Luisa, Liz and Lee lived to argue another day and although Casey and Linda were not involved in this particular vote, the results were still somewhat valid considering the latter two were not expected to win.
Jim subsequently survived the next three eviction votes and once again it was revealed during the night of Linda's exit this past Friday night - in which five were up for the chop - that the former Big Break presenter polled in the top two, this time alongside Ollie.
It was obviously significant that his arch rival Linda, who had seemingly made it her mission to blame him for everything, finished bottom of the vote which surely proves that the vast majority of those who watch the show and vote vehemently disagreed with her prevalent and vindictive accusations. There was no 'Team Linda' out there.
This also answered Luisa previous question earlier that week during the peak of their feuding, when she pondered why a man repeatedly branded chauvinistic gets the most votes if the majority of viewers for these types of reality shows tend to be women.
Since Linda's departure, there has been a more harmonious atmosphere in the house and even Luisa admitted she had probably got Jim wrong by unfairly branding him sexist due to the influence of the Nolan sister.
Even the mothers of both Casey and Luisa praised Jim during their 'surprise' visits into the house over the past few days, which no doubt would have helped his cause in regards to the female vote.
Nevertheless, it still seems rather unusual for a Big Brother housemate who has received as many as 22 nominations to not only come out of a series as Mr Nice Guy but also the champion!
American double act Spencer and Heidi were the pantomime villains this time last year with a whopping 18 nominations and although this undoubtedly meant viewers wanted them in the house as long as possible, ultimately it was the popular Rylan Clark who triumphed.
I suppose the main difference here is that the viewers have actually found Jim funny and enjoyed rooting for him during his aforementioned exchanges with Luisa and Linda, who didn't even get much sympathy from the public over Frank Carson's dressing room-gate.
So who are his main contenders?
Dappy, who has been a close ally of Jim throughout the series, is currently second favourite but his odds of around 6/1 highlight just how this appears to be a race to second place.
Even if you'd only watched 10 minutes of this series, you'd still be aware of the 'big' talking point surrounding the N-Dubz rapper such is the amount it's been discussed by both himself and his fellow housemates, but apart from that he's contributed to the fun-filled antics as well as the arguments which ultimately gives him an outside chance of claiming a surprise win.
His large fanbase - relatively speaking - also gives him an edge but that has yet to put him ahead of Jim during the previous eviction vote when the top two have been revealed.
Long-time favourite Ollie is hard to dislike and, as previously mentioned, polled highly in previous eviction votes despite not really adding too much flair to the goings on in the house.
He eventually got involved in an argument with Luisa last week after giving a speech about why he had so far dodged heated debates and sat on the fence.
However, his odds have steadily drifted to around 12/1 heading towards the final and perhaps it's only his large Twitter following of over 500,000 which means he's realistically got to stay in contention in the bookies' eyes.
Next in the betting is former Apprentice runner-up Luisa, who can be backed at around the 20/1 having taken the role of the marmite character this series.
She'll undoubtedly have the vote of those women who do think Jim is sexist in the bag, which doesn't seem to be too plentiful to be honest, but nobody can deny she's been one of the most memorable housemates and regularly contributed to most of the plot lines.
She managed to do the seemingly impossible and get Ollie in an argument, which didn't look good on her part, while the bitter exchanges with Jim were close to the bone to say the least.
However, the ice woman melted somewhat and crucially showed she did have a heart when admitting to Jim she'd perhaps been overly influenced by Linda. The pair have now made up after several heart to hearts and the viewers will always warm to a housemate who honestly realises the errors of their ways.
In Tuesday's highlights show, Luisa told Big Brother she was surprised the public had kept her in this far considering how 'annoying' and 'outspoken' she knows she can be - but it's these characteristics which have effectively kept the viewers entertained throughout the series while her humorous side has also started to shine through more over this past week.
Having researched a number of various Celebrity Big Brother forums and polls, Luisa appears to have a strong chance of snatching the runners-up position and she might therefore offer a little value this evening.
Meanwhile the betting suggests Sam, who was one of the pre-show favourites, is well out of contention having spent the entire series avoiding confrontation and doing nothing to make anyone laugh. As Jim once said, if she'd left the house, nobody would have noticed.
Her reluctance to give Ollie more than a glimmer of hope that they may one day get together failed to inject any spark or intrigue into the only storyline she had in her armoury, so her only hope of victory is the strength of the TOWIE fanbase. However, that factor has been overestimated in the past when Joey Essex didn't even make the top three in I'm A Celebrity despite being hot favourite to win.
Casey's love triangle with Lee Ryan and Jasmine Waltz certainly hooked the show's fans but to say none of them have come out of it well is a gross understatement so it's no surprise to see her heading the market to finish sixth.
So, overall, it is very difficult to see past Jim considering his gigantic wave of support and unless you had the foresight to back him at decent prices earlier in the series, there's obviously little point doing so now at odds as short as 1/6.
Most punters will therefore assume he wins and look at other markets to inject an extra bit of excitement into the evening and for my reasons given above I'd certainly suggest putting Jim and Luisa together in a dual forecast which is a generous 5/1 at Sky Bet.
Shocks do happen in reality TV - like with Joey Essex's I'm A Celebrity elimination - and I just think it could also be worth a very small stake on Luisa at 281.
Posted at 0930 GMT on 29/01/2014.