Shiv can surprise in Dubai
David John takes India's Shiv Kapur to make an impact at a whopping 300/1 in this week's Omega Dubai Desert Classic.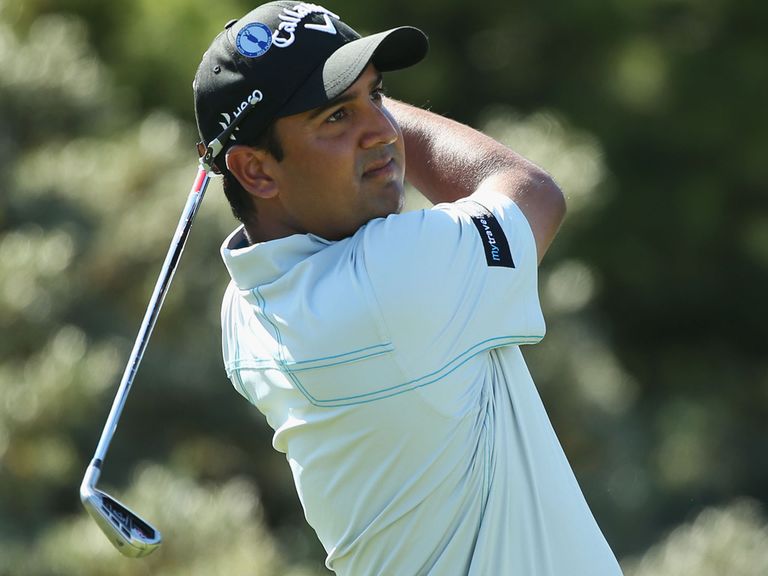 This week it's the 25th anniversary of the Omega Dubai Desert Classic as the Middle East swing reaches a conclusion at the Emirates Golf Course.
There are all sorts of celebrations taking place this week including a Champions Challenge on Tuesday (US$300,000 to the winner) and a $2.5million prize for anyone who can make a hole-in-one on the driveable par-four 17th hole. Feasibly, there is the potential for someone to win over $3million this week if making the right move at the right time.
Let's dive straight in at the top of the market then and look at what we can expect from Tiger Woods.
He has played this event six times since 2001 and along with Ernie Els, is the only multiple winner. But having watched him hack round for the majority of the 54 holes he was involved in at Torrey Pines - one of his favourite courses - surely the world number one can't be a factor at 11/2.
He was spraying it all over the property in La Jolla as coach Sean Foley attempted to stick a band aid on the problem mid-tournament with Woods apparently having too much weight on his heels.
So there is clearly a technical issue at the moment, his scoring on the par-fives was rubbish and the 79 he fired on Saturday to finally end the agony was frankly embarrassing.
It was no surprise to see him decline any interviews all week and you could put the performance down to it being his comeback after a six-week break.
But the counter argument is that Woods does not turn up anywhere unprepared and he will have put the graft in without question.
Before we consign him to history completely, you can be sure he won't sit idly around hoping for some magical solution this week so I am convinced he and Foley will be analysing intently how to move forward.
The bottom line for me though is that it is just too much of a stretch at the price to go from last week's performance to winning here.
I am going to put up my wildcard pick first this week and that is India's Shiv Kapur.
Kapur has been around for quite some time now and seemed to drop off the radar for a little while after a reasonably successful seven-year European Tour career, but 2013 saw him regain his confidence with two victories via the Challenge Tour.
The reason I like him this week was the second of those successes came here in Dubai at the Challenge Tour Grand Final at the nearby Al Badia Golf Club (almost an identical length to the Emirates) where he beat Jose-Felipe Lima by four shots.
Coming back to Dubai I can only assume will be a positive mental boost for Kapur while his form since regaining his full status thanks to that effort has been eye-catching too with a best of T12 in Hong Kong prior to Christmas.
He has a couple of pleasing recent displays as well in 2014 in the two events in the deserts of Abu Dhabi and Qatar so there seems no obvious reason to assume that his game should not be in the groove.
"I have learnt a lot about my game and I see know reason why I can't translate those victories to the European Tour," he said and is not out of place in terms of challenging here - he played a blinder in the PGA Tour's CIMB Classic in Malaysia last October to finish T16 having been four over after his first five holes.
Kapur has played here five times with a best of T25 back in 2008 but his new bright outlook gives me a deal of hope that he can really outplay those three-figure odds.
Back to the top of the betting and 4/1 was the price that I put on Rory McIlroy this week and although those odds were fleetingly available, he is 7/2 to add to the title he claimed here back in 2009 as a teenager.
McIlroy described Dubai as his "home from homes" and has a great affinity with the place and I am sure the debate will rage on about whether he should have already won following his close second in Abu Dhabi.
But the majestic ball-striking looked back in place, four top-eights from five starts on the European Tour and a win in Australia plus course form of 1-6-10-5 will make him a tempting and straightforward option this week for a lot of punters.
I don't think I could reasonably argue putting people off having a saver on him but I am optimistic about a good run from Jamie Donaldson as an alternative.
The Welshman was buzzing around the top end of leaderboards at the backend of 2013 and I think this could be the week that he gets himself back into the heat of battle.
I think that he will be much sharper for his performances so far in 2014 in Durban (T13) and Abu Dhabi (T56) with the latter effort rather disappointing but perhaps understandable as he was the centre of plenty of attention due to being the defending champion.
I like the fact he missed Qatar to freshen up and a decent effort here will set him up nicely in terms of gathering some more Ryder Cup points before heading off to the USA and the build-up to the Accenture World Match Play.
He has bits and pieces of course form at the Emirates but it is his putting on these greens - perhaps the best of the three found on the Middle East swing - that will always give him an opportunity to compete.
The bottom line is that there are some in-form players in that 25/1-66/1 price bracket this week who are not as good as Donaldson and I just wonder whether he has been a fraction overlooked at 40/1.
My final pick this week is another less obvious option in Robert Rock at three figures.
He has some very good memories from taking on Tiger Woods in this part of the world having beaten him in 2012 for the title in Abu Dhabi in the biggest success of his career to date.
The problem with backing Rock is the unpredictable nature of his results as he can show very little for a stretch of events and then suddenly pop up and get right in the action on a Sunday afternoon.
I am hoping that will be the case here. He fired nine birdies in a closing 67 in Qatar last week to post his first top-25 finish since Wales last September and although not without some mistakes, it did hint at the prospect of better to come.
Dubai in 2013 was one of just two top-10s for Rock all year and could be the venue to get things moving for him in 2014 - the early 200s has been taken but he still represents an opportunity for us at 150/1.
Posted at 1125 GMT on 28/01/2014.