Go for goals at 33/1
Expect goals in Chile v Australia - that's the view of Ben Coley who brings you the best bets from the World Cup specials markets.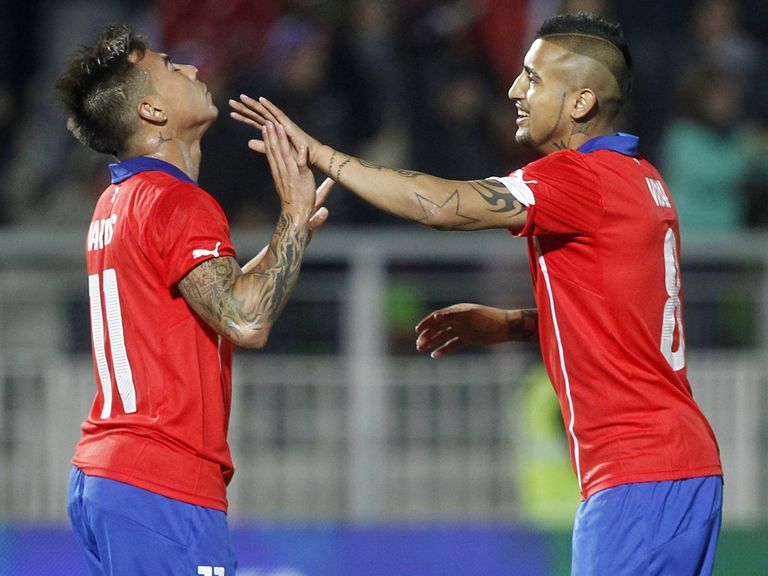 Team to concede the fewest goals
This is a fascinating market, because it muddies the water that separate the very best and worst teams in this tournament.
Typically when we support or oppose a team, we're doing so for reasons which surround either their ability or lack of within a certain set of circumstances.
Put simply, if we back Brazil to win the World Cup much of the case is made from their ability in relation to other teams; similarly if we back a team to finish bottom of their group we expect their relative lack of ability to be exposed.
In this market, the trick is to find a team who have the required ability to avoid heavy defeats, but who lack the ability to go deep into the competition.
It is possible for the winners of the World Cup to also boast the best goals against column, but more likely is that it will be a side which fails to advance beyond the last 16, perhaps keeping three clean sheets in qualifying from their group before a 1-0 defeat in their first knockout game or something similar.
It's a formula which saw Switzerland win this bet in both 2010 and 2006, where on both occasions they lost at the round of 16 stage but conceded just once throughout their four matches. In 2002, Argentina actually conceded the fewest goals in failing to reach the knockout stages and this too looks a more likely scenario than any of the tournament favourites reaching the semi-finals or beyond while remaining competitive in this particular market.
Further support for this statement can be found with 1998 'winners' Paraguay, who lost in the last 16, and 1994 winners Norway who failed to make that stage.
So who might fit the bill this time around?
The starting point must be Switzerland, given what I've mentioned above. They're 20/1 to land this bet for a third successive World Cup and it's long odds-on that they're eliminated in either the group stage or the last 16, which again makes them appear interesting.
Throw in the fact that the standout team in their group - France - are without their strongest creative influence in Franck Ribery and there's undoubtedly a case to be made. However, they did show one or two signs of defensive weakness in qualifying and I worry that even a below-par France, or potential last-16 opponents Argentina, may expose them.
Instead I will side with Les Bleus as one of two selections, despite a slight concern that they could advance beyond the second round.
To do so they first need to get out of a group completed by Honduras and Ecuador. The latter scored less than a goal per game in qualifying and take on France in the final round of matches, a game which could possibly matter very little by then.
Honduras showed in their 0-0 draw with England that a dogged, physical approach is considered their best hope and despite there being a couple of Swiss players capable of ruffling feathers, I could well see France making the knockout stages without having conceded a goal.
It's likely that Bosnia would then await, and it's highly likely that France would be favourites. If they oblige, that's one more game to play, against a higher standard of opposition, and history shows that last-eight sides struggle to end with the best defence.
However, that might be over-complicating things somewhat and some good judges consider Bosnia as potential dark horses, so with France looking to have a nice platform from which to build I think they're worth a small bet at upwards of 20/1.
The other side I like is Greece, who are considered around 90% likely to fall at either the first or second hurdle by the layers and therefore rate prime candidates judging by historical trends.
Greece kept eight clean sheets from 10 group games on their way to World Cup qualification, and in three friendlies since only two goals have been scored.
Fernando Santos steps down as manager at the end of this tournament and will know that his best chance to advance is to stifle the attacking threat of Colombia, who are without Radamel Falcao, in their first game on Saturday.
After that come Japan and the Ivory Coast and while the latter in particular are likely to prove difficult to handle, Greece are well-equipped to do so and I consider them just about the most likely side in the tournament to concede once or twice without progressing, which would make them huge players in this market.
Highest scoring group game
A more straightforward market, but one with two possible angles of approach. The most obvious is to pick the most one-sided game - Argentina v Iran is the 10/1 favourite - but it's also possible to argue that finding one between two quality sides may prove fruitful.
As such I trawled through the history books and was pleased to find a clear trend: the highest scoring group game has tended to be one-sided. To add meat to that bone, Russia beat Cameroon 6-1 in 1994; Spain beat Bulgaria 6-1 in 1998, Germany beat Saudi Arabia 8-0 in 2002; Argentina beat Serbia and Montenegro 6-0 in 2006 (Germany beat Costa Rica 4-2 to force a tie) and finally, Portugal beat North Korea 7-0 four years ago.
There's no particular pattern as to when these occur (dead-rubbers have been involved) but to help identify a spot of value I've taken the view that a late kick-off - when conditions will be most conducive to attacking football and will hopefully ensure teams keep going forwards - could prove advantageous.
In total, 10 games begin at 2300 BST and of them, Chile v Australia makes the most appeal at 33/1.
Australia are among the rank outsiders for far-fetched World Cup glory and with Holland and Spain completing Group B, they may feel that an opening-round clash with Chile is one they need to get three points from if they're to hold any chance of making the latter stages of the tournament.
If they do open up and attack, Chile are good enough to take them apart. Indeed were it not for a tricky group, I fancy quite a few people would've been backing Chile to go all the way in this World Cup after they qualified in fine fashion and earned the plaudits of Germany boss Joachim Low earlier this year.
Jorge Sampaoli's side are energetic and creative as England fans will know all too well, and while Arturo Vidal could miss this game there's plenty of attacking threat thanks in the main to Barcelona's Alexis Sanchez - a player who features in David John's top goalscorer preview.
Their 4-0 victory over Costa Rica, 3-2 defeat of Egypt and even that 2-0 win at Wembley all point to a side capable of opening up and scoring and, with three teams fighting for the top two spots in this group, they'll be all too aware of the importance of a high-scoring win in their opening game. It's also far from impossible that their need to attack here allows Australia to contribute to the total.
Certainly, the dynamics of their particular group and the timing of this game makes Chile v Australia an interesting wager at 33/1, and I just prefer it to Bosnia v Iran at 40/1. The logic here would be that Bosnia carry a threat significant enough to score freely against outclassed rivals and this game is four-times the price of the market leader.
Highest scoring group
The last selection - rather, selections - are less speculative as there look to me two standout groups in terms of scoring potential: Group F and Group B.
There's nothing complex about this claim, with Group F including the rank outsiders Iran and two attacking sides in Bosnia and Argentina, while Group B could well see Chile, Holland and Spain all thrash Australia and play out a couple of thrillers among themselves.
I also think that Group G - in which some fancy Portugal and Germany to make hay at the chief expense of the USA as well as Ghana - takes up too big a chunk of the market. Doubts over the fitness of Cristiano Ronaldo are one contributing factor but just as much of a concern is that all six games take place towards the north and therefore in the more physical exerting conditions.
The USA in particular play their three matches in Natal, Manaus and Recife, and this might just enable them to keep scorelines respectable as Germany and Portugal perhaps settle for narrow margins of victory in the overwhelming heat and humidity.
Group A is therefore the more pressing concern given that it contains tournament favourites Brazil, but there's no obviously weak side here and while Brazil themselves could enjoy plenty of success in front of goal, the games not involving them could well be tight.
It's not particularly original, but a combined 2/1 about either Group B or Group F producing the most goals looks really good value to me.
Posted at 0845BST on 11/06/2014.