Rooney the Real deal
Wayne Rooney looks a big price to find the net against Real Madrid in the Champions League on Wednesday night, according to our Andy Schooler.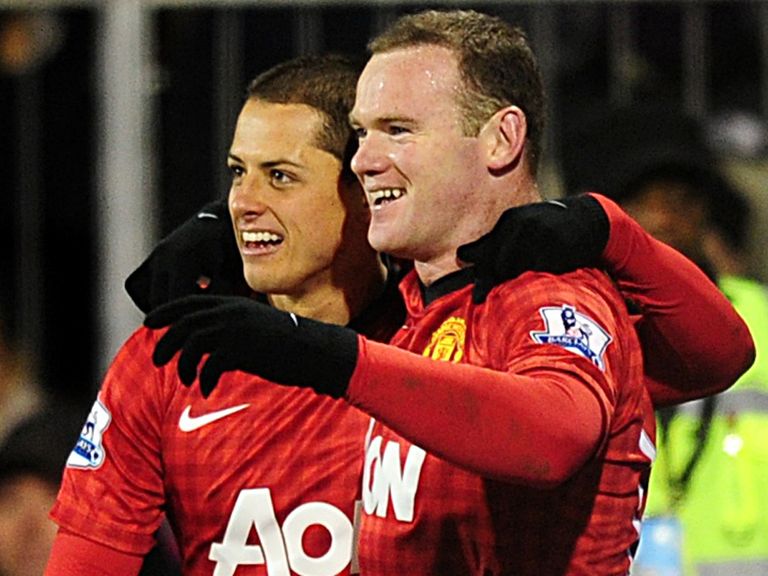 The game everyone's been talking about arrives on Wednesday with Real Madrid hosting Manchester United in the first leg of the sides' Champions League last-16 tie.
In terms of the outright betting on this match, much boils down to how you feel the each side will respond to stepping up a level as it is hard to argue that this is not the toughest game either will have faced for many weeks, if not months.
Take United. Since the end of the group stage they've won 11 and drawn three. The first of those matches was a crucial 3-2 win at title rivals Manchester City but since they've seen off a host of the Premier League's fluff without too much fuss.
You can certainly make an argument for them being undercooked for such a crunch game and whether Sir Alex Ferguson's decision to play an almost full-strength team against Everton on Sunday was the right one remains to be seen.
Real's record has not been as good in the same period but it's fair to say they've improved since a ropey start to the campaign which totally undermined their La Liga hopes almost from the word go.
They trail Barcelona by 16 points with just 15 games to go so there's plenty of pressure on them in this game, knowing their season pretty much dies if they fail to progress.
However, one thing which hasn't really suffered during a poor season by their high standards is their home form - 15 wins, four draws and no defeats. They are now unbeaten in their last 32 at the Bernabeu.
Many visiting sides during those games have failed to have a go at the hosts though and it's hard to see that being the case in this one.
Indeed United would be foolish not to try to get at a defence which has proved far from watertight against high-class opposition - Real conceded more goals (nine) than any other team to qualify for the last 16.
Man City will be remembered again this season for a disappointing European campaign but make note that back in September they led in the Bernabeu with five minutes to go and were very unfortunate to lose 3-2.
Dortmund also came within a few minutes of winning here in the group stage and with the firepower of Robin van Persie and Wayne Rooney in their line-up, United seem highly likely to cause problems.
While Cristiano Ronaldo is the name on the bookies' lips - the former United star has a ridiculous record of 103 goals in 89 games for Real at the Bernabeu and is duly odds-on to find the net - it's Rooney who looks the best value in the goalscorer markets.
Rooney has a track record for scoring in spurts and appears to be in the middle of one right now.
He has 10 goals in his last 10 United games. Throw in a goal for England against Brazil last week and he's bagged 11 in 11.
The 27-year-old looks likely to play on the left-hand side of United's attack on Wednesday and he'll be expected to track back often, a job he does very well.
However, while that may be factored into the price about him scoring at any time - 10/3 - it should also be remembered he'll likely be up against Alvaro Arbeloa down that flank, a player who can be a weak link in the home defence.
Rooney will relish such a tussle and when he cuts inside - as he is sure to do - he could well be facing Pepe, who has hardly played over the last month due to injury, while in goal it won't be the injured Iker Casillas, but Diego Lopez.
You're unlikely to get Rooney at 10/3 to score in a game again this season and the advice is to snap it up while you can.
I've almost talked myself into siding with United - they do look a little big at 9/2 - but Real's home record has not been earned by mistake and with a player like Ronaldo in their ranks they are capable of moments of brilliance which could punish United, who have not always impressed this season, in an instant.
I'll leave alone and side with United's in-form man, Rooney.
The night's other tie sees Shakhtar Donetsk host Borussia Dortmund.
Both teams impressed in the group phase with Donetsk being one of the sides to account for defending champions Chelsea.
They were full of attacking flair back in the autumn but it should be pointed out they've since sold one of their star men, Willian, while they are currently out of season and have been for months.
The Ukrainians have been playing a host of friendlies in warmer climates to stay sharp but a lack of competitive action for such a long time has to be a concern.
There could be some value in backing Donetsk to qualify for the quarter-finals at 15/8 but there are enough doubts for me to swerve.
Both games are being televised live in the UK on Sky Sports.
Preview posted at 1705 GMT on 12/02/2013.