Fellaini 'set for three-game ban'
Marouane Fellaini is likely to pick up a three-game ban for his head-butt on Stoke defender Ryan Shawcross, according to Sky Bet.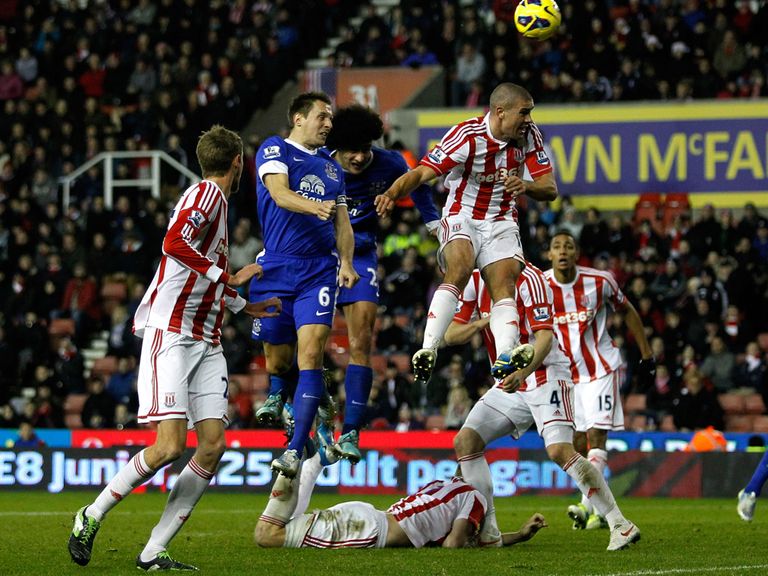 The Everton star floored Shawcross during Saturday's 1-1 draw at the Britannia Stadium in an incident that it is believed referee Mark Halsey did not see.
The Belgian also tussled with his Stoke marker on other occasions and has subsequently led newspaper back pages and sports news bulletins.
A lengthy ban has been suggested in some quarters but Sky Bet believe the ban will be just three games.
They make a two or three-match ban odds-on at 8/13.
A longer ban is 11/8, while Felliani is 12/1 to escape without a suspension (or receive a one-game ban).
Sky Bet trader Stuart Dallimore said: "Three matches would probably be the length of ban he will get - had the ref had seen the incident it would have been a straight red which would have probably resulted in a three-match ban.
"The only other scenario we can see happening is if they try to make an example of him and decide to ban him for four games or more - we've kept this quite short at 11/8.
"I can't see how they won't ban him after how much media coverage this incident has received."
The FA have yet to announce whether any action is to be taken - their rules allow them to review any such incidents on video if the referee did not see it at the time.
An announcement seems likely either on Monday or Tuesday.
Fellaini has already admitted he was wrong to do what he did.
He said: "I apologise completely to Ryan Shawcross, my team-mates and to our fans at the game.
"There was a lot of pushing and pulling going on inside the Stoke penalty area and I didn't feel I was getting any protection from the officials.
"Nevertheless I know I shouldn't have done what I did."
Fellaini has scored eight goals for Everton so far this season and his absence would be a blow to David Moyes' side, who currently harbour top-four ambitions.
The Toffees' next three games are West Ham (A), Wigan (H) and Chelsea (H). After that run they face Newcastle (A), Cheltenham (A) and Swansea (H).