Bengals' lesser lights to shine
David John previews Sunday night's two live NFL games on Sky as the race to the post-season hots up.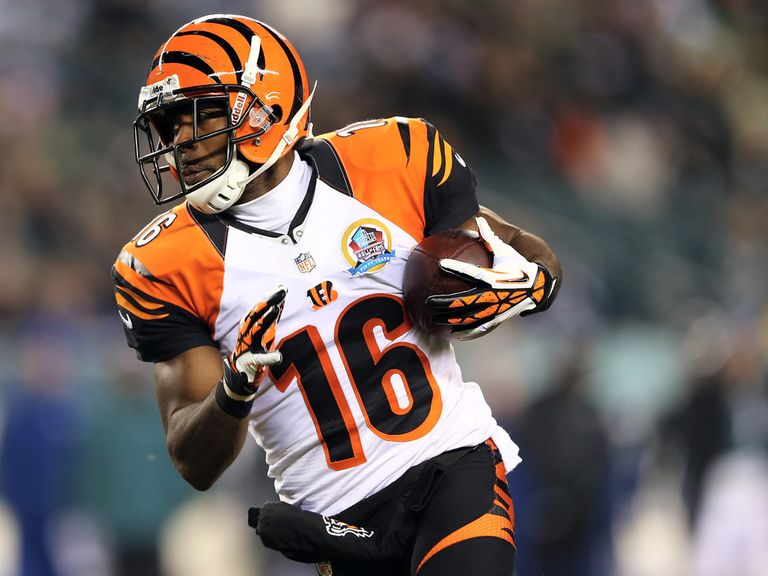 Cincinnati at Pittsburgh (1800GMT)
Sky's early live game on Sunday night has huge play-off implications as the AFC North goes down to the wire.
The Bengals can wrap up at least a Wildcard place with a victory and still remain in with a shout for the division while two closing wins for the Steelers in the regular season could see them crowned champions if results involving Baltimore go their way as well.
Pittsburgh looked in command at Dallas last week with a 24-17 lead as Antonio Brown seemingly putting them in tremendous field position with a great return - until he fumbled the ball.
The momentum shift was enough to see them go on to lose in overtime and the subsequent post mortem into what went wrong highlighted again the disconnect between offensive co-ordinator Todd Haley and quarterback Ben Roethlisberger.
The latter felt the wrong plays were being called in the second half to give them the best chance of victory with Haley's more conservative strategy not sitting particuraly well with Big Ben's more free-wheeling approach.
So it has been up to head coach Mike Tomlin to try and get all parties reading from the same hymn sheet - apparently Roethlisberger has apologised - ahead of what he has labelled an "enormous week".
Injuries in the secondary are hurting the Steelers as well so do the Bengals have enough about them to take advantage when it matters?
They have been beaten on five straight occasions by Pittsburgh but are on a roll of their own at the right time of the campaign having won five out of their last six games.
Despite the recent 34-13 defeat of Philadelphia, Cincinnati still spluttered somewhat on offense with quarterback Andy Dalton failing to complete 50 percent of his passes (13/27) for only the second time in his career while he also took six sacks.
Their offensive co-ordinator Jay Gruden was left frustrated and felt it was time for the likes of tight end Jermaine Gresham and wide receiver Andrew Hawkins to step up and make themselves a viable option to number one AJ Green.
With Pittsburgh down to using cornerbacks last week from the practice squad, this will surely be an opportunity for Dalton to end his struggles against this team.
He managed just 105 yards passing in their first encounter this season in week seven but with some extra time to prepare having played on Thursday night in week 15, I fancy them to give the hosts the sort of challenge you would expect with such a lot at stake.
So the suggestion is to have a small bet on Hawkins and Gresham for the first touchdown while a four-point start on the handicap looks more than workable.
New York Giants at Baltimore (2115GMT)
The question for punters here will be who is going to step up and look like a play-off calibre football team?
The Ravens have lost three on the spin while the Giants continue to swing wildly between highly proficient and incompetent this season.
The reigning Super Bowl champions head to Maryland on the back of a first shutout loss in 16 years having been humiliated 34-0 by Atlanta - all the more remarkable considering they had scored 52 points the previous week against New Orleans.
The layers still make Tom Coughlin's team favourites by up to two points on the spread as once again they find themselves required to rise to the occasion with their backs firmly against the wall.
Coughlin admitted last week they were "very, very bad" but having had time to study the post-season scenarios, he knows that two wins from two will see them progress regardless.
I certainly believe they can keep firmly on course against a Ravens team that has suffered its own dip in form at just the wrong time.
Three straight losses and a distinct lack of verve on offense has quarterback Joe Flacco being questioned yet again as to whether he is the man to take them to Super Bowl glory.
Frailities on the other side of the ball continue to be highlighted with a rash of injuries that have plagued them all season and leaves them ranked 26th overall in Total Defense.
Both teams have plenty of questions to answer but it might just pay off backing the Giants to be on a going day.
They are wildly frustrating but if the current pattern of matches continues, then they should be back on form this week.
If Coughlin can coax anything like the performance out of them they delivered against the Packers or the Saints, then Baltimore will not see which way the Giants go.
Preview posted at 1950 GMT on 20/12/2012.