49ers to strike gold in New Orleans
David John is tipping San Francisco to make it 6-0 in Super Bowls with victory over Baltimore on Sunday.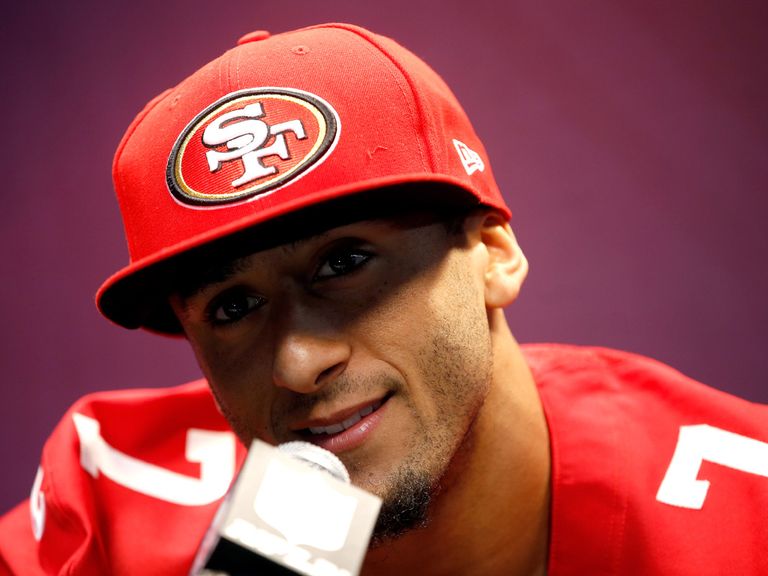 History will be made on Sunday as head coaching brothers Jim and John Harbaugh lead the San Francisco 49ers and Baltimore Ravens into battle respectively for Super Bowl XLVII in New Orleans.
And it is the Bay Area team from California who I fancy to make it 6-0 when contesting the showdown for the Vince Lombardi Trophy behind a quarterback who only got the starting job in mid-season and a hard-nosed, aggressive defense.
Colin Kaepernick was handed the reins by Jim Harbaugh following a concussion in November to starter Alex Smith and both he and the 49ers have not looked back.
The irony was that Smith was enjoying a good season and would return under centre when passed fit as the injury was not expected to keep him out for long.
But such was Kaepernick's impact in his first game against Chicago, Harbaugh - a former quarterback himself and a great nurturer of talent in that position - knew what he had on his hands and quickly realised there was no going back to the more conservative first option.
Smith to his eternal credit has become a mentor for the second-year player on a run that has taken them to within 60 minutes of a world championship - which they last achieved in 1994 when Hall of Famer Steve Young was quarterback.
Smith's game management and reliability has rarely been questioned but it is that something extra that Kaepernick brings to a performance which makes you believe he will be a game winner - and more than likely MVP - on Sunday.
Watching him speed past Green Bay defenders in the divisional round like a loose gazelle was impressive but it is his arm strength, ball velocity and poise that really makes him stand out.
He is able to make passes into tight windows that are just not in Smith's repertoire while his coolness under pressure is perhaps his finest quality.
He threw an early pick in Green Bay but bounced straight back with scoring drives while his side were 17-0 in arrears against Atlanta in the Conference Championship but you always felt he would rally his offense for victory as he methodically cut into the deficit.
He has an array of talent to help as well. Michael Crabtree is evolving into one of the most effective pass-catchers in the league while tight end Vernon Davis has worked himself back into the offensive rotation in recent weeks having perhaps been the player to suffer most after Smith's benching.
I fancy him to score a touchdown anytime and that theory applies to rookie running back LaMichael James as well, who has been chalked up at tasty odds to get in the end zone.
The bruising Frank Gore remains the primary ball carrier for the 49ers but the elusive former Oregon standout is another player to work himself into the offensive playbook more and more and he looks a great price at 10/3 to put six on the board at some stage in proceedings.
The 49ers defense has been a force for a number of seasons but they were well below their best in the early stages of their last game in Atlanta and made quarterback Matt Ryan look like Dan Marino in his prime.
But they adjusted well at half-time to stem the flow of points while lynchpin Justin Smith has got stronger each day as he recovers from a torn tricep - I just don't see a repeat of that effort and expect them to be back to their fearsome best.
Now on to their opponents, whose progress to the Big Easy has been far from plain sailing. It would have been hard to predict them winning another game two months ago after an embarrassing home defeat to Denver which led to much in-fighting and finger pointing in a team that was very close to implosion.
But they responded as a you would hope from a team of veterans - aired some differences, thrashed it out and got on with it.
The return of the inspirational and emotional leader Ray Lewis on defense could not have come at better time either as it was the final piece in the puzzle that has seen them win three play-off games including redemption at Denver in one of the most dramatic games I have witnessed plus a ruthlessly efficient effort to halt Tom Brady's New England.
The play-off run has seen finally seen quarterback Joe Flacco find some real self-belief as well to go with his natural physical ability and he has looked every inch a Super Bowl player in his last two games.
He has talent to work with too - there are few more physical receivers around than Anquan Boldin and he has twice predicted wins for his underdog team against the heavily favoured Denver and New England.
Torrey Smith provides the deep threat and running back Ray Rice the versatility- although the latter has been a little out of sorts to my mind during the post-season.
The whole team has rallied around Lewis and this will be his last game after 17 years in the league. He is on the brink of rounding off a stellar career with a second Super Bowl ring. He has not only inspired those around him emotionally but has also delivered on the field of play with tremendous tackling performances since his return from the treatment room.
The question remains though have they got the emotional reserves to lift themselves for one final effort of the season? Perhaps but do not underestimate how much those wins in Denver and New England have taken out of them.
I feel that the 49ers are the more talented team and that Jim is a better coach than his brother -I think it ends here for the Ravens in a glorious defeat - but a defeat nonetheless as the 49ers should win and cover the handicap of 3.5 points.
Preview posted at 1405 GMT on 31/01/2013.