Denver a solid Super Bowl option
Our NFL expert David John believes Denver will make a bold bid to claim Super Bowl XLVIII this season.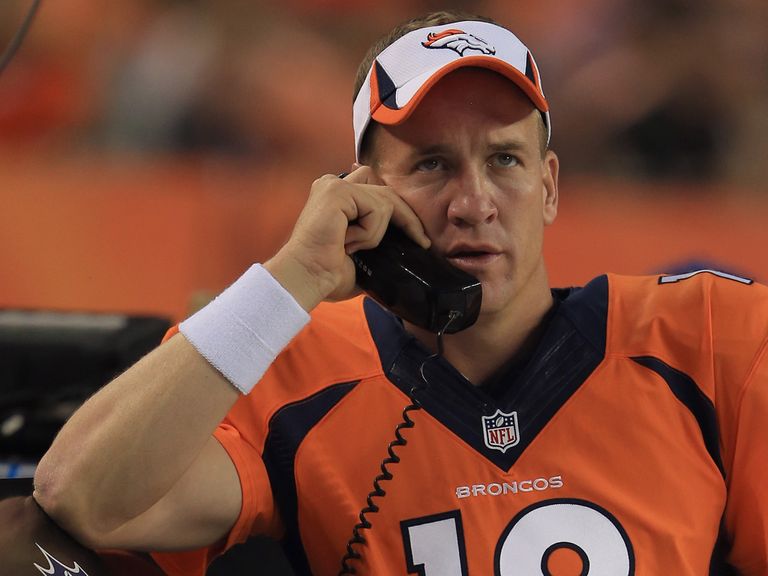 Predicting who is going to make a run at the Super Bowl ahead of week one has increasingly become something of a shot in the dark.
Building up a strong record during the regular season clearly has its benefits with the prospect of bye weeks and home advantage in the play-offs but momentum and self-belief in January when it is win or go home counts for more.
Green Bay, the New York Giants and last season's heroes Baltimore all played their best football when it really mattered over the final month of the campaign having at times looked anything but world champions.
So the early strategy is to tread warily with an opening pick going to the safe option of Denver at 7/1.
This is not exactly coming out of left-field but the Broncos are a franchise with no glaring weakness to overcome on either side of the ball, operating in an AFC West Division which they are hot favourites to win again at 1/4.
John Elway's gamble in 2012 to bring Peyton Manning in on a big contract despite having had a year out of the game and a number of surgeries on his neck proved a wise move as one of the greats of the modern game overcame a slow start to guide his team to a 13-3 record, closing out the regular season with 11 straight victories.
That was good enough to make them favourites across the board for the Super Bowl but defeat at the hands of the Ravens in a zany Divisional showdown that went to double overtime ended the dream.
Manning is a year older but also a year further removed from all the medical problems. He remains arguably the savviest player at his position in the league with the ability to lead on the field as well as elevate the play of those around him.
Wide receivers Eric Decker and Demaryious Thomas return having had a full off-season to work with Manning, while the addition of New England stalwart Wes Welker is an intriguing one and he should provide an ultra-reliable option underneath in the passing game.
Running back is a little less solidified and rookie Montee Ball could be the number one choice, but this is Manning's show primarily and one more Super Bowl would put the seal on a magnificent career - and match his brother Eli's current tally.
There are issues on the other side of the ball, primarily stud linebacker Von Miller missing the first six games due to a league suspension, but an aggressive front four marshalled by co-ordinator Jack Del Rio - much more comfortable in this role than he ever looked as a head coach - can keep the ship afloat until Miller's return.
The prospect of a cold weather, outdoor Super Bowl in New Jersey next February will hold no fear for the Broncos and they look just about the most solid option from the current market leaders.
San Francisco, New England and Seattle all currently trade at 10/1 or shorter and have enough question marks at the prices to make them worth taking on.
History is rather against the 49ers with 28 of 42 Super Bowl losers since the merging of the leagues unable to even win a play-off game the following season.
Although they are a young, well-coached team, the prospect of a hangover is a possibility while teams will have more of a handle after a summer of film study on their main weapon, quarterback Colin Kaepernick.
In addition he will be missing his top receiving target Michael Crabtree (injury) while tight end and safety valve Delanie Walker has headed for pastures new in Tennessee.
It was clear as well that the defense tired badly towards the end of the campaign while stalwarts like Justin Smith are reaching the twilight of their career at 34 years old.
New England - like Denver - will go as far as their future Hall of Fame quarterback will take them but Tom Brady has a completely overhauled set of receivers to work alongside with Welker, Brandon Lloyd and Danny Woodhead all gone.
Danny Amendola heads up the new recruits and is a smart performer when healthy but it would not be a huge surprise if there was some drop-off in production considering the well-documented issues for the team at tight end.
Seattle's big summer arrival WR Percy Harvin is already injured and like Kaepernick in San Francisco, opposition teams will have had time to gameplan for their exciting quarterback Russell Wilson.
He may or may not suffer the classic sophomore slump but again this is a young team attempting to live up to a lot of expectation and some growing pains makes it tough to suggest backing them at no better than 9/1.
My earlier 'Long Game' feature on the Betting Zone went with Tampa Bay as potential improvers for a challenge and it is their NFC South rivals New Orleans who have prospects of bouncing back to play-off form after a turbulent 2012.
'Bountygate' ruined any realistic hopes 12 months ago but Super Bowl-winning head coach Sean Payton is now back from his suspension and will be determined to make up for lost time.
His elite quarterback Drew Brees is certainly glad to have him on the sidelines once more. With his total mastery of the offense and as good a leader on the field as he is, Brees knows his game will be elevated further with Payton to bounce ideas off.
"I am happy to have Sean's voice in my ear again," he said. Once this offense starts to roll behind Brees, they will score frequently and heavily.
The Saints somehow managed to produce a 7-9 record last year - a fair effort considering how inept the defense was which gave up over 7,000 yards, an all-time record in the NFL.
Co-ordinator Steve Spagnuolo has unsurprisingly gone and in his place is Rob Ryan, who himself got the boot from Dallas.
He will install a new system that may well take some time to bed in and while the personnel remain rather unspectacular, the likeable Ryan is an upgrade in the job and will energise the unit - to be fair they could not be any worse.
The bottom line is that Payton and Brees know what it takes to go all the way in this game and the reuniting of the combination should be good for a four or five-game turnaround in their record.
That puts them into the post-season and from there, who knows? It all comes down to timing your run at the right time.
Preview posted at 1530 BST on 02/09/2013.