Raonic offers US value
Our Andy Schooler is backing Milos Raonic on two fronts at this year's US Open, which starts on Monday.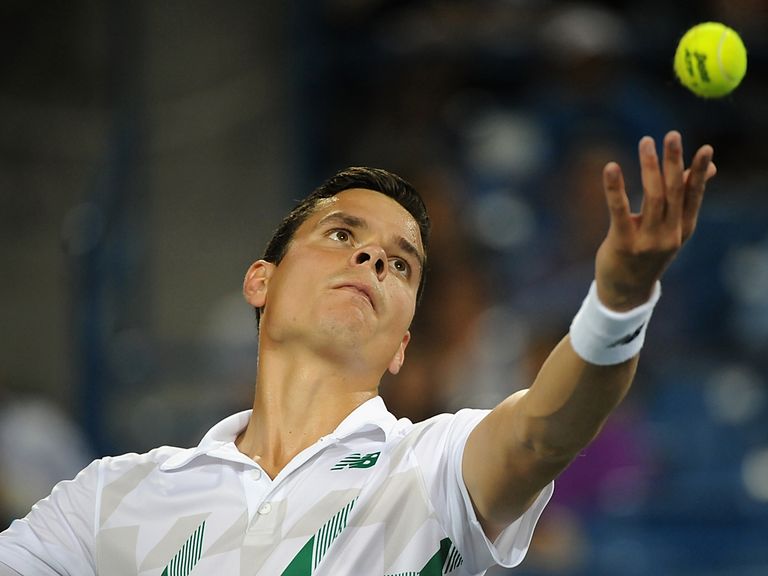 BRONZE: 1pt e.w. Milos Raonic to win the title at 33/1 (Paddy Power, sportingbet) – conditions suit; market leaders look more vulnerable than for some time
SILVER: 6pts Milos Raonic to serve the most aces at 11/8 (Paddy Power) – won the market by a street last year & likely to play more matches this time around
BRONZE: 0.5pt Feliciano Lopez to win the third quarter at 20/1 (Coral) – beat some good players in Toronto & this section is by no means a strong one
Of the last 38 Grand Slam tournaments, 36 have been won by the 'Big Four' of Roger Federer, Rafael Nadal, Novak Djokovic and Andy Murray.
But ahead of the US Open, which starts on Monday in New York, it's not difficult to suggest this looks the most open major in a decade.
Favourite Djokovic looked nowhere near his best in losing to Jo-Wilfried Tsonga in Toronto and there was little sign of improvement when he was beaten by Tommy Robredo the following week in Cincinnati.
One result can always be put down to a bad day at the office but two upsets of pretty large proportion have to be a concern to anyone thinking of backing the Serb at 8/5 and shorter.
Djokovic probably took his eye off the ball after Wimbledon – understandable given he got married in that period – but getting back in the groove is usually much more difficult than staying in it.
As for Murray, there can simply be no arguing about his decline since undergoing back surgery almost 12 months ago. Since then he's failed to beat a player ranked inside the top 10 and the only evidence I can see for backing him here is that he's won the title before. That's flimsy in the extreme though and to back him would be to ignore months of evidence that the Briton simply isn't up to the task against the best players right now.
If you are looking for an outright winner, for me it is Federer who looks the most likely to emerge victorious, but the problem is the value in his price is long gone.
Readers of my Net Talk column will hopefully have got on at 8/1 prior to his runs to the finals Toronto and Cincinnati – he won the latter event – but he's now just a 3/1 shot.
His form looks rock solid with four finals reached in a row going back to before Wimbledon where he was very close to toppling Djokovic, the man he's seeded to face in the final here.
Djokovic would clearly start any such contest as the favourite, but it is worth remembering that Federer has managed to live with the Serb in a way he hasn't against Nadal, who is absent from this tournament due to injury.
Federer famously held match point against Djokovic in both 2010 and 2011 at Flushing Meadows only to lose, while there are plenty of other examples of close contests between the pair, the most recent being in SW19.
It is also worth noting that under the current calendar, which sees back-to-back Masters events played before a week's break and then the US Open, the eventual champion in New York is, more often than not, one of the two Masters winners.
Still, I'm not prepared to back Federer at 3/1. After all, this is a man who has won just one grand Slam title in four and a half years, while his last Slam final on a hardcourt came at the 2010 Australian Open.
So, with holes picked in the top three in the market, it's worth looking for big-priced outsiders who could go well.
Looking at the draw which has Djokovic and Murray in the top quarter, the man I keep coming back to is Milos Raonic.
The high-bouncing, speedy courts of Flushing Meadows look ideal for the big-serving Canadian, who made his Grand Slam breakthrough at Wimbledon where he reached the semis before running into Federer.
He admitted after a recent defeat to Federer in the last four of Cincinnati that he's still some way short when he comes to taking on the very best but the thing here is he may not have to.
I'd expect the fifth seed, who won the trophy in Washington earlier this month, to emerge from the second quarter and take his place in another major semi-final.
It is at that point where the bookies expect him to face Djokovic but if the Serb is really out of sorts – and from what we've seen recently that conclusion can be made - then there will be a massive opportunity for the 'Missile'.
Last year's semi-finalist Stan Wawrinka is seeded to come through this quarter but he's been notoriously unpredictable since his Australian Open triumph at the start of the year and I prefer Raonic.
At 33/1, he looks the best each-way bet in the outright betting.
I'm also keen to side with Raonic in one of the sub-markets, namely most aces.
I'm surprised to see Paddy Power offering 11/8 about Raonic here.
Despite playing only four matches at last year's tournament, he won this market by a country mile, serving 104 aces. John Isner was next with 65.
Isner is rated the biggest threat this year but at time of writing he's doubtful to even play due to an ankle injury and even if he does his form has not been what it was 12 months ago.
In contrast, as I've already explained, I expect Raonic to hang around longer this year and if he plays the six matches I predict him too then I'm sure he won't lose this bet.
To avoid putting all my eggs in one basket, I'm also going to delve into the quarter betting.
With Nadal out and Murray having slipped down the rankings, there are two quarters without an odds-on favourite.
Raonic is in the second quarter but the third also looks open and I'm going to take a punt on Feliciano Lopez.
The Spaniard played well during the grasscourt season, winning in Eastbourne, and has continued to play well since the switch to the DecoTurf surface – no surprise given these courts play almost as quick as the grass these days.
He made the semis of the Rogers Cup in Toronto and the fast courts suit his attacking game.
Unusually for a Spaniard, Lopez is more than prepared to come to the net behind his big serve and at 20/1 I'm tempted in, albeit it to small stakes.
It's an admittedly tricky section of the draw but Ernests Gulbis is not a man to be feared too much given his hot-and-cold reputation, while Lopez beat his potential fourth-round foe Tomas Berdych in Toronto where Raonic was also among his victims.
In any case, I would not be surprised to see the unreliable Berdych taken down by former champion Lleyton Hewitt in the very first round.
David Ferrer, whom Lopez could meet in the quarters, is rightly the favourite in the market after his run to the final in Cincinnati but he's not had his greatest season and looks more vulnerable than in previous years.
Posted at 1700 BST on 22/08/14.
The action gets under way at 1600 BST on Monday and is being televised live in the UK by Sky Sports and British Eurosport.