Indulge in Spa with Williams
Rejuvenated Williams are worth siding with in Belgian Grand Prix qualifying, according to our F1 expert Tom Millard.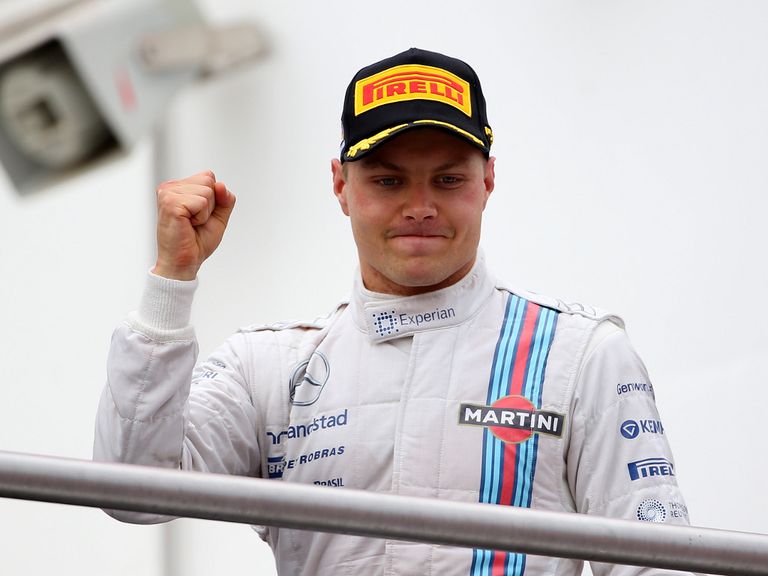 VALUE: 1pt Williams to take pole position at 12/1 (Sky Bet, Paddy Power) - could be nip-and-tuck between Mercedes and their fastest customer team

BRONZE: 4pts Valtteri Bottas to finish on the podium at 15/8 (Stan James, Ladbrokes) - three podiums from four; should be best of the rest at Spa

VALUE: 1pt both Williams to finish on the podium at 11/1 (bwin) - works Mercedes cars are far from bulletproof

VALUE: 2pts Sergio Perez to finish in the top six at 13/2 (bwin) - simply overpriced given Force India should be strong here.

VALUE: 0.5pts Perez to finish on the podium at 40/1 (bwin) - took third in Bahrain and could have won in Canada

Cast your mind back to last month's Hungarian Grand Prix, the final race before the four-week summer break.

Recall the variations in strategy, the difficulty of overtaking and the audacity of Daniel Ricciardo's late moves on Lewis Hamilton and Fernando Alonso to win the race.

And now forget all about it.

The contrasting characteristics of the Hungaroring and of the Spa-Francorchamps circuit means that anything gleaned from the Budapest race can be safely filed away ahead of the visit to Belgium this weekend.

A hot, dusty, technical track negotiated at a low average speed gives way to a flowing road circuit shaped by the countours of the Ardennes forest, one which places specific demands on the cars.

Put simply, if you can't lay claim to the best engine/energy recovery package on the grid, you're in damage limitation mode from the moment you turn a wheel at Spa.

This means that the Renault- and Ferrari-powered cars are highly unlikely to figure in the battle for the win and could even find themselves behind the weakest of the Mercedes customer cars, currently Force India and McLaren.

Unlike the Hungaroring, which rewarded a strong peak-downforce set-up and engines with progressive power delivery and driveability, Spa is all about top-end speed and aerodynamic efficiency.

And the latter characteristic should play right into the hands of the rejuvenated Williams team.

After a disastrous 2013 Williams have matured into genuine contenders for race wins, as three podiums in a row for Valtteri Bottas in Austria, Britain and Germany would suggest.

On each occasion the Finn was classified as best of the rest behind the dominant works Mercedes team, and there's no reason why he and team-mate Felipe Massa, who took a surprise pole position in Austria, cannot thrive at a circuit which should perfectly suit their car.

The FW36 is thought to be the most efficient car in terms of drag, so when it is pared out to face the challenges of the calendar's fastest circuit, the result should be spectacular.

It's unlikely that the white-and-blue machine will quite be in the same league as the Mercedes in the sweeping turns of the second sector but in S3 and particularly the first-sector run from the La Source hairpin, through Eau Rouge and up the Kemmel Straight, it should be the quickest car of all.

The tricky part for punters is to encompass all this into a sensible betting strategy, one that won't leave us empty handed if Bottas and Massa finish exactly where they 'should' - in third and fourth behind the silver cars.

But we can't resist Sky Bet and Paddy Power's 12/1 on a Williams to take pole position so soon after Massa's Austrian heroics.

There, the Brazilian was a touch fortuitous that Hamilton's spin in Q3 affected both the Brit and challenger Nico Rosberg, but the Williams pair might not need such luck if they get a perfect run this Saturday.

Mercedes should still retain a small edge but the 12/1 is big enough for us to take them on with the German manufacturer's strongest customer team.

A more conservative play would be simply to back the ever-impressive Bottas to finish on the podium at 15/8.

He's 5/2 to win the race without Mercedes, something he has achieved in three of his last four outings, but the price boost is not worth ditching the insurance a podium bet would provide if he were to finish on the rostrum yet be pipped by Massa, for instance.

That scenario, in which at least one of the works Mercs is beaten by both white cars, is far from fanciful and makes Ladbrokes' 10/1 and bwin's 11/1 on a double podium finish for Williams worth a speculative investment.

Despite 2014 having developed into a head-to-head narrative of Hamilton v Rosberg, the pair has only completed a whitewash twice in the last five races.

Spa is extremely tough on engines and their ancillaries and it's not inconceivable that a power plant or its related energy-recovery system could malfunction, as happened in Canada.

There's no reason this should happen to Mercedes any more than Williams but one team is 4/11 in this market and the other is 11/1.

Finally, Force India's Sergio Perez is far too long in bwin's podium and top six markets.

The Mexican took third in Bahrain and would have won the race in Canada had brake-harvesting issues not compromised his ability to deploy his overtaking boost in the closing stages.

Since then Williams have edged ahead of the Silverstone-based team in the pecking order but Nico Hulkenberg and Perez should have a car capable of challenging Red Bull and Ferrari this weekend.

Five years ago this team engineered Giancarlo Fisichella to pole position and second place in defiance of triple-figure odds, which illustrates perfectly the potential for a shock result.

The layers are loathe to give away any value on the German but Perez has been disregarded at 13/2 for a top-six finish and 40/1 for a podium.

They are stand-out prices with the Austrian firm but don't rule out other bookies pushing out the Force India pair pre-race if they continue their mediocre recent qualifying form.

Grid order is a notoriously poor form guide at Spa-Francorchamps so consider getting stuck in on Saturday night if they qualify halfway down the pack once again.
The first two practice sessions will take place on Friday at 0900 and 1300; Saturday practice is scheduled for 1000. Qualifying is at 1300 on Saturday with Sunday's race due off at 1300 (all times BST)
Preview posted at 1300 BST on 20/08/2014.