Dimitrov to do some damage
The ATP Tour heads to Cincinnati on the back of having the form book thrown out of the window in Toronto, with Jo-Wilfried Tsonga reeling off a run of upsets.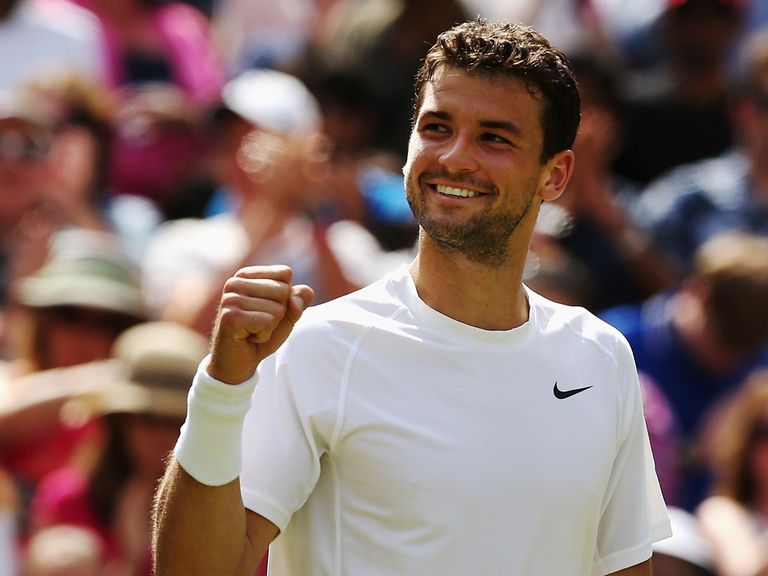 While Tsonga is hardly an unfamiliar to fans, he has become somewhat unfamiliar to success, ending an 18-month title drought with a second Masters triumph, having showed few signs of repeating his 2008 Paris triumph in recent years.
Wimbledon had indicated a rising of the youngsters but last week's shocks point to a wider ranging vulnerability amid the elite, with 29-year-old Tsonga chief conqueror in defeating Novak Djokovic, Andy Murray and Roger Federer, a trio which had accounted for seven of the previous 10 Rogers Cup titles.
It might be suggested that the lengthy break in competition since Wimbledon resulted in the perennial powers being undercooked but that has rarely been a problem in the past.
Tsonga produced the best tennis of the week and the question is whether he has can maintain that form or whether his rivals will step up?
Even with Rafael Nadal still sidelined as he looks to recover from a left wrist injury in time for the US Open, there's a strong list of contenders.
It was Nadal who continued his remarkable dominance of the game this time last year, with a straight-sets victory over home hope John Isner.
The big-serving American had beaten Djokovic and Juan Martin del Potro to reach the final and was unbroken throughout the final, losing successive tie-breaks to go down 7-6 (8) 7-6 (3). It represented Nadal's ninth title of the season and came sandwiched between Rogers Cup and US Open victories, having never previously won successive hard-court titles.
This time around, Djokovic is the clear favourite again despite his third-round defeat to Tsonga in Toronto.
Only Djokovic himself will know whether he lacked the practice and concentration after winning Wimbledon and tying the knot but his performance levels certainly implied so, having struggled against Gael Monfils in the second round before coming unstuck.
His draw here is far more forgiving in the early stages, while a rematch with Tsonga could occur in the quarter-finals. Having lost all four previous finals here, success this week would see the 27-year-old complete the Career Golden Masters and, more importantly, regain momentum heading into the US Open.
Federer endured further disappointment in Toronto, ending up as a losing finalist for a second successive event following Wimbledon.
However, with the 17-time Grand Slam and five-time Cincinnati champion having a significant reservoir of confidence to draw from, it is the physical demand which is more concerning.
Having turned 33 last week, Federer faces a tough challenge in getting himself fresh for another run, while the US Open looms on the horizon. He also looked vulnerable in baseline exchanges against Tsonga, constantly breaking down on the backhand side, coming to the net at every opportunity.
Federer seems to have found a consistent level again after last year's struggles but it's consistently not quite good enough and he's hard to back at the price.
Murray meanwhile is enduring a campaign to forget, with another early exit leaving that record a no title or wins against top 10 players since Wimbledon last year hanging over him.
Unlike Djokovic, the Scot produced some of his best tennis last week and should have ousted Tsonga, leading 3-0 in the decider. But playing his best for an entire match has been a real struggle this year and is something he needs to achieve if anything is to be salvaged from this season and that remains the issue for backers.
Powerful Canadian Milos Raonic benefits most from the draw, placed in the same quarter as out-of-sorts fourth seed Tomas Berdych.
However, more was expected than a fourth-round exit to Feliciano Lopez in his home Masters event and improvements need to be made if he's going to make the next transition from top 10 player to top-tier title winner. The US Open Series is a period he should flourish with quick courts and plenty of support.
Stanislas Wawrinka once again failed to hit form in Toronto as his inconsistent campaign continued.
I'm not sure there's a more difficult task in sport right now than predicting how far Wawrinka will progress at any given event.
Kevin Anderson's big serving was too much to counter in Toronto and I wouldn't put it past him to struggle against similar threats from Ivo Karlovic and Marin Cilic here. As the Australian Open and Monte Carlo Masters champion, Wawrinka certainly can't be dismissed but he also can't be counted on to deliver his best in Cincy.
Grigor Dimitrov is a potential quarter-final opponent for Wawrinka but looks more likely to make it there given his more consistent form.
Semi-final runs at Wimbledon and in Toronto consolidated his status as a top-tier challenger and he's in arguably in the weakest quarter with Richard Gasquet the second seed.
The 23-year-old still has some way to go before he's mentioned in the same breath as the major players but all the signs suggest that's just a matter of time and, given the questions hanging over Djokovic, the Bulgarian is worth chancing to advance from this half of the draw.
Nine of the last 10 titles here have been won by players who have at some stage sat top of the rankings but I'm backing a future world number one to do the business here.
Tsonga is another to consider having been back to his best in Toronto, producing the sort of fearless attacking tennis which promised so much when he was on the rise.
The fact that last week saw him double the amount of top 10 players he's defeat in the last 12 months speaks volumes about both the achievement of winning the Rogers Cup and his previous struggles.
Tsonga's major issue has always been consistently producing his best tennis and it looks a big ask to do so in back-to-back events. The fact that a revenge-hungry Djokovic is likely to be waiting in the quarter-finals makes that even more difficult but, after what we saw in Canada, it would be unfair to dismiss further success in Cincy.
Ultimately, though, this is probably an event for small stakes and it could pay to take a chance on Dimitrov.
Preview posted at 1725 BST on 11/08/2014.