Federer can keep ball rolling
Wimbledon runner-up Roger Federer can keep his good form bubbling at this week's ATP Rogers Cup in Toronto, says Andy Schooler.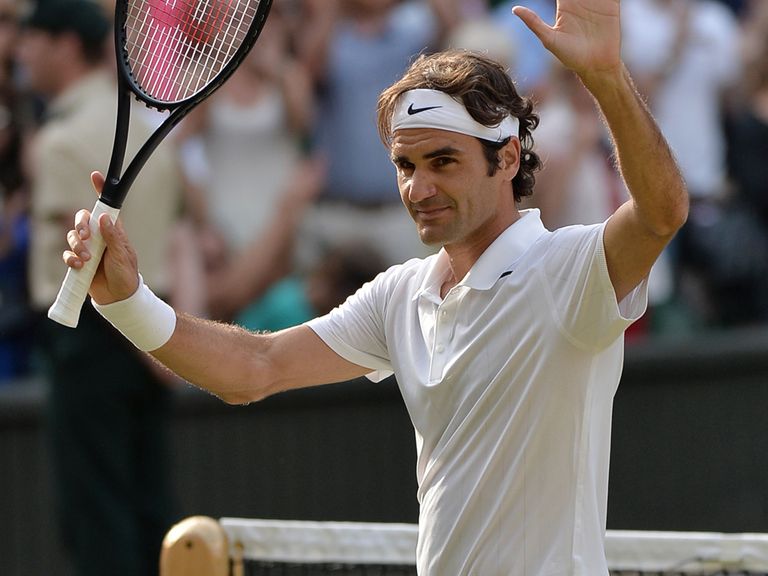 The big guns come back out to play at the Rogers Cup this week as Masters 1000-level tennis returns to the ATP World Tour.
The event signals that the countdown to the US Open has truly begun with the likes of Novak Djokovic, Roger Federer and Andy Murray all making their first appearances since Wimbledon.
Rafael Nadal is the notable absentee from that list. The winner of this tournament last year when it was staged in Montreal suffered a wrist injury in practice, preventing him from playing in Toronto and next week in Cincinnati. While the Spaniard remains confident about being in New York for the final Grand Slam of the season, that must now also be in serious doubt.
As is the case with so many of these Masters events, the Big Four have dominated over the past decade and you have to go back to 2003 to find a winner for outside the elite quartet, who have now captured 72 of the last 86 titles, including 13 of the last 14.
While there has been plenty of talk about a new generation, particularly after the performances of Grigor Dimitrov, Milos Raonic and Nick Kyrgios at Wimbledon, the Big Four remain the ones to beat and that's reflected in the betting where Djokovic, Federer and Murray are the top three in the market.
History clearly suggests the winner will come from this trio but I'm prepared to immediately jettison Murray from any staking plan.
The Briton's defeat to Dimitrov in the Wimbledon quarter-finals was just the latest example of him finding a fellow member of the world's top 20 too good.
He's struggled to beat the best since undergoing back surgery last year and although this part of the season is one of his favourite periods, I find it hard to see him suddenly finding the form to win in this company.
Murray arrives following a solid training block in Miami with new coach Amelie Mauresmo but that will also mean new ideas will be implemented in his game in the coming weeks. Certainly week one of the new plan isn't a time to be backing Murray, who has done little of note in Canada since winning here in 2010.
For me, Djokovic looks a worthy favourite and seems the most likely winner. However, I'm faced with a familiar Masters dilemma - does the price accurately reflect that man's chances and, if not, should I be looking elsewhere for each-way value?
At a best price of 5/4, I can't say I'm particularly keen on backing Djokovic, even though he comes in as the man to beat having won Wimbledon, plus three of this season's Masters events, including the two North American hardcourt tournaments earlier in the year.
He's also got a strong record in this one. He won in Toronto in 2012 and Montreal in 2011 with only a final-set tie-break defeat to Nadal ending his hopes of a hat-trick last season. In the last seven runnings, he's been to at least the semis on five occasions. The other two appearances brought quarter-final defeats so it's clear that there's no concern about a post-Wimbledon hangover or rustiness.
However, it all comes back to the price and 5/4 about the Serb winning five matches in this company is not mouthwatering.
Murray certainly has the game, if on form, to trouble Djokovic (they could meet in the last eight) while both his Australian Open conqueror Stan Wawrinka or Dimitrov will fancy a crack at the world number one in the semis.
When it comes to backing Djokovic, I wouldn't put off the big-hitters, but my alternative plan is to back Federer each-way on the other side of the draw.
The Swiss played some of his best tennis for some time at Wimbledon where, crucially, his serve was in excellent working order as he came up agonisingly short of an 18th Grand Slam title.
While the grass clearly helps Federer in that serving aspect and many others, the North American hardcourts are among the speedier surfaces on tour these days and if he can keep serving well then I feel he can again contend against the very best.
The draw appears to have helped the Swiss here.
Murray, Dimitrov and Wawrinka are all in the other half, as is Kei Nishikori.
Milos Raonic looks the biggest threat in Federer's half but they can only meet at the semi-final stage and if that happens Raonic will have virtually two full weeks of tennis in his legs having reached the final in Washington this week.
In any case, Federer holds a 5-0 winning record over the Canadian, who he squatted away like a fly at Wimbledon.
The biggest problem for Raonic against Federer is that his massive serve comes back more often than usual. Indeed, Federer is one of the better players at getting back huge serves and, given the draw he's been handed, that's a good thing.
Jerzy Janowicz, Marin Cilic and John Isner look likely opponents before a meeting with Raonic and Federer leads them 1-0, 4-0 and 4-1 respectively in head-to-heads.
As long as Federer turns up in decent nick - and I'm sure he'll be determined to continue the momentum he built by reaching the final in SW19 - then I'm struggling to see who beats him in this half.
Throw in Federer's strong record in Toronto - his last four visits to the Rexall Centre have since results of RU, QF, W, W - and he looks worth backing at 5/1.
The price even gives us scope for an each-way bet which is the way I'm going given I feel Djokovic will likely prove too strong on this surface should the pair meet in the final.
The 4/5 about Federer winning his quarter is one the big-hitters may also want to consider.
Of course, it would be wrong to totally discount the 'second tier' of players, including those up-and-coming stars.
However, as I said in last week's preview, I remain convinced by their consistency. The added problem this week is they will likely need to beat the true elite in order to triumph.
Dimitrov also arrives having been ill last week in Washington, where Nishikori disappointed.
Raonic defied my negative analysis at that event but, as already suggested, now faces the problem of going back-to-back.
As for the older 'nearly' men, Tomas Berdych simply doesn't have the form to warrant consideration, David Ferrer isn't the force he was and Wawrinka remains a player hard to trust with your cash, particularly since his win in Australia which saw his price for every tournament considerably reduced.
With no outstanding value candidate, I'll keep things simple and stick with my Federer bet.
The action gets under way at 1600 BST on Monday and is being televised live in the UK on Sky Sports.
Posted at 1620 BST on 03/08/2014.