Troy Merritt's an each-way bet
Ben Coley previews the John Deere Classic and fancies Troy Merritt to put his aggressive game to use.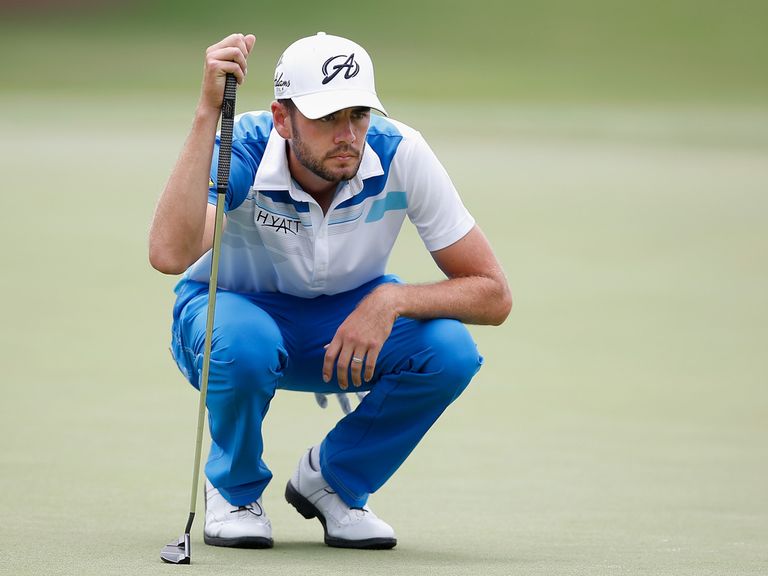 Jordan Spieth, Zach Johnson and Steve Stricker head the market for the John Deere Classic, held once again at the impeccable TPC Deere Run.
A par 71 which extends just beyond 7,2000 yards, D.A. Weibring's layout isn't what you'd call short but with a collection of raised tees, wide-open fairways and big greens, it's one which falls under the category of easy to the best players in the world.
Spieth's victory came via a play-off and with a winning score of 19-under par, but in each of the previous four years the winner - Stricker three times and Johnson once - had to get to 20-under or better. The mantra here is be aggressive because only exceptionally low numbers will do the trick.
Courses such as this one tend to throw up all kinds of contenders, from young to old, long to short, but winners here who'd fall short of world-class have all been extremely good on the greens, as you might expect. The field will average upwards of 50 greens in regulation for the week, which means 50 birdie opportunities, so leaning towards those who putt well is a logical starting point.
In addition, statistics such as birdie average, proximity to the hole and greens hit all carry some significance here. The former category in particular has been a good guide in recent years and it's unlikely that a player who makes his cheques at the tour's tougher stops will be able to live with those who make birdies everywhere.
Splitting the trio at the front of the market isn't easy, but each does carry a significant negative.
Iowa native Johnson might well be able to roll up here and win regardless, but the fact is he's not shown his best form for some time and while he has managed to win this event, he acts as a host and has many duties throughout the week - which started with the Zach Johnson Foundation Invitational on Monday.
Stricker is also from nearby - he's a Wisconsin man - and, like Johnson, loves it here. He's yet to decide whether to play the Open Championship so it's possible that he'll be somewhat more focused than those who will fly to England after the event, but his form has dropped off this year and again, that's something he'll need to leave behind if he is to oblige.
Spieth has to defend a title for the first time in his career and while I wouldn't for a second put it past him, it's a big ask. I'm also somewhat concerned that he's here to fulfil an obligation because we know his focus - as well it should be - is on the majors. I could easily see him going through the motions if he's not up there early on.
So for those looking for one from towards the head of the market, consider a back-to-form birdie-maker in Harris English, the ever-consistent Chris Kirk or three-time PGA Tour winner Ryan Moore, each of whom makes some degree of appeal and is expected to play well.
However, for me the search is cast wider as we saw yet again last week that the PGA Tour is a lot more competitive than the betting tends to imply.
Top of my list is Troy Merritt, whose aggressive game looks a perfect fit for Deere Run.
Merritt's first achievement of note as a professional golfer came when he gained medallist honours at Q-School in 2009, carding a score of 22-under par, but the most lucrative thing he's achieved came the following year via the Kodak Challenge.
This now-defunct competition saw one hole selected at 30 events throughout the season, with the player who managed the lowest score (had to play at least 18 of them) walking away with a cheque for one million US dollars.
Merritt's victory in it actually came via a play-off, Rickie Fowler and Aaron Baddeley the players he overcame with yet another birdie, and along with that all-the-way Q-School win this helps to underline the type of player he is.
Perhaps in retrospect the bounty came too soon for Merritt, who had only just scraped enough money together to keep his card for 2011, and his career has suffered since.
However, he enjoyed a complete turnaround in fortunes last month in chasing home Ben Crane in the FedEx St Jude Classic, his first top-40 of the season, and has continued to play better since then, including when tied for 16th at the Greenbrier last week.
Merritt made an incredible 21 birdies in Memphis - six more than the winner of the tournament - and it was a similar case last week as he carded 17 birdies, more than third-placed Webb Simpson and a tally bettered by only a handful of players in the field.
His aggressive nature is further advertised by the fact he's currently 16th in proximity to the hole, and having ranked inside the top 15 for putting average in the last three events in which he's made the cut, he's in a position to take advantage.
The 28-year-old last played this event in 2011 when he finished tied for 30th - a result he didn't better during the entire season - and with some encouraging recent signs I fancy him to improve on that performance.
Kevin Streelman is the man Merritt succeeded as Kodak Challenge winner and at 50/1 and bigger, he's probably my strongest fancy this week.
Streelman is a fan favourite in his native Illinois and one to whom this tournament means a lot. He arrives having produced a record-breaking seven birdies in a row to close out victory in the Travelers Championship, his second PGA Tour title in just over a year, and is capable of extremely low numbers.
Ordinarily there would be some concern about him being able to pick up where he left off but Streelman is a wily old pro who is extremely well grounded, having gone through some very serious health problems with his daughter Sophie and wife Courtney. He spoke of his sense of perspective in winning last time and is not the type to get carried away.
We saw that last year, when his five starts after a first PGA Tour win saw him register three top-six finishes with the only missed cut coming in the Masters, and there's every chance he can therefore extend his hot streak through his home event.
Streelman ranks 17th on tour for birdie-or-better conversion and has a pair of top-10 finishes here to his name, so if he's in anything like the form which saw him create history at River Highlands we should get a good run for our money.
At a similar price to Streelman, I wonder whether the relaxed nature of this event provides a good opportunity for Ben Martin to secure a first title.
The Clemson graduate is a straight hitter with a fine wedge game who putts particularly well, so essentially he fits the Stricker/Johnson mould that we're looking for.
His two Web.com Tour victories came in Indiana and Pennsylvania so playing in this particular part of the US seems to suit; indeed he found comfort here on debut in 2011 when snapping a run of five missed cuts with a share of 38th, in which all four rounds were under-par.
Three years later and he arrives having finished in the frame three times already this season, so it really does look a matter of time before this former US Amateur runner-up steps through the door at the top level.
A missed cut last time tempers enthusiasm to some extent but two of his top-three finishes this season have come after he'd failed to make the previous weekend, and I'd rather focus on this course's apparent suitability to his impressive game.
Patrick Rodgers is a name we'll hear plenty of in the coming years and he could follow Spieth in gaining his playing privileges for next season without the need to go through the Web.com Tour Finals.
To do that he needs to play his way inside the top 125 on the FedEx Cup points list and he's made a good start, making the cut in all three events since turning professional having been the number one amateur in the world before that.
What's particularly eye-catching is how well he strikes the ball and it's absolutely no surprise that Nike were quick to snap up a player who tied Tiger Woods' record of 11 victories at Stanford University.
So, why here? Well, Rodgers says that it was watching the John Deere Classic which really set the fire burning while he was a junior golfer and he's already shown a strong desire to play in this event.
"Obviously being from the Midwest and being from Indianapolis, the John Deere Classic has always been really special for me, a close tournament to home," he said last year.
"I played a tournament here when I was 13, a Plantations junior golf tournament, shot a couple 77s and finished like 10th or something. But always had some good memories here and really enjoyed the golf course.
"With the AJGA, they have their kind of connecting event, they also call it the John Deere maybe Junior Open or something like that, in the area, and kind of in accordance with that event, I came over with a buddy to watch the final round, I think it was when Jonathan Byrd won in '07, and we came out, watched the entire final round and couldn't get enough of it, so we just kind of hung around and waited for everybody to leave and walked the back nine and relived everything that we had just seen.
"We went to the range, and there was a bunch of fescue all around the range, so we thought it would be a cool thing to pick up all the golf balls from the range that had been left over. Really great experience, and I've been hoping to get into this event, so really excited to be here."
Those comments came after Rodgers had briefly taken the lead in last year's renewal, before eventually settling for a tie for 15th as an amateur. He had written to the event organisers to secure a spot in the field, something he says he's only felt the need to do for this event, and I wouldn't be surprised were the timing of his turning pro designed to allow him to find his feet in advance of his return to Deere Run.
Whatever the case, even viewed on its own that tie for 15th as an amateur offers great encouragement and this top-class talent in the making is surely worth chancing at the odds.
Finally, I am prepared to take a chance on statistically the worst putter on the PGA Tour this season - Kyle Stanley.
It was here that Stanley first showed us what he can do, when just denied by one of the great closing birdies in PGA Tour history from Stricker back in 2011. He then went on to win the Phoenix Open the following year having thrown away the Farmers just days earlier and the sky really did look to be the limit.
Clearly, things haven't gone to plan since but a detailed look at his stats reveal that it's simply a case of Stanley not putting at all well for some time. We've seen glimpses - he was third twice last season - but all the while his strong ball-striking game has been hidden by awful performances on the greens.
It's probable that he's again going to be hindered by the flat-stick, but there is encouragement to be taken from last week's share of 35th in the Greenbrier which saw him briefly threaten the leaders on Saturday, a round he played alongside the inspirational Tom Watson who waxed lyrical about him afterwards.
Looking closer, Stanley's putting took another big step forward as it has through each of his last five events, and another move in the right direction could put him in contention at a course he loves - he was also 19th in 2012.
What's more, Stanley spent Monday in the company of Stricker, Spieth and his friend and mentor Johnson so there's hope their exploits at Deere Run will rub off on him - better still, one of them might just have given him a putting lesson.
Either way, at the price and at this course I'm willing to speculate.
Posted at 1200 BST on 08/07/2014.