Rod to catch Uruguay cold
Ben Coley previews Saturday's last-16 games at the World Cup, with Brazil and Colombia expected to advance.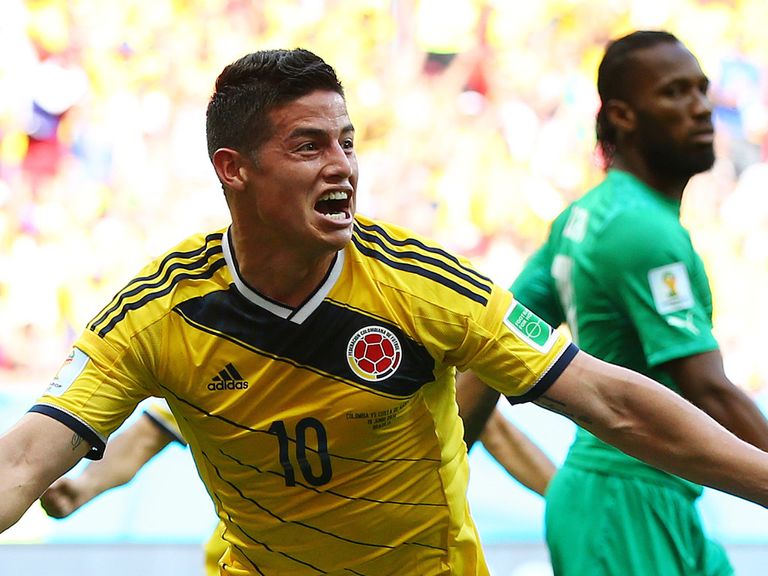 Hosts Brazil have seen there position as tournament favourites threatened during the group stage but arrive at the knockout stages on the back of an impressive performance against Cameroon - one we expect them to build upon against Chile.
Colombia meanwhile have been one of the standout teams of the tournament and, with Luis Suarez suspended, should be able to take care of Uruguay.
Check out our match verdicts below.
Brazil v Chile (Round of 16, Belo Horizonte, 1700 BST)
There seems little question that events at the World Cup so far have brought Brazil and Chile closer together - at least from the view of an outsider looking in.
Phil Scolari's Brazil have shown only glimpses of brilliance even in making serene progress to this stage and some would call them underwhelming.
While understandable given the fireworks many expected, it may prove a blessing that they've instead crept along steadily until a really promising final 45 minutes to overpower Cameroon, a performance which looked more like the Brazil which won the Confederations Cup so impressively to earn favouritism for the main event.
Chile on the other hand arrive on the back of a defeat to Holland, yet with their newly-built reputation firmly intact. Jorge Sampaoli's side have impressed with their high-energy game which shows no sign of wilting either under the weight of expectation or the conditions faced in Belo Horizonte and, at 11/2, I'm quite sure they'll have their backers to do to Brazil what they've already done to Spain.
They'll try to stifle Scolari's men through retreating to the edge of their area but by exploding forward, both with and without the ball, and this attitude brings with it a question which the Selecao have not yet been asked.
However, while it's been a superb team effort from Chile so far my feeling is they will now need top-level performances from Arturo Vidal and Alexis Sanchez if they're to get past the hosts and land a 3/1 touch for those backing them simply to qualify for the quarter-finals. I'm firmly expecting Brazil to step it up a gear and impose themselves on this tournament.
While in the minority, I like what I've seen from Brazil so far and make them comfortably the most likely World Cup winners with plenty more in the locker. They'll need to get a bit of luck when the inevitable defensive lapses do occur and from Neymar they made need a couple more standout performances, but he looks up to the job and I still expect him to fire them to the trophy.
They also carry into this game a remarkably strong record against Saturday's opponents, winning nine of their last 10 meetings and last losing over a decade ago. Further to this, Chile have reached the knockout stages of three World Cups, and in all three of them it's been Brazil who've sent them packing.
With that and our antepost investment on Brazil in mind, any temptation to oppose them with this impressive Chile outfit is easily cast aside and I'm going to sit back and watch what, on paper, looks the tie of the round. No bet.
Verdict: Brazil 3 Chile 1
Opta facts:
Brazil have won all three previous World Cup fixtures against Chile, all of which have been in the knockout stages of the tournament (Round 2 in 2010, Round 2 in 1998, and the semi final in 1962).
Chile have conceded 11 goals in their three meetings with Brazil at the World Cup finals, an average of 3.7 per game.
Four of Chile's five goals so far at the 2014 World Cup have arrived before half-time, with the other coming in the 90th minute.
The Seleção are now unbeaten in 40 successive matches in Brazil, with their last defeat coming against Paraguay (0-1 in a friendly) in August 2002.
Colombia v Uruguay (Round of 16, Rio de Janeiro, 2100 BST)
Colombia are a shade of odds-against to beat Uruguay and advance to the World Cup quarter-finals for the first time in their history.
It's a price which reflects both the impressive nature of their progress so far and the fact that Uruguay are without Luis Suarez, who begins a four-month ban for yet again biting an opponent. Views on that are best kept for other pages, but the absence of Suarez is without question a key factor as we approach this game.
Colombia offer evidence of what can be achieved when a perceived standout player is absent. While it's rare - perhaps increasingly so - for a team to be better off without a world-class focal point, Los Cafeteros have proved exactly that so far, brought closer by a collective need to cover for the loss through injury. of Radamel Falcao.
James Rodriguez is one of just two players to have found the net in all three group games and along with Juan Cuardrado has helped orchestrate three performances of equal quality, notwithstanding the odd lapse in concentration which has helped opponents keep within touching distance.
It's that slight hint of defensive frailty which helps make a case for Uruguay, but without Suarez it's questionable how effective they can be. Diego Forlan is plainly not up to this level any more, impressive though his career has been, while Edinson Cavani doesn't strike me as the type to step up and deliver now that the nation needs him to.
Of course, that phrase about a wounded animal backed into a corner may hold some relevance and Uruguay certainly feel like they've been victimised. There's even been talk of a strike which, while unlikely, helps underline the mood within the camp. Unfortunately for them, they need Suarez to help them channel this and without him I find it hard to see how they achieve a positive result.
Remember, this is a team which was totally outplayed by Costa Rica when Suarez sat on the bench and while it was Diego Godin's goal which got them past Italy, it was Suarez who triggered what was one of the turnarounds of the group stage.
So, it's a Colombia win for me and I'm prepared to go as far as backing them on the one-goal handicap at 3/1. It's a bet they've landed in two of their three group games and, with respect to Uruguay, without Suarez I don't see them as a much better side than Japan or Greece.
Jackson Martinez is priced as Colombia's biggest attacking threat and to an extent that's understandable, but I am surprised to see James Rodriguez chalked up at 3/1 to continue his scoring run, a price which looks well worth taking.
The Monaco man has been one of the stars of the tournament and he's worthy of support at this sort of price - particularly against opposition I expect to be comfortably seen off.
Verdict: Colombia 3 Uruguay 0
Opta facts:
The last nine encounters between Colombia and Uruguay have produced 32 goals; an average of 3.6 per game.
Colombia have won as many games at this year's World Cup (3) as they did in their previous 13 games in the competition (3).
James Rodriguez has scored three goals and delivered two assists in 225 minutes at this World Cup, an average of a goal / assist every 45 minutes. He's already been involved in more goals than any other Colombian in World Cup history (5).
Luis Suarez has missed two games at the World Cup since 2010. Both were defeats for Uruguay (Netherlands in the 2010 semi-final and Costa Rica in the 2014 group stages).
Posted at 1520 BST on 27/06/2014.