Go Wild for Cats
Former Super League winner Ian Millward is siding with Wakefield this week, a round which sees his old clubs Wigan and St Helens clash.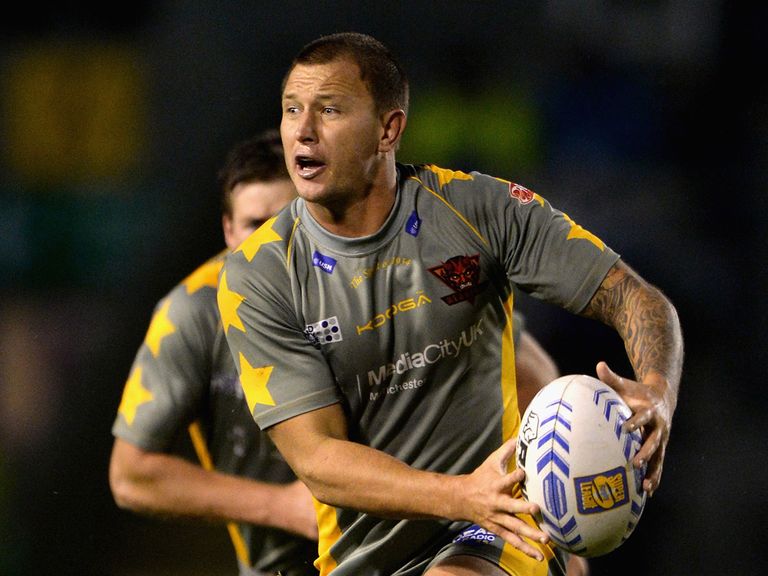 Wigan v St Helens (scr) - Friday 2000 BST
I coached both these teams and have a fond memory of leading St Helens to a Grand Final win over Wigan. The DW Stadium is the noisiest ground when there's a derby. When you walk out there the noise gravitates through your body. It's an unbelievable feeling. A lot of it is about nerves and how you handle them. The week of a derby game starts on a Monday and it feels like a Grand Final week. There's real intensity and that will be carried into the game. As for this latest clash, Alex Walmsley's size and power in the front row will be big in this one, while Josh Jones is definitely now Mr Reliable for St Helens - Jones being available is a real boost for them. There was a 33-14 win for Wigan at St Helens earlier in the season and now Wigan are at home. In that game St Helens started very slowly but I think they will start much better this time. Wigan have chopped and changed a little bit of late and some of their younger players will have found this game isn't easy with its demands. Last week's performance (against Castleford) will give St Helens a lot of confidence and I take them to win the game.
London (+14) v Widnes - Saturday 1500 BST
Widnes have slipped back a bit lately, they were thumped at Wigan, but last week they really improved against Leeds - only being beaten by 10 points was a fantastic performance. London keep knocking on the door. They are scoring more points and are getting closer but at the end of the day they've not got enough to win games and they may struggle to win a game this year. Widnes may have no win in five but, of course, neither do London. The visitors seem to be having a mid-season blip so I'm going to take them to win the game but for London to cover the start.
Castleford v Salford (+8) - Saturday 1900 BST
People feel Salford are getting a bit better but they've still only won one of their last 10 games. Cas, on the other hand, have three wins in their last five and also have a good record at home against Salford. I still think the Reds have issues defensively and after two recent defeats, I take Castleford to get right back on track here. They've had good form all year at home. Their pack of forwards has been a revelation with Weller Hauraki having impressed. Salford beat Cas earlier in the season but I think their forwards will be too strong this time and can turn it around - they will win and cover.
Leeds v Catalan (+12) - Sunday 1500 BST
Every team goes through a dip at points in the year and I get the feeling that's what Leeds are doing right now. They've not been as impressive lately, the Challenge Cup will have had something to do with that - it takes it out of you. Catalans are starting to improve. They've got a good squad and now have Ian Henderson, their main playmaker, back. With him returning, it's made a massive difference to their confidence. Sam Williams at half-back, a player I've coached, brings a good kicking game to Catalans. Leeds have won their last four against the Dragons and were very convincing earlier in the season at Catalans but the French side are playing a lot better now with more confidence. Leeds have only won two of their last five so I'm going to go with the form team and back Catalans to cover the start.
Wakefield (+8) v Hull - Sunday 1500 BST
Hull have picked up of late and won two of their last three. Last week away to Catalan was a close loss (20-16) and you think 'wow, they could come into some good form'. But Wakefield have won their last two and they've already played and beaten Hull this season. In fact they've won three of their last five against them. The return of Tim Smith has made a massive difference. They've got other players back from injury now too, including second row Taulima Tautai. Danny Kirmond has done well and Smith's organisational play and kicking game means they are looking like the side that made the play-offs in 2012. Wakefield are a hard team to battle against and they have a good history in this game. I'm with the Wildcats here and they can cover the start.
Warrington v Bradford (+28) - Sunday 1500 BST
We have the new coach factor here with James Lowes in place. People talk about a 50 per cent win ratio after a team changes coach but if a new coach improves that much then teams would change their coach every other week and win 50 per cent of their games! Warrington have had some convincing wins of late, including a 46-10 one over the Bulls. However, Bradford did beat them at Odsal earlier this season on a bog track. The problem is it will be a fast track this time around. It's worth noting that in the last five meetings between these two, Warrington have scored double the amount of Bradford. They are far superior to the Bulls - Warrington have won six in a row, whereas Bradford have only won once in a long, long time. Their players are pretty average and they lack in many key areas. Warrington and Huddersfield are the league's form teams and I take the Wolves to win and cover here.
NRL
Broncos v Sharks (+12) - Friday 1040 BST
The Sharks created a bit of history last week - they've now gone three games in a row without scoring. The 1990s was the last time it happened. They have a lot of quality players but there are a lot of issues around the club at the moment. The Broncos had a close loss to New Zealand (Warriors) last week and going to Brisbane on a Friday night is always a tough ask. I think they will be too fast, too skilful for the functional Sharks.
Tigers v Raiders (+10) - Saturday 0730 BST
This is a must-win for both teams. West Tigers need it in terms of top eight, Canberra to get away from the bottom of the ladder. The return of Robbie Farah is the tonic Wests Tigers need and they also have exciting young outside-backs. Canberra are very inconsistent. Their halves lack speed and penetration and the whole organisation seems to lack confidence at the moment. I am with the Tigers here.
Handicaps are with Sky Bet.
Posted at 2050 BST on 26/06/2014.