Liverpool out to 8/1 for title
Liverpool have been pushed out to 8/1 for the Premier League title as a result of Luis Suarez's four-month ban from all football.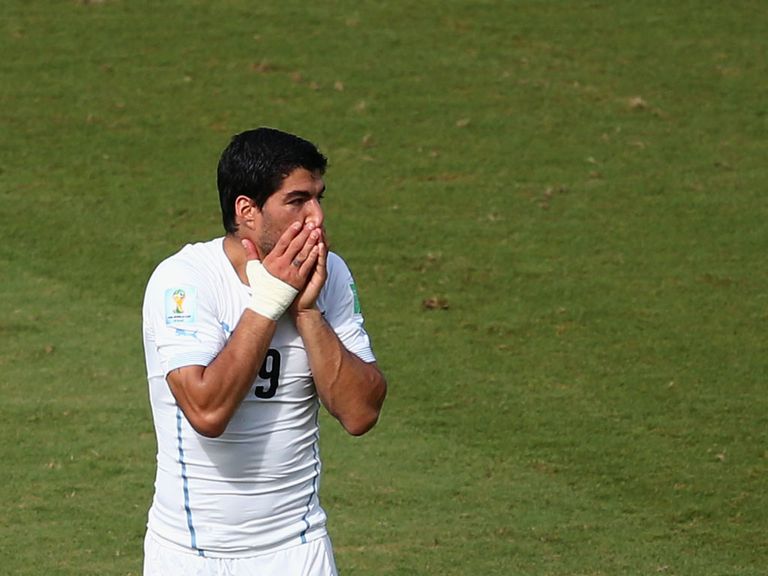 The bookmakers clearly feel the Reds' title hopes have been dealt a massive blow by FIFA's disciplinary panel, who acted after the Uruguay striker bit Giorgio Chiellini during their 1-0 win over Italy on Tuesday. It was the third time Suarez has been involved in a biting incident on the field of play during his career.
Sky Bet went out to 8/1 in their title betting following the news. Most other firms also lengthened their price in the market.
The main beneficiaries in the market were Arsenal, who saw their odds trimmed by several firms.
Sky Bet also saw fit to shorten favourites Chelsea, who they moved into 7/4, making them clear favourites from champions Manchester City at 15/8. Those two sides are joint favourites on best price at 2/1.
Liverpool have also been pushed out in the top-four betting. Sky Bet go 4/5 with betway at 21/20.
Although the Reds remain odds-on with Sky Bet, they are now only fifth in a packed market having slipped behind both Manchester United and Arsenal, who are both 4/7 shots.
FIFA have banned Suarez from all football activity for four months, meaning he cannot play again until October 26. As the fixture list stands, Suarez is due to miss nine Premier League games, three Champions League group matches and a Capital One Cup tie.
Despite this, Suarez is no bigger than 5/1 for the Premier League Golden Boot, an honour he won last season when he missed the first six games of Liverpool's season due to a biting suspension.
BetVictor go 5/1. Manchester City's Sergio Aguero is the new favourite at 3/1.
England striker Rickie Lambert is now set for more games than originally expected. bet365 have pushed his Premier League goals line for the season from 8/5 to 10.5 - it's 5/6 either side of the mark.
He's also 66/1 for the Golden Boot, with team-mate Daniel Sturridge currently a best of 6/1 (BetVictor).
Suarez is also suspended for Uruguay's next nine matches, ruling him out of the remainder of the World Cup. Uruguay have already said they plan to appeal the decision.
The silver lining for Liverpool fans is that he is now rated unlikely to leave Liverpool in this summer's transfer window.
Games covered by ban
Aug 16 - Southampton H
Aug 23 - Man City A
Aug 30 - Tottenham A
Sep 13 - Aston Villa H
Sep 16/17 - Champs Lge
Sep 20 - West Ham A
Sep 23/24 - League Cup
Sep 27 - Everton H
Sep 30/Oct 1 - Champs Lge
Oct 4 - West Brom H
Oct 18 - QPR A
Oct 21/22 - Champs Lge
Oct 25 - Hull H
After hearing about the ban, Sky Bet moved his odds on leaving Anfield this summer from 5/6 to 7/2. However, they were soon back into 7/4. Barcelona had been backed in to odds-on to sign the 27-year-old in recent days.
Paul Wiggins, Sky Bet's head of football, said: "It's mixed news for Liverpool fans, with plenty fearing they might lose their star man this summer as interest in his services appeared to be cranking up.
"However, for both on and off-field reasons, it now seems unlikely that either Barcelona or Real Madrid would be willing to stump up the sort of money required to convince Liverpool to sell, but the Reds will have to play almost a quarter of the season without their leading marksman."
Coral's John Hill added: "We've taken the view in the Premier League outright betting that he is going to impede Liverpool's start to the season if he stays and if he does go, they are surely going to be weaker."
William Hill already bet on Suarez being banned again next season. He is 8/1 to receive a four-game suspension (or longer) in 2014/15 and 230/1 ('tooth-hurty') to pick up another biting ban before the end of 2014.
Posted at 1610 BST on 26/06/2014.