Mal Boyle's Placepot picks
Our Placepot expert Mal Boyle reveals his selections for this evening's meeting at Hamilton.
Hamilton. Click here to bet.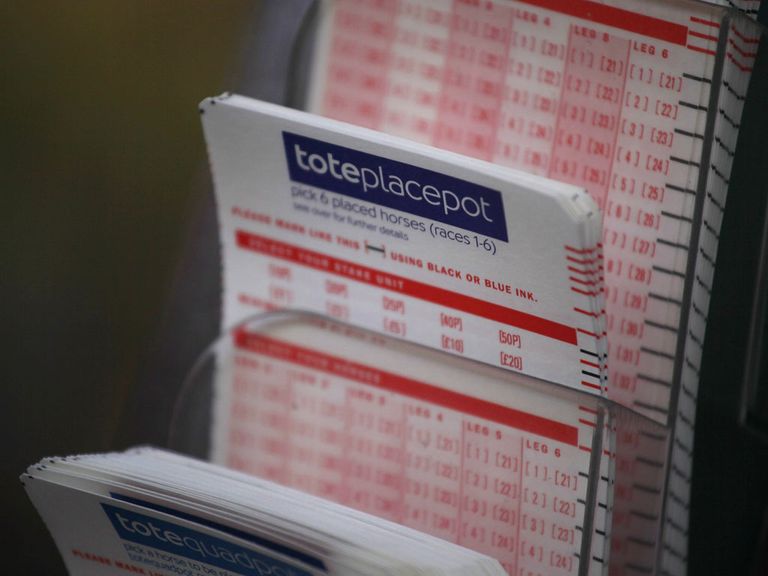 Each day Malcolm Boyle, the author of 'How To Win at the Tote Placepot' and a former odds compiler, will give his unique analysis of the feature meeting from a Placepot perspective.
His general preview for the following day's racing will appear at around 1700 BST the day before with the actual selections available around two hours before the first race on the day of racing so factors such as non-runners and going conditions can properly be taken into account.
HAMILTON - JUNE 26
Hamilton Selections
Race 1 (6.20pm): 3 (Operateur) & 2 (Harrison's Cave)
Race 2 (6.50pm): 3 (Arabian Bride) & 1 (Why No Rein)
Race 3 (7.20pm): 5 (Ehtifaal), 3 (Arcamante) & 6 (Maid Of The Glens)
Race 4 (7.50pm): 3 (Flycatcher), 1 (Patrona Ciana) & 4 (Act Your Shoe Size)
Race 5 (8.20pm): 5 (Baltic Spirit), 10 (Emily Davison) & 11 (Straight Gin)
Race 6 (8.50pm): 5 (Elusive George), 1 (Khelman) & 7 (Funding Deficit)

Last year's corresponding toteplacepot dividend:

2013: £168.50 (7 favourites: 1 winner--2 placed--4 unplaced at 10/11--2/1--9/4--4/1**)

6.20 These amateur races are a law unto themselves in all honesty, and with 'only' nine renewals to call on from a trends perspective, I will simply revert back to the safest option via experienced jockeys. I used this method to call three horses against the field last year and they finished 1-2-3 at odds of 9/2-7/4*-16/1. Hoping a similar outcome emerges this time around, I'll opt for HARRISON'S COVE, JEBULANI and OPERATEUR.

Favourite factor: Five of the eight favourites have finished in the frame, statistics which include one 2/1 winner.

6.50 Mark Johnston saddled the five-length winner of this event twelve months ago and Mark's beaten (debut) favourite ARABIAN BRIDE did not do a great deal wrong at the first time of asking, whereby Mark's Raven's Pass filly will hopefully go one better this time around. The other four runners with experience appear pretty moderate (respectfully) whereby newcomers WHAT COULD SHE BE and WHY NO REIN could provide the biggest threat to ARABIAN PRIDE on this occasion.

Favourite factor: Two market leaders have finished in the frame via five renewals thus far (one winner).

7.20 Three-year-olds have won all nine contests to date and the trend will surely continue this time around because before form lines are assessed, vintage representatives are 1/2 to win the contest via four declarations. William Haggas was due to saddle a horse in the 9.10 at Bath on Wednesday night after this analysis was written but suffice to say, that six of William's last eight runners had won whereby the chance of his beaten favourite EHTIFAAL in thoroughly respected. The other 'junior' raiders should be led home by MAID OF THE GLENS.

Favourite factor: Seven of the nine favourites have secured toteplacepot positions, statistics which include five winners. That said, last year's 10/11 was beaten five lengths in a four runner race.

7.50 All three victories gained by PATRONA CIANA have emerged under fast conditions and as both winners of this race to date have successfully carried the burden of 10 stones to winning effect, David O'Meara's Falco filly could complete the hat-trick for the top weights. The terms and conditions of the race suit FLYCATCHER, whilst last year's winner ACT YOUR SHOE SIZE should be there or thereabouts with 9lbs less to carry.

Favourite factor: Both (13/8 & 2/1) favourites have finished out with the washing to date.

8.20 David Nicholls has saddled 29 winners of selling races during the last five years, whereby CAPE OF HOPE is the first name on the overnight team sheet, especially as his two successes have been gained under very fast conditions. The trio of three-year-olds are the potential spoilers in the pack from my viewpoint, namely STRAIGHT GIN, BALTIC SPIRIT and EMILY DAVISON.

Favourite factor: The penultimate leg of the toteplacepot is a new race on the Hamilton card.

8.50 John Quinn's ELUSIVE GEORGE appears to have been well placed by the trainer and with a 7lb claimer booked to ride the Elusive City colt, the lone three-year-old representative in the field could score. The pair of four-year-olds in the field could provide most resistance at the business end of the toteplacepot finale, namely KHELMAN and FUNDING DEFICIT from either end of the handicap.

Favourite factor: Only one (bronze medallist) of the three market leaders has secured a toteplacepot position thus far via two renewals.

2014 average toteplacepot returns thus far (667 meetings):
Favourites failing to reach the frame in all six races: £44,616.30 (1)
1 race with at least one favourite in the frame: £811.86 (15)
2 races with at least one favourite in the frame: £1,196.67 (71)
3 races with at least one favourite in the frame: £426.81 (170)
4 races with at least one favourite in the frame: £205.52 (197)
5 races with at least one favourite in the frame: £67.16 (150)
All 6 Placepot races with at least one favourite in the frame: £14.21 (63)

All references to placed horses on these pages are based on an exact science regarding general place terms offered by bookmakers and totepool.com.

Biggest toteplacepot dividends in 2014:
Cheltenham--£44,616.30--Friday March 14
Pontefract--£26,272.90--Tuesday April 8
Warwick (NH)--£6,946.60--Sunday March 9
Wolverhampton--£5,122.30--Friday April 11
Southwell (NH)--£4,820.20--Thursday January 22
Doncaster (flat)--£3,701.90--Friday April 25
Wetherby--£3,148.90--Thursday May 29
York--£2,892.80--Saturday June 14
Wincanton--£2,871.50--Thursday May 8
Yarmouth--£2,868.90--Monday April 21
Fontwell--£2,743.60--Tuesday June 10
Stratford--£2,571.90--Saturday March 22
Uttoxeter--£2,507.80--Thursday June 12
Cheltenham--£2,414.40--Thursday April 17
Fontwell--£2,374.70--Friday May 2
Lingfield (A/W)--£2,320.10--Saturday March 22
Catterick (NH)--£2,105.50--Wednesday January 1
Doncaster (Flat)--£2,002.40--Sunday March 30

Flat Turf venues:
Total Flat Turf meetings (£430.23--207 meetings)
Ascot (£271.75--8 meetings)
Ayr (£206.26--5 meetings)
Bath (£178.18--7 meetings)
Beverley (£633.19--7 meetings)
Brighton (£210.15--8 meetings)
Carlisle (£459.43--3 meetings)
Catterick (£100.87--6 meetings)
Chepstow (£97.32--6 meetings)
Chester (£178.77--5 meetings)
Doncaster (£783.50--9 meetings)
Epsom (£143.77--3 meetings)
Goodwood (£141.33--8 meetings)
Hamilton (£191.45--6 meetings)
Haydock (£191.45--9 meetings)
Leicester (£154.64--8 meetings)
Lingfield (£877.00--1 meeting)
Musselburgh (£379.03--8 meetings)
Newbury (£259.00--7 meetings)
Newcastle (£174.73--5 meetings)
Newmarket (Rowley Mile) (£173.17--7 meetings)
Newmarket (July) (£296.72--4 meetings)
Nottingham (£275.09--11 meetings)
Pontefract (£5,396.80--5 meetings)
Redcar (£399.26--8 meetings)
Ripon (£33.59--8 meetings)
Salisbury (£164.54--5 meetings)
Sandown (£187.06--5 meetings)
Thirsk (£398.39--6 meetings)
Warwick (£47.77--4 meetings--only two races contested at the May 20 meeting)
Windsor (£177.60--11 meetings)
Yarmouth (£657.30--8 meetings)
York (£1,107.58--6 meetings)

Mixed Turf and All-weather venues:
Lingfield (£87.10--7 meetings)

All-weather venues:
Total A/W meetings (£193.49--172 meetings)
Kempton (£112.16--40 meetings)
Kempton NH Bumper (£134.05--2 meetings)
Lingfield (£194.73--45 meetings)
Lingfield NH Bumper (£27.70--1 meeting)
Southwell (£153.55--36 meetings)
Southwell NH Bumper (£17.00--1 meeting)
Wolverhampton (£268.47--47 meetings)

National Hunt venues:
Total NH meetings (£503.38--290 meetings)
Aintree (£565.72--5 meetings)
Ascot (£144.23--3 meetings)
Ayr (£360.01--8 meetings)
Bangor (£209.62--5 meetings)
Carlisle (£522.96--6 meetings)
Cartmel (£131.90--3 meetings)
Catterick (£375.36--7 meetings)
Cheltenham (£5,553.28--9 meetings)
Chepstow (£197.61--7 meetings)
Doncaster (£290.41--7 meetings)
Exeter (£332.49--7 meetings)
Fakenham (£160.26--7 meetings)
Ffos Las (£333.64--10 meetings)
Fontwell (£665.37--9 meetings)
Haydock (£817.85--4 meetings)
Hexham (£336.10--9 meetings)
Huntingdon (£131.48--8 meetings)
Kelso (£297.68--7 meetings)
Kempton (£133.63--6 meetings)
Leicester (£382.19--5 meetings)
Ludlow (£93.57--8 meetings)
Market Rasen (£104.95--10 meetings)
Musselburgh (£372.37--6 meetings)
Newbury (£209.60--6 meetings)
Newcastle (£454.85--6 meetings)
Newton Abbot (£287.13--8 meetings)
Perth (£171.03--6 meetings)
Plumpton (£267.18--8 meetings)
Sandown (£205.02--4 meetings)
Southwell (£648.26--10 meetings)
Sedgefield (£219.09--10 meetings)
Stratford (£339.38--8 meetings)
Taunton (£144.18--9 meetings)
Towcester (£112.88--10 meetings)
Uttoxeter (£450.58--8 meetings)
Warwick (£1,287.67--6 meetings)
Wetherby (£387.17--10 meetings)
Wincanton (£439.67--10 meetings)
Worcester (£133.10--7 meetings)

Mixed Flat and NH venues:
Haydock (£311.40--1 meeting)

The average toteplacepot dividend in 2014 stands at £414.85 (667 meetings) up to and including Tuesday June 24.

2014 stands at £414.85 (667 meetings) up to and including Tuesday June 24.eetings)
Doncaster (£290.41--7 meetings)
Exeter (£332.49--7 meetings)
Fakenham (£160.26--7 meetings)
Ffos Las (£333.64--10 meetings)
Fontwell (£665.37--9 meetings)
Haydock (£817.85--4 meetings)
Hexham (£376.39--8 meetings)
Huntingdon (£131.48--8 meetings)
Kelso (£297.68--7 meetings)
Kempton (£133.63--6 meetings)
Leicester (£382.19--5 meetings)
Ludlow (£93.57--8 meetings)
Market Rasen (£104.95--10 meetings)
Musselburgh (£372.37--6 meetings)
Newbury (£209.60--6 meetings)
Newcastle (£454.85--6 meetings)
Newton Abbot (£311.83--7 meetings)
Perth (£171.03--6 meetings)
Plumpton (£267.18--8 meetings)
Sandown (£205.02--4 meetings)
Southwell (£648.26--10 meetings)
Sedgefield (£219.09--10 meetings)
Stratford (£339.38--8 meetings)
Taunton (£144.18--9 meetings)
Towcester (£112.88--10 meetings)
Uttoxeter (£450.58--8 meetings)
Warwick (£1,287.67--6 meetings)
Wetherby (£387.17--10 meetings)
Wincanton (£439.67--10 meetings)
Worcester (£110.07--6 meetings)

Mixed Flat & NH venues:
Haydock (£311.40--1 meeting)

The average toteplacepot dividend in 2014 stands at £417.53 (656 meetings) up to and including Saturday June 21
---
New Sky Bet customers: Free matched bet up to £30
---
.96--6 meetings)
Cartmel (£131.90--3 meetings)
Catterick (£375.36--7 meetings)
Cheltenham (£5,553.28--9 meetings)
Chepstow (£197.61--7 meetings)
Doncaster (£290.41--7 meetings)
Exeter (£332.49--7 meetings)
Fakenham (£160.26--7 meetings)
Ffos Las (£333.64--10 meetings)
Fontwell (£665.37--9 meetings)
Haydock (£817.85--4 meetings)
Hexham (£376.39--8 meetings)
Huntingdon (£131.48--8 meetings)
Kelso (£297.68--7 meetings)
Kempton (£133.63--6 meetings)
Leicester (£382.19--5 meetings)
Ludlow (£93.57--8 meetings)
Market Rasen (£104.95--10 meetings)
Musselburgh (£372.37--6 meetings)
Newbury (£209.60--6 meetings)
Newcastle (£454.85--6 meetings)
Newton Abbot (£311.83--7 meetings)
Perth (£171.03--6 meetings)
Plumpton (£267.18--8 meetings)
Sandown (£205.02--4 meetings)
Southwell (£648.26--10 meetings)
Sedgefield (£219.09--10 meetings)
Stratford (£339.38--8 meetings)
Taunton (£144.18--9 meetings)
Towcester (£112.88--10 meetings)
Uttoxeter (£450.58--8 meetings)
Warwick (£1,287.67--6 meetings)
Wetherby (£387.17--10 meetings)
Wincanton (£439.67--10 meetings)
Worcester (£110.07--6 meetings)

Mixed Flat & NH venues:
Haydock (£311.40--1 meeting)

The average toteplacepot dividend in 2014 stands at £417.53 (656 meetings) up to and including Saturday June 21
---
New Sky Bet customers: Free matched bet up to £30
---