Get set for late show from Froch
Our Simon Crawford believes Carl Froch will force a late stoppage win in Saturday's Wembley rematch with George Groves.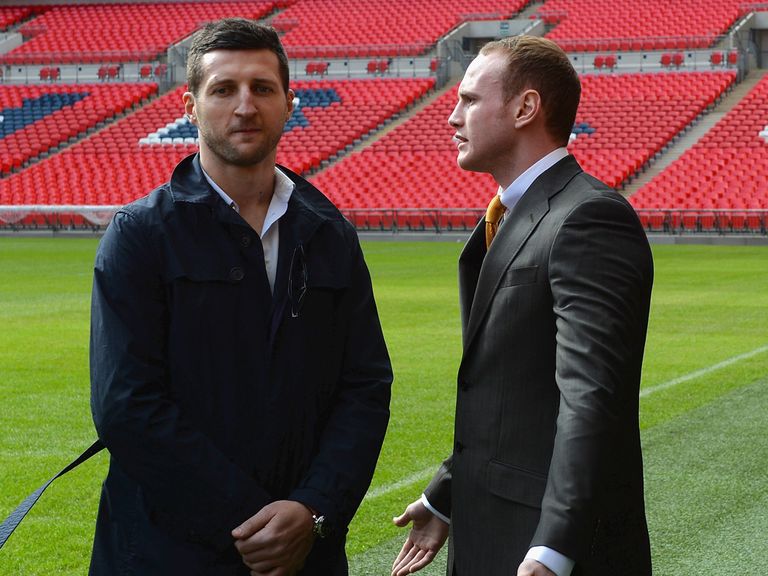 One of the biggest showdowns in British boxing history takes place at Wembley Stadium on Saturday evening when Carl Froch takes on domestic rival George Groves in an eagerly-awaited rematch.
It's an 80,000 sell-out and millions will be watching it live around the world as 36-year-old Froch (32-2 23KOs) puts his IBF and WBA world super-middleweight titles on the line for a second time against the young pretender.
The first clash in Manchester, back in November last year, saw Froch stop Groves (19-1 15KOs) in the ninth round after being floored in the opener.
But that does not tell the full story.
Groves had won the opening six rounds after repeatedly rocking Froch with big right hands and the stoppage by referee Howard Foster was premature and controversial to say the least.
True, the champion had Groves in serious trouble on the ropes but the benefit of the doubt should have been given and the fight should have continued.
The 26-year-old Londoner was so incensed that he successfully launched an appeal to the IBF for a rematch and got his way.
So now we are all set to do it again.
The spiteful war of words between the two has continued in the build-up with Groves predicting a win inside three rounds, while Froch has vowed that he is fully motivated for the rematch after admitting he had taken the challenger lightly in the first contest.
Froch remains the favourite to win on Saturday night, despite struggling so badly first time round and 8/11 is the best you will get on him while Groves is as wide as 11/8.
So why is Froch still such a strong favourite?
Obviously the layers agree with the champion, who revealed he did not prepare properly for the first fight and that he will be much sharper on Saturday.
He claimed Groves was not worthy of a world title opportunity and no doubt looked at a record that said among other things a debatable win over James DeGale, put down by Kenny Anderson and thought he was in for an easy night.
But for me, Froch's A-game is currently better than that of Groves, he's vastly more experienced, he punches harder and he nearly always comes on strong in the later rounds as he did in Manchester.
If a Carl Froch firing on all cyclinders turns up this time he wins the fight.
Having said that, I can see why plenty of punters will be taking up the 11/8 on Groves, who was outstanding in the first fight.
He took the centre of the ring and picked Froch off almost at will at times with his fast hands and agile footwork.
But there are several things that worry me about this second challenge.
Groves threw everything at Froch in the first fight and put him down, but he could not stop the champion when surely the opportunity was there for the taking.
Groves was visibly tiring from round seven onwards and allowed Froch back into the contest. Had the fight been allowed to continue then I'm fairly certain Froch would have stopped Groves anyway.
But crucially, did we see Groves at his very best in the first fight?
For seven rounds he was brilliant - the best I've seen him in his whole career.
But it still wasn't enough to get the job done.
If that was Groves at the peak of his powers then he could be in for a torrid evening on Saturday because Froch will be better and you would think his vast experience will ensure he will not make the same mistakes again.
On the other hand, if Groves has more in the tank then we could be in for an epic encounter. I'm sure he thinks he now has Froch's number and had it not been for the controversial stoppage he feels he would have won.
He has the perfect opportunity to show that the first fight was not a flash in the pan, to show he is the real deal - but I'm not convinced he can reach that level again because I don't think he will be allowed to.
The first fight was a wake-up call for the champion who now looks hugely focused and determined which is bad news for Groves.
As good as the Londoner was first time round, he may pay a heavy price for poking a dangerous animal with a sharp stick.
So what must Froch do differently this time?
Well obviously he must not caught with a silly shot in the first round!
But he must look to dominate from the first bell, take the centre of the ring and use his jab, work the openings and let his power take its toll.
I also feel a fast start is vital.
He must look to take the initiative and remind Groves who the champion is to dent his confidence and force him into mistakes.
My fight scenario is that Froch may well put Groves down early, but the game challenger will battle back only for the 'Cobra' to come on strong again and finish the fight in the later rounds.
I'd be surprised if it went the distance and the layers would be as well with Froch a general 9/2 to win on points and Groves a stand out 4/1.
There are also some interesting markets available with bookmakers offering 6/1 that history will repeat itself with Froch 6/1 to win after being knocked down, while you can get 18/1 that the fight ends in the 12th round.
I do think Groves will once again prove to be a tough test but ultimately I think Froch's experience and power will take him to a late stoppage.
So I'm looking at the round group betting and I'm taking the 5/1 being offered for Froch to win between rounds 9-12.
Join Simon Crawford at 5.30pm on Saturday for live text commentary on Froch v Groves plus a packed undercard at Wembley Stadium that includes Anthony Joshua, James DeGale and Jamie McDonnell.
Posted at 1250 BST on 29/05/2014.