DJ to call the tune in Texas
Ben Coley previews the HP Byron Nelson Championship and thinks Dustin Johnson is overpriced.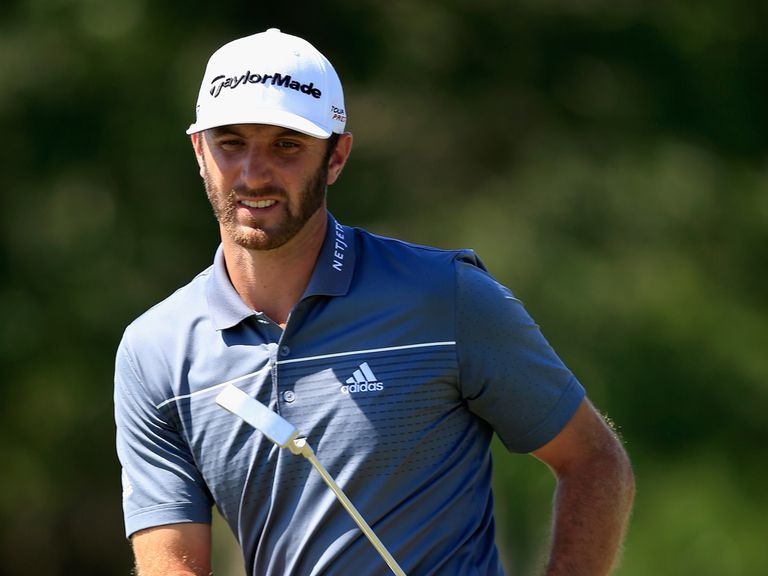 Twenty-year-old Jordan Spieth is a 12/1 favourite for the HP Byron Nelson Championship.
Spieth made his PGA Tour debut in his hometown event back in 2010 and captured the imagination as a 16-year-old, cheered on by his school friends and good enough to be beaten by only 15 of the fully-fledged touring professionals in that year's field.
Four years on, even the most impressed spectators that week would've struggled to map out such a meteoric rise.
From having no playing status at the start of the 2013 season, Spieth is now a PGA Tour winner, a TOUR Championship and Masters runner-up and now ranks as high as eight in the world. Had he won the Players last Sunday, he'd have been victory here away from the top of the Official World Golf Rankings.
What can we say about him that hasn't already been said? He's simply a phenomenal talent with a long and prosperous career ahead of him, and he left reporters in no doubt as to his focus when signing off for fourth last Sunday. Spieth arrives home with - in his mind at least - a point to prove having just come up short in the spring's two biggest golf tournaments having led well into the final round of both.
There's little doubt in my mind that Spieth is the most likely player in this tournament to be a feature among the final groups on Sunday. As such, it then becomes a question of what we make of his performances in final rounds and whether or not there's enough benefit of the doubt given to account for such skinny quotes.
My conclusion is that he's plenty short enough. I just wonder whether he's a little bit too desperate to do well and I find it very odd that there's talk even among golf's most established writers that he 'needs' to close out a second win soon. It's a pressure he can deal with but one that undoubtedly makes the gap between playing well and securing silverware a more difficult one to bridge.
Certainly, when it comes to crossing the line there are fewer questions surrounding some of those just beneath Spieth in the betting for now and two of them look excellent value to my eye.
First is Dustin Johnson, about whom prices of 25/1 reflect only short-term factors and that may allow us an edge.
At a glance, it's easy to assume that DJ isn't playing well enough to win at the moment. A precautionary withdrawl from the Shell Houston Open was followed by a missed cut at the Masters, and although he made a brief appearance on last week's leaderboard he ultimately finished only just inside the top 60.
In contrast, his previous three strokeplay starts resulted in finishes of second, second and fourth, so it's easy to see why the layers might assume he's gone off the boil and is therefore worth getting in the book for the time being.
However, the withdrawal from Houston and missed cut at the Masters are easy to excuse - just look at Luke Donald's performance at the Heritage after he failed to make the weekend at Augusta for evidence of that. And while Sawgrass might look a reasonable fit on paper for Johnson, in six tries there he's yet to crack the top 30. In that sense, that he made the cut can be taken as a positive.
Furthermore, this is a carefree golfer who can find virtually unbeatable form from out of the blue. His victory in nearby Memphis in 2012 came when he was reportedly still struggling badly with a wrist injury, he won The Barclays a year earlier on the back of a poor week at Firestone and a missed cut in the PGA, while he'd been 57th the start before winning the 2010 BMW Championship.
What's more noteworthy is the fact that for every win since his first in what's already an exceptional career, there had been a pointer not necessarily the week or the fortnight before, but at some stage within a handful of starts. That's exactly the scenario we're looking for this week and there's plenty more to the case.
For starters, Johnson likes the layout. TPC Four Seasons might only give him two par-fives to go at, but it rewards long driving and has seen Johnson make the cut on all four visits, including finishes of fourth and seventh.
"It's always been a good golf course for me, it sets up well," said Johnson on his last appearance here in 2011. "You know, I just like it. I've liked it since the first time I came here. They put on a great event, it's a good golf course, and I enjoy being in Dallas."
One can only assume he's going to get even more enjoyment out of being able to walk out of the hotel lobby and onto the practice green now that he's engaged and planning a wedding at the end of this season, and this is a tournament which allows players total relaxation off the course given the facilities at the resort.
From a statistical perspective, there are several elements to Johnson's profile that I like. As I alluded to, total driving is a massive asset here as proven by several recent winners as well as comments like this from Adam Scott, who said: "I think there is a real advantage if you drive the golf ball well around here." DJ ranks 16th at present and that's an encouraging step forward on last year.
He's also hitting greens as regularly as ever and ranks an encouraging 21st on tour in par-four performance. Of the 29 players to have finished inside the top-five (including ties) here over the past five renewals, only five have ranked worse than eighth in this category for the week of the tournament and that makes sense on what's a tough par-70.
Johnson is also ninth in putting average - three of the last five winners led the field in this category during the week of their win - and providing the last three or four weeks aren't an indication that he has lost something in his game, he looks outstanding value at 25/1.
Remember, this is a player with eight PGA Tour wins and 15 further top-fives in just 150 starts, so in this type of field I'm not sure he should ever be 25/1.
The other player I like from the head of the betting is Keegan Bradley, who is an even more obvious selection that Johnson.
Bradley is another I consider thoroughly reliable in contention, even though his record isn't blemish-free - none are. Even a fortnight ago when he traded odds-on for the Zurich Classic, I didn't feel he did much wrong bar one overly-aggresive drive and there were certainly a lot of putts that could've dropped but didn't; such is the life of a golfer.
Anyway, that performance at least ensures he's still really hungry to get back to winning ways and it's an indication that his work with Chuck Cook - coach of Bradley's friend and former Byron Nelson winner Jason Dufner - is paying off.
Dufner succeeded Bradley as champion here and Keegan considers this win vitally important in what happened later in the 2011 season, when he bettered Dufner in a play-off for the PGA Championship. As an aside, it's amazing how closely their form ties in together; Dufner being a subsequent PGA winner and having also won the Zurich that Bradley went close in behind Seung-yul Noh.
Back to this week, and the wider case for Bradley is really quite simple. A long, straight driver of the ball, this is exactly the type of test on which he thrives and he's since followed his win here with a good defence and a clear second 12 months ago.
"I like to drive the ball well and this is one of those courses, and especially when you can drive the ball long and good. And any course that's demanding off the tee like Akron or the PGA, I like them. I'm not a player that likes wide open golf courses," he said in 2012, and it was a point he was keen to reiterate on his return.
Like Johnson, Bradley is also putting well, scoring well on the par-fours and hitting plenty of greens, and while 22/1 is edging towards the right price I still think it offers value. Certainly, were you to back Keegan at 22/1 when scoring conditions are tough you'd be in front - he already has three wins and nine places in fewer than 100 starts regardless of the venue, but the wins have all been on difficult layouts.
Beyond these two standout candidates I really struggled to narrow down the shortlist, so in a break from the norm here are those who missed out and why:
Bud Cauley: I'm convinced he's close to contending but a modest record in Texas and continued struggles with the driver mean this might not be the ideal course despite his pure iron play
Ryo Ishikawa: Only man in the top 20 (finished 10th) last year who shot over-par in round one (all others broke 70) and encouraging signs for a while; but failing to really contend in Japan of late suggests he's not quite there and 66/1 therefore doesn't look big
John Huh: Good Texas record, including here, and drives the ball well; not sure 80/1 is particularly generous but it's worth considering
Robert Streb: From a statistical point of view he's massively appealing and his results, including in the Zurich, are very encouraging - missed cut on debut here just about enough to put me off
There are instead three players who make some sort of appeal to continue a growing trend for first-time winners in this event, even if two of them in Jason Day and Bradley have subsequently shown themselves to be world-class.
First up is Morgan Hoffmann, a player whose amateur career had many thinking he would be a top player and one who may yet fulfill those expectations.
Unlike most of the bigger-priced players who caught my eye, Hoffmann does have form here courtesy of an excellent fifth-placed finish last year, when he told reporters that being from neighbouring Oklahoma was a massive positive when it came to dealing with conditions.
Last week he played some very good golf on his way to a top-20 finish on his Sawgrass debut, and he's already built a very good record in Texas including when securing his PGA Tour card via the Web.Com Tour finale at Craig Ranch in 2012.
Given the upward trend in his form, his ability in the wind and good record on bentgrass greens, I felt he was worth a go at a very fair price.
Kevin Kisner arrives here off the back of a sixth-placed finish at Quail Hollow, where he felt his season-long form from tee to green was finally rewarded as he was confident 'over every putt'.
Described by his college coach as every bit as talented as any other player he's worked with - given that he studied at the University of Georgia and their conveyor-belt of PGA Tour professionals that's some compliment - Kisner looks something of an under-achiever so far but he certainly seems to be heading in the right direction.
He ranked 15th for total driving in both the Quail Hollow Championship and the week before in New Orleans, and he made the cut here in both 2011 and 2012 despite having shown nothing beforehand. On the back of his best ever PGA Tour finish, I can see him improving on those efforts at a course which looks to suit.
And finally, Derek Ernst can show that he's no one-week wonder and get his fledgling career back on track with a top-20 finish.
Ernst's victory in last season's Quail Hollow Championship goes down as one of the biggest upsets in PGA Tour history, but this is not a player without pedigree. He represented the US team in the Palmer Cup two years ago and graduated college before earning a PGA Tour card via the rigorous Q-School process.
Rightly or wrongly, Ernst elected to use his two-year exemption as a chance to start over, and make sure he's ready to be a feature on leaderboards by the time it expires. This process has involved an overhaul of his support team and, clearly, he's really struggled to compete since winning.
However, the results look like they could be about to come and I'm prepared to take a massive chance that they do. Ernst last three starts show finishes of 34th and 30th along with a missed cut at Sawgrass, in which he fought back with a second-round 69 which saw him putt better than he ever has on tour and card just one bogey.
The short game has been the major issue for Ernst but if it's about to come round - which he seems confident it is - then he could surprise everyone once again. It's notable that he currently leads the PGA Tour in total driving and that's both encouraging for this week and confirmation that he isn't out of his depth as some would have you believe.
Obviously, it's a bit of a flier but 400/1 about a 23-year-old who has already shown he can win - don't forget how superb he was under pressure at Quail Hollow - and has no fitness concerns looks worth a speculative play given how well his best attributes fit this layout. I'll take that win-only and 12/1 that he cracks the top 20.
Posted at 1300 BST on 13/05/2014.