Nadal to reign in Spain again
Tim Clement previews the Madrid Masters and fancies an odds-against Rafael Nadal to regain the winning thread.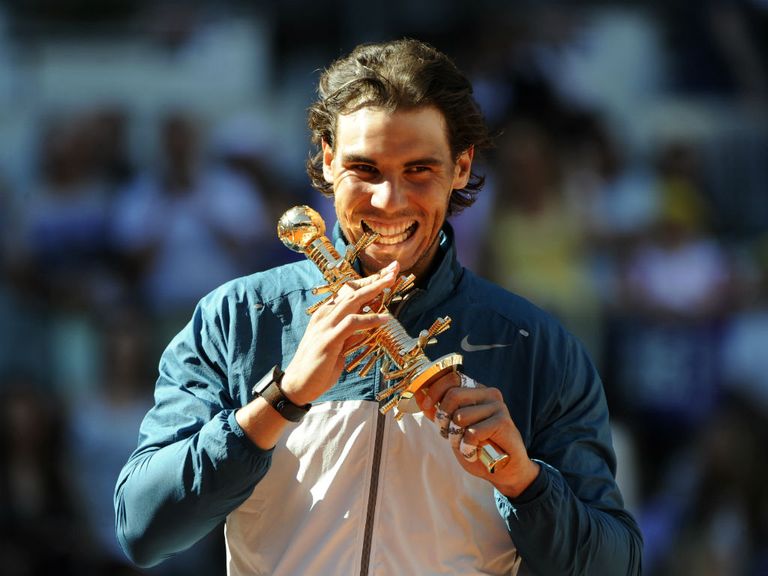 Rafael Nadal will look to reassert his authority on the European clay courts by retaining the Madrid Masters title.
Those title retention chances are seemingly significantly boosted by Novak Djokovic's withdrawal, although it has been upsets to those previously less threatening who have shocked the tennis world by defeating the Spaniard in recent weeks.
A decade of dominance was defied in April, with Nadal losing to David Ferrer on clay for the first time since 2004 at Monte Carlo and then for a first ever time to Nicolas Almagro in Barcelona.
With those strongholds conquered, talk of a confidence crisis hitting the 'King of Clay' has emerged, but it is that self-doubt that created the relentless warrior that stands above all in the history of clay-court tennis.
The more significant difference might be the way his opponents approach a task which looks more improbable than impossible now, especially in an arena where he has been at his least dominant during the European red dirt swing.
Pre-2009 and 2012 can instantly be dismissed as they were hard and blue clay (let's not go there) court events, leaving us with four editions for our form guides, with Nadal winning half, well below his usual dominant ratio on the surface.
Roger Federer and Djokovic have also prevailed here with Nadal the losing finalist on both occasions, but who can upset the champion this week?
Stanislas Wawrinka bounced back from his post-Australian Open triumph lull to claim the Monte Carlo Masters title and that means he is bet365's 5/1 second favourite in Djokovic's absence.
Federer follows at 8/1 with Ferrer next on 14/1 while Andy Murray, surely for the first ever time, is a bigger price than recent Barcelona winner Kei Nishikori.
With Djokovic out, Wawrinka has a superb chance of making the final at the very least.
If he does get that far and Nadal has avoided any further upsets, the Spaniard will still have to be considered favourite, albeit a far softer one than last year.
The outright is priced up far closer this time round, raising the question whether you're happy to take Wawrinka at significantly shorter odds or Nadal at probably the biggest price he's been in a clay event lacking Djokovic and blue paint for a significant number of years.
I'm going with the latter as I believe motivation has been a real issue for a player whose success has been based on his relentless drive.
That will be back here as the voices of his doubters have grown louder. I also think Gregor Dimitrov and Kei Nishikori are perfectly poised to continue their rises so will go in on them each-way this week.
Posted at 2030 BST on 04/05/2014.