Experience to count for Hopkins
Simon Crawford believes Bernard Hopkins will beat Beibut Shumenov in their unification clash this weekend.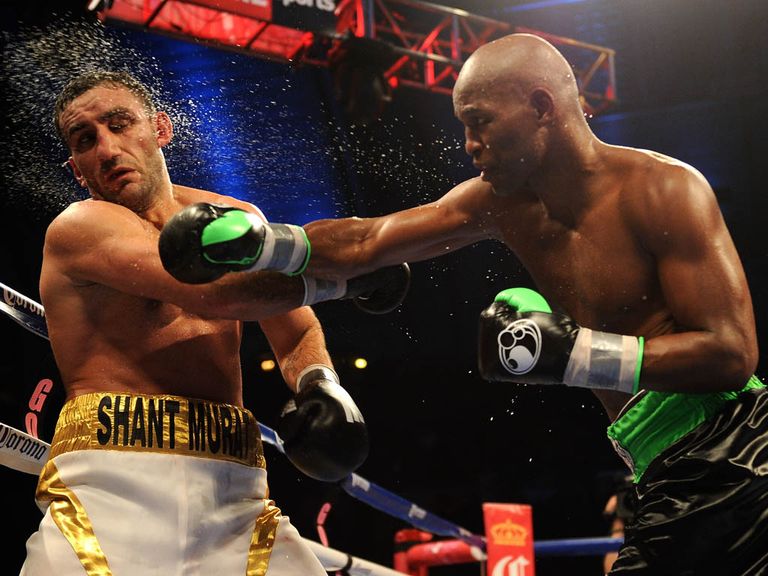 Boxing's oldest ever world champion Bernard Hopkins believes he will once again make history as he looks to unify the light-heavyweight division this weekend in Las Vegas.
The 49-year-old, current holder of the IBF and IBA light-heavyweight titles, goes up against the WBA's champion Beibut Shumenov - who remarkably is 19 years his junior.
How Hopkins is still going strong in the paid ranks, let alone winning world titles, is beyond comprehension but there is no sign of him hanging up his gloves just yet.
Should he be successful then he is already talking up contests with other rivals in a hugely competitive 175lb division, most notably with big-punchers Adonis Stevenson and Sergey Kovalev.
Quite simply, Hopkins (54-6-2 32KOs) is a freak of nature who has learned how to look after his body and to win fights by catching the eye of the judges with accurate combinations and a stiff jab, while nullifying the strengths of his opponent - in other words, a very canny operator.
It is almost 10 years since the last stoppage on his record, a ninth-round KO of Oscar de la Hoya back in September 2004.
But experience is vital and he knows when to spoil, when to stay out of range and how to take a breather mid-fight so that he can finish strongly.
The fact he is re-writing the history books is driving him on and he seems to be as ambitious as ever.
"To be 49-years-old, approaching 50, and knocking on the door of being a senior citizen - it's a profound statement of my dedication," said Hopkins.
"Everything I do is history. Name another athlete in this country that is doing it at this age and winning, not just competing, but fighting the top fighters in the world.
"I'm not fighting a cream puff; this isn't a bum of the month club. I'm fighting real dudes. These guys are hardcore, hungry and top contenders."
To get the better of Hopkins, you need to fight at a fast pace from first bell to last, dictate the tempo and don't allow him to get into a rhythm.
Can Shumenov do that?
At 30, he has had just 15 fights in the pro ranks - winning 14 and losing one with nine knockouts - with seven of those contests being for world titles.
His journey to being a world champion is a remarkable one as Shumenov was inadvertently poisoned by his aunt as a child
The Kazakh's parents were told he would not survive but doctors did manage to save him after running an IV through his skull.
However, the medical experts told Shumenov's parents that he would always be small and that he should avoid physically taxing activities.
How the 6ft 2in champion proved them wrong as he won a world strap in just his 10th professional fight.
But is he the man that could potentially put Hopkins into retirement?
He goes into the fight as very much the underdog, but he insists this is only serving to drive him on even further.
"They're only taking about Bernard fighting Adonis Stevenson and that motivates me more," said Shumenov.
"I don't care about being the underdog. It makes me train even harder. It makes me a better fighter.
"I've been watching Bernard's fights and studying him. I'm preparing to win each round clearly to leave no doubt for the judges."
Shumenov is not the most explosive of punchers but his work is accurate and he has a very textbook style.
He will need to draw Hopkins into a fight to get him out of his comfort zone and then his heavier punches can have an effect.
That is easier said than done.
Hopkins will go into the ring supremely fit and frankly I think he has beaten better fighters in recent years.
That experience gained from 26 years as a professional is priceless and he knows every trick in the book to unsettle an opponent.
I believe Shumenov will make a fast start but will quickly grow frustrated that he is unable to dominate and once Hopkins takes control I see him easing to a points victory.
Hopkins is a heavy favourite and 4/7 with William Hill is the standout market price, with Shumenov 28/15 with bwin.
My fancy is a Hopkins win on points and that is a best of 4/6 with William Hill and Paddy Power - it may be odds-on but it's worth taking.
Posted at 0940 BST on 17/04/2014.