Add Blixt, back Donaldson
Ben Coley has one outright and one two-ball pick ahead of the third round of the Masters.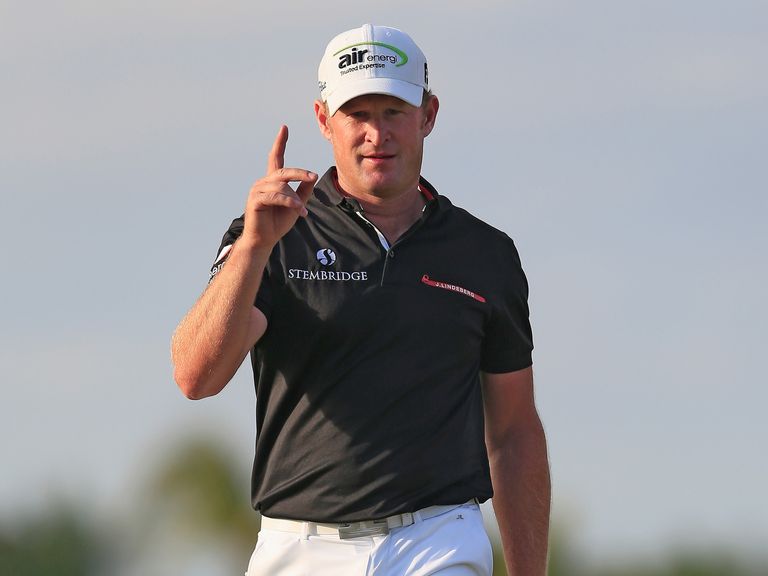 We're at the 36-hole stage of the 78th Masters tournament, and in its own way it's been an enthralling renewal so far.
Monday's rain has been followed by four days of sunshine and Augusta National has become brutally firm and fast. Friday's pins offered some respite from the demonic set-up of Thursday, and it's to be hoped that Saturday's provide the platform for a few low numbers on what those in the game call moving day.
Bubba Watson has been superb thus far and is a worthy 15/8 favourite to convert his three-shot lead into victory.
For all his home-engineered swing and hard-to-gauge personality, we are talking about a former Masters winner here and a player whose game is perfectly suited to the course. Like Phil Mickelson before him, Watson is a powerful left-hander with an enormous amount of natural talent and he's as capable as just about anyone in this field on any given day at this particular course.
None of this is to say he's a shoo-in and a record of one converted 36-hole lead from eight tries offers great hope for the pursuing pack. Watson has ended up in the first four in all but one of those efforts, though, and I find it hard to envisage the sort of total capitulation you'll find predicted elsewhere.
He is the man to beat even with the presence of Adam Scott just four back. The defending champion did well to haul himself into contention after a disastrous start to round two and, more so than anyone else on this leaderboard, continues to impress with his patient approach. He knows that he just needs to be in touch on Sunday afternoon.
That being said I'm in no great rush to take 5/1. As mentioned in the run-up to this event I consider his status as defending champion to be a slight negative and it's telling that Watson is back contending here two years after his first Green Jacket - very much in keeping with previous multiple winners - so perhaps Scott will have to wait.
John Senden produced a marvellous round to get into clear second and the confidence winning the Valspar has given him is clear, while Scandinavian pair Jonas Blixt and Thomas Bjorn should enjoy playing together today and may have been underestimated to an extent.
Indeed, at 35/1 and with four places on offer, Blixt is worth adding to the staking plan. On his debut in the PGA Championship last year he finished fourth, shooting 66-70 on the weekend when firmly in contention. Before that he was 26th on his major championship debut in the Open so, increasingly, it looks like this is a man for the big stage.
He putts well, isn't afraid to be aggressive and just seems to have the mentality needed to contend here. Certainly I wouldn't make him a less likely winner than Bjorn and seven-times the price of Scott; his position in the market reflects not his ability, but his perceived status in the game. That could all change this weekend.
Completing the group on three-under is Jordan Spieth who is around a third of the price of Blixt at 12/1. I must say I can well see Spieth going on to win this but he does have history against him - he'd be the youngest ever Masters winner - and I can't see why there should be such a gap between him and Blixt.
Yes, the Swede is older but they're similarly unexposed at this level yet of the two, Blixt has had a taste of major contention and he dealt with it superbly. He's also won two titles on tour to Jordan's one and while Spieth is likely to enjoy greater success in years to come, in the here and now there's little to choose between them.
Jim Furyk, Jimmy Walker and Fred Couples make up the group on two-under and I'm sure most people will be dreaming of a fairytale win for the latter. Unfortunately, I can't see it and he's slipped down the leaderboard in recent renewals. I'd be surprised were that not once more the case.
Furyk was superb in his bogey-free round yesterday but this course pushes him and it's going to be hard for him to attack as he needs to, so Walker appears the most likely of this particular trio. From the back nine on Thursday he's been really good and this level-headed Texan looks the type to produce a good weekend.
As for the two-balls, there are actually quite a few that make some sort of appeal. One is Billy Horschel at 6/4; he's leading the greens-hit stats and is probably a shade overpriced against Gary Woodland, who went from inside the top 10 to outside the top 30 with four closing bogeys yesterday and will do well to recover.
Another is top amateur Ollie Goss, who did superbly well to make the cut and is paired with a beatable opponent in Francesco Molinari. With maximum respect to the likeable Italian, this crack young Aussie is probably not as far behind him as 5/2 implies and those who bet with Spreadex and Betfair Sportsbook should consider him a value play.
But the one I think looks really solid is Jamie Donaldson, who can be taken to beat Kevin Stadler with a degree of confidence.
Donaldson is really impressing in his performances in the big events in the US having added a second at Doral to the seventh-placed finish he produced in the 2012 PGA Championship.
Clearly, he's put his Augusta debut to use so far this week and at one-under isn't out of this just yet. He's long off the tee and a good judge I know thinks he's one of the best long-range putters in the world - always a fine combination at the Masters.
Stadler has done well so far on his debut but, while I have absolute respect for his ability and achievements, I do think Donaldson is operating at a different level and still improving.
I'll be back with a preview of the final round at the same time tomorrow - around 1200 BST.
Posted at 1130 BST on 12/04/2014.