Alvarez back to winning ways
Our Simon Crawford believes Mexican sensation Saul Alvarez will get back to winning ways against Alfredo Angulo this weekend.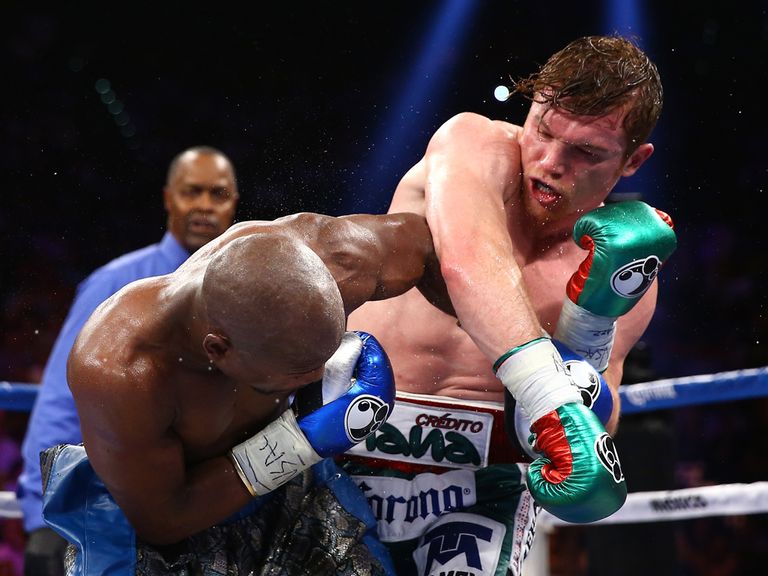 Mexican star Saul Alvarez was not the first fighter to be schooled by pound-for-pound king Floyd Mayweather Jr when the two clashed back in September.
He fought bravely, with spirit, skill and endurance - and was even given an optimistic share of the fight by one sympathetic judge.
But in reality it was a chastening experience for the 23-year-old with an impressive Mayweather bossing the fight that night at the MGM in Las Vegas.
Defeat brought to an end an incredible run of 42 wins (30KOs) and a solitary draw in the paid ranks for Alvarez, who had been widely tipped to be the man to knock Mayweather off his throne.
He will have learned much from that loss, as hurtful and one-sided as it was, and at just 23 has more than enough time to come again.
The rebuilding starts on Saturday evening, again in Las Vegas, when Alvarez takes on fellow Mexican Alfredo Angulo (22-3 18KOs).
Light-middleweight star Angulo joined up with esteemed trainer Virgil Hunter (who also trains Briton Amir Khan) in 2012 and the pair have looked impressive together, with Angulo giving Erislandy Lara, the man many regard as the best 154-pounder in the world, his toughest fight to date in his last bout so he's certainly a dangerous opponent and one with ambition.
"Every fight is important, but this one is more special because all of the fans in Mexico will know that the winner of this fight is the number one Mexican fighter," Angulo said.
"My hand will be raised. I'm ready now and I will give the fans my best performance against Alvarez. You will see the best Alfredo Angulo."
Another defeat would certainly have severe repercussions for Alvarez's career, but I think some strategic planning has gone into selecting Angulo as his opponent.
An all-Mexican battle ensures it's a crowd-pleaser, while Angulo's 18 stoppages mean that his credentials cannot be called into question.
But stylistically I think this is a tailor-made fight for Alvarez to bounce back to winning ways - and to achieve it with some aplomb.
Angulo is a ferocious fighter, certainly not gifted technically but he relentlessly bulldozes forward throwing big shots.
His fights are nearly always tear-ups and his power and stamina have seen him prevail in most of them - but he has been stopped three times which is a concern.
It's never easy to predict how a fighter will bounce back from a defeat, but certainly Alvarez is saying all the right things.
"I consider myself a person with a strong mindset and that's how I moved on from the loss against Mayweather. I always train to win, like everybody else and unfortunately last September that was not the case," he said.
"Angulo presents a difficult challenge because he's a fighter who can punch and take a great punch. I know I have to prepare and establish my game plan early.
"But you know how it can be with game plans. Sometimes, once a fight starts, you have to do what you have to do to win and that's what I am going to do on Saturday."
Alvarez is a fighter who has more technical boxing skill, faster hands and good power and although Angulo is an opponent who never knows when he's beaten, I simply don't see how he can take punishment for 12 rounds and still find a way to win.
He will keep coming forward but I see him being picked off by the slick Alvarez and eventually I think it will be stopped.
Alvarez is a big favourite and a general 1/6 is the best you will get on him, with Angulo as wide as 5/1.
My interest for this one lies in the round group betting where I'm going to take the 11/4 being offered by Sky Bet for Alvarez to win in rounds 5-8.
Posted at 1235 GMT on 07/03/2014.