Arsenal to keep cup dreams alive
Ben Coley previews Saturday's FA Cup quarter-final between Arsenal and Everton, with the Gunners expected to progress.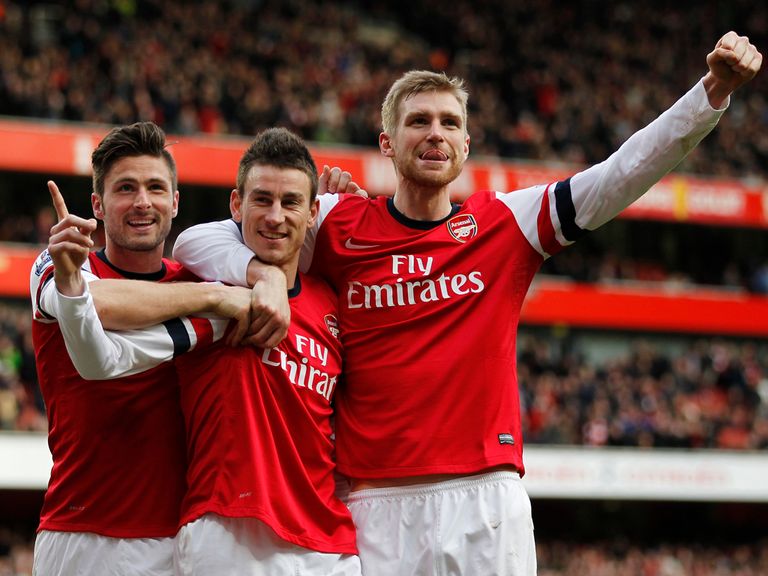 Last week's Premier League defeat at Stoke might not quite spell the end of Arsenal's title ambitions, but it certainly leaves the FA Cup as their most realistic chance of silverware this season.
Clearly, Arsene Wenger appears less concerned about his side's trophy drought than most think he should be but there's no doubt he's taken this competition very seriously, and will continue to do so when Everton visit on Saturday.
Roberto Martinez is of course defending a title, to some extent, having led Wigan to an incredible victory at Wembley last May. And so far, so good, as his new side have breezed into the quarters with 11 goals scored and just one conceded.
Without wishing to be harsh on a man already under pressure, David Moyes couldn't find a way to get Everton to win games like this during his otherwise excellent spell in charge. Indeed, his side lost to Wigan when an opportunity to reach the cup final arrived.
And so far, Martinez is following a remarkably similar path. Premier League defeats this year have come at the hands of Chelsea, Tottenham, Liverpool, Manchester City and Sunderland, and with the latter doubtless unfortunate we can see that they're reliable when it comes to games they should win and less so as underdogs.
Of course, Everton did manage a draw at Arsenal and it was no less than they deserved, without being sufficient to support backing them at no bigger than 4/1.
Indeed, Arsenal are actually tempting here at 17/20. Their defeat at Stoke shouldn't come as a surprise nor should it be considered particularly relevant to this game, especially given that they're unbeaten in 13 domestic matches at the Emirates.
Their success stems from a solid base with just three goals conceded across those 13 games, and with that in mind a home win to nil looks good value at 9/4.
Yes, Everton scored here but the fact that free-scoring Liverpool managed just a penalty in 180 minutes at the Emirates tells you that this Arsenal side are finally defending properly and they should be able to keep Everton at arm's length for the majority of the game.
It's a concern for Arsenal backers that Romelu Lukaku returned to action with a goal last week but we did see once again that Everton aren't as fluent in attack as we've grown used to this season. Away from home, they're without a goal in over three hours of football and all games included have been against sides of Arsenal's quality.
Another bet to consider, albeit one that depends solely on the stats, is Arsenal to score exactly two goals. Remarkably they've done so in 11 of their 23 home games in all competitions and that figure changes to eight in 17 against Premier League opposition, whether that be in the league itself or in either cup.
Stats like that are hard to fully justify but at upwards of 2/1, there's some temptation to side with Arsenal scoring twice yet again, especially in light of the fact that a 2-0 win would just about look the most likely conclusion to this game on recent evidence.
All in all, the pressure is on Arsenal here but otherwise it's hard to see past them proving good enough despite what's expected to be dogged resistance from Everton, who may again fall at the final hurdle before a semi-final trip to Wembley.
Posted at 1410 GMT on 06/03/2014.