Berdych to delight in the desert
A changing of the ATP guard is brewing and our Andy Schooler is backing two from down the market in Indian Wells.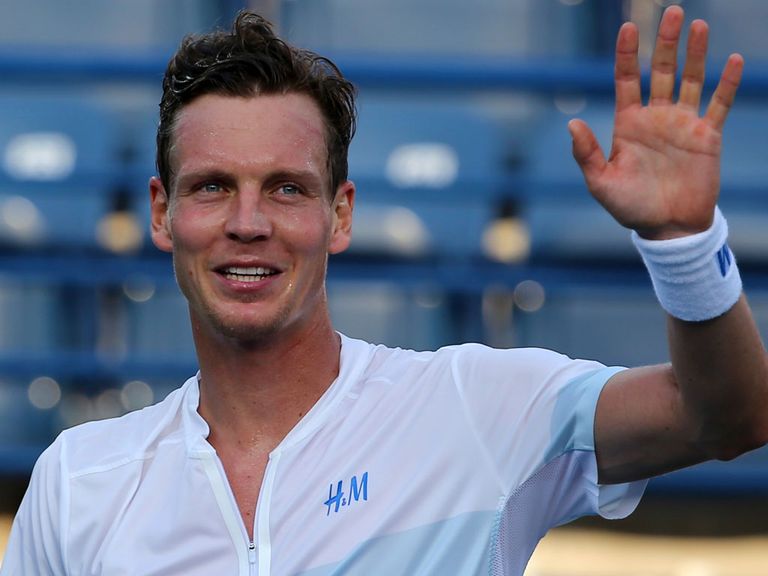 In the past I've often mentioned the stat which shows how dominant the 'Big Four' have been in the ATP Masters 1000 tournaments.
It currently stands thus - 68 of last 81 titles have gone to Roger Federer, Rafael Nadal, Novak Djokovic and Andy Murray.
However, I'm not convinced the stat will be getting such an outing this season as there are serious signs of a changing of the guard in the men's game.
Stanislas Wawrinka broke the Grand Slam dominance of the above-named quartet at January's Australian Open and since we've seen the likes of Grigor Dimitrov and Ernests Gulbis show that they are finally turning their undoubted talent into big victories and trophies.
There's also been the resurgence of Federer, a man who has looked out of contention for these big prizes in recent times - his last Masters crown came back in August 2012.
As for those still at the top table, Novak Djokovic has changed coach and looks more vulnerable than for some time, while Andy Murray has still not returned to his best following last autumn's back surgery.
Put together the evidence suggests there's a decent possibility of an outside winner, or at least finalist, emerging in the first Masters event of 2014 - the BNP Paribas Open in Indian Wells, which gets under way on Thursday.
I'm certainly feeling more confident about tipping players down the market in the Masters events this year than I did last when it was often a forlorn hope of seeking a big price with the favourites so short.
So who to turn to in search of bounty?
First up I'm going to side with Tomas Berdych, a player in great form at the moment.
The Czech has already compiled a 16-3 record for the season, reaching the semis in Melbourne, winning in Rotterdam and finishing runner-up in Dubai.
While the ball flies through the air fast in the Californian desert, it's pretty slow off the Plexipave surface these days but that shouldn't unduly trouble a player who has enjoyed good results on all courts over the years.
Thanks to his good form - and the withdrawal of David Ferrer - Berdych is reaping the benefits of his recent success. Up to a career-high in the rankings, the Czech is seeded fourth and has thus avoided Nadal and Djokovic in his quarter - often a problem in the past. He's subsequently landed in a pretty decent part of the draw.
Richard Gasquet is his projected quarter-final foe, a player Berdych beat here convincingly 12 months ago en route to the last four.
One of Gulbis and Dimitrov is a potential opponent before then but I'm happy to take Berdych over both despite their improved fortunes.
Berdych crushed Gulbis in Rotterdam the other week, losing just five games. His record against Dimitrov is not good (0-2) but the Bulgarian will face some of the biggest scrutiny of his career over the next 10 days or so.
The tennis writers will be viewing his every move on the court given his title success in Mexico last week, while the entertainment hacks are also sure to be in town given both he and girlfriend Maria Sharapova are playing in the tournament. It's certainly a situation which could faze the relatively inexperienced youngster.
Berdych, who felt it was his errors that prevented him from winning the Dubai final rather than anything Federer did, is therefore my main man - he's also the sort of player capable of troubling Djokovic on his day, just as he did at the Rome Masters last spring.
After defeats to Wawrinka in Melbourne and Federer in Dubai, the Serb looks a cool favourite despite landing in the easier bottom half. He'll have his supporters because of that draw and may well prove he's still a serious force to be reckoned with, but I can't side with him at the price right now.
My second bet is a small, speculative one in the top half - the section of Nadal, Murray and Federer.
Three-time winner Nadal is the defending champion but at 5/2 is a quarter of the price he was 12 months ago.
The slowish surface aids him here but he wasn't at his best when winning in Rio, on his beloved clay, the other week, needing to save match points against Pablo Andujar - something you could have got a huge price about pre-match.
Murray, a potential quarter-final foe for Nadal, says he's "very close to being back to my best" but the Scot is still to beat anyone of real note since his back problem and this is a venue at which he's really struggled over the years.
Federer is another who will have his backers at 8/1 after his victory in Dubai but his problem will be Nadal's presence in the half and the slower conditions won't help him either.
Wawrinka, who hasn't played since his Melbourne triumph, is also in this section but is now going off at 16/1 and may well have to beat compatriot Federer, a man he has been in awe of for his entire career. A record of 1-13 against him is not insurmountable - as he showed when beating Djokovic and Nadal Down Under - but it's still relevant.
Instead my long shot in this section is another player who has shown good form this season but because of others' success has been somewhat overlooked - Gael Monfils.
I may live to regret this tip for the Frenchman is not someone I've been prepared to rely on much in the past - his injury record is shocking and mental lapses have been all too regular in the past.
However, he's in a rich vein of form right now having finished runner-up in Doha and won the title in Montpellier; he can be excused defeat to Juan Martin Del Potro a couple of days after that success and given the way he's played so far in 2014 I'm also prepared to put a poor record at this venue to one side.
Crucially, Monfils, with his flashy game, is capable of troubling the big boys, of which there are admittedly many in this section.
He won his last hardcourt meeting with Murray, his last two against Federer and despite a poor overall record against Nadal (2-10) has beaten the Spaniard twice on this surface.
Monfils looks to have a decent route through to a last-16 meeting with Nadal, whom he took a set from in the Doha final.
The last person to beat three of the Big Four back-to-back - as Monfils (or Murray) may have to do here - was David Nalbandian back in 2007, but as already explained the chinks in the armour have appeared so there's a decent chance that won't be necessary.
Quotes of 150/1 are enough to tempt me in, although I'll take the 125/1 with the each-way option to minimum stakes.
The action gets under way at 1900 GMT on Thursday and is being televised live in the UK from Saturday on Sky Sports.
Posted at 2020 GMT on 05/03/2014.