Chizzy worth maximum faith
Carl Longhawn fancies Dave Chisnall to continue his heavy scoring in Exeter as Premier League Darts continues.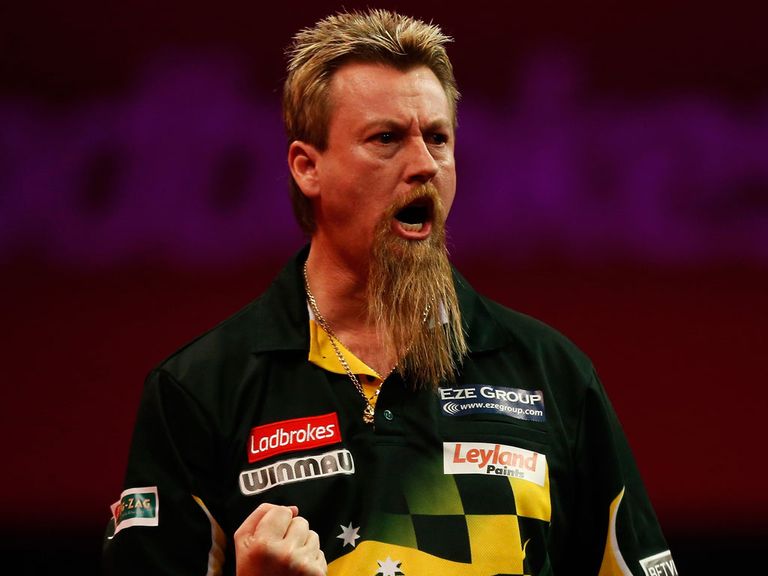 It's the start of a busy few days for PDC darts with the fifth round of Premier League Darts in Exeter being followed by the UK Open in Minehead, starting on Friday.
For nine of Premier League 10, their opening matches in the UK Open will not be until Friday evening so it shouldn't be so much of an issue.
However, Raymond van Barneveld failed to make sufficient money in the qualifying events to be seeded in the top 32 and as a result will face a first round and second round match on Friday afternoon.
It's not ideal but he will be full of confidence after a scintillating victory over Michael van Gerwen last week which shared the headlines with Peter Wright moving to the top of the table, and Wright opens this week's matches against Robert Thornton.
Peter Wright v Robert Thornton
Snakebite remains unbeaten after his comprehensive victory over Adrian Lewis in Glasgow, his dominance in the scoring department is best illustrated by the statistic that he had 15 attempts at doubles compared to Lewis's five. He is playing with a lot of confidence and will feel his place at the top of the table is justified and that he can sustain it. Thornton will be delighted with the fact he picked up a point when playing badly but he will be concerned about his overall form which seems be on the whole poor. Wright is a short price and justifiably so, but it's very tough to find any value in the markets, with neither player hitting big checkouts or a consistent amount of 180s at present.
Raymond van Barneveld v Dave Chisnall
Barney produced the performance of the week in Glasgow when beating van Gerwen 7-5 with a 107 average. It was the five-time world champ at his very best and reinforced the impression he is at his most dangerous when presented with what he considers a challenge. Chisnall, statistically, has produced his best two performances of season in the past two weeks yet lost both matches, which underlines the standard of the competition. This is a crucial match for Chisnall as he looks to end his losing streak and his reaction to losing despite playing well could shape his next five weeks. Chisnall has hit the most 180s in the competition so far with 18 at an average of 4.5 per match therefore I like his chances of hitting the most this week at 6/1.
Adrian Lewis v Michael van Gerwen
Jackpot was clearly agitated by Wright's antics last week, arguably with some justification but after hitting eight 180s in his first two matches, he has hit just two in the last two. His scoring power is the foundation of his game and when that is not firing he invariably struggles, as has been the case over the last fortnight. MVG was not at his best on the doubles last week and ultimately that was the deciding factor in his defeat to Barney. It shouldn't be cause for undue concern as MVG is prone to missing doubles in clumps and it isn't something that gets in his mind. Both players will be up for this match and MVG will likely win but it would be folly to underestimate Lewis so the match is overlooked from a betting perspective.
Phil Taylor v Gary Anderson
This could be the match of the night with both players coming off good wins last week and no doubt looking ahead to the UK Open with aspirations of winning it. Taylor could have easily come out after his victory last week and say that he had a tough opening three matches and gloss over his efforts but he didn't and that is a positive. He is clearly determined to improve his performances and get himself to the level he expects to be at with the new darts. Anderson was in full flight during his victory over Chisnall and the way he took care of the deciding leg was impressive. He beat Taylor last year in their meeting in this event but I still favour Taylor, although I don't see any betting angles in this match.
Wes Newton v Simon Whitlock
Having been ahead twice in the his match against Thornton, Wes will have been disappointed to only pick up a point. It is becoming a recurring theme that Newton is picking up points largely due to the inadequacies of his opponent, and he is consistently averaging in the low 90s or worse which shouldn't be good enough. Whitlock has improved after poor performances in his opening two matches and could do little against Taylor, who missed just two darts at doubles last week. Despite losing his last three meetings with Newton, this match could come at the right time for him as his overall head to head against The Warrior is good, including a win in last year's event. 11/8 looks great value about the Aussie gaining his win of the season.
Wes Newton has withdrawn from Thursday's play
Posted at 0915 GMT on 04/03/2014.