Widnes to blast to top of the table
Former Super League coach Ian Millward previews this week's action and fancies Widnes to run riot on Sunday.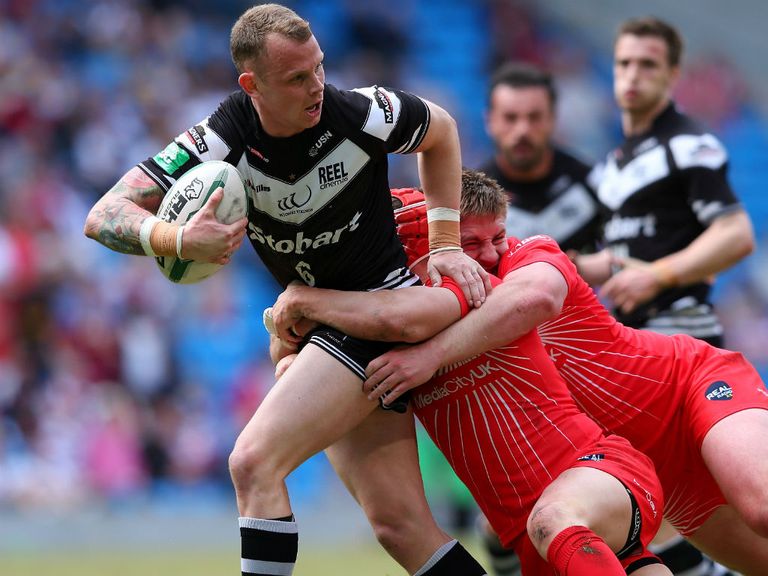 Thursday
Warrington v St Helens (+4)
With all games this week we have to be very much aware of the weather. It's a great equaliser and causes upsets and simply has to be considered.
But regardless of conditions, this is an interesting contest. I went to a couple of Warrington training sessions in Australia and was struck by the amount of youngsters in their group.
With a few players missing and several senior names having departed, this has the look of a fresh start even though they're among the favourites to win Super League XIX.
Warrington did enjoy an excellent pre-season, one of the very best I've seen in Australia. They had quality time together and had outstanding weather whereas their rivals who were based in the UK throughout didn't enjoy that advantage.
Luke Walsh, St Helens' new half back, is a big thing for Saints and we'll see how he gets on. Everyone talks about their size but it may not be an advantage in the conditions and the loss of Mose Masoe for the season opener is a worry.
This should be a great tussle and there may not be all that many points in it. Saints dominated this fixture once but Warrington have started to take control of late and, with home advantage and better preparation, they may just about cover the start.
Friday
Hull v Catalans (+8)
As I said in my outright preview, Hull will be hard to beat at home but may struggle away. They lack attacking quality but will be tough and relentless in defence.
Catalans are a good team who I like the look of. They don't have a great history at Hull but with an eight-point start they're worth backing. Their team looks to be more structured than Hull and while wary of the home advantage, I think Catalans could do well if their key players remain injury free.
Scott Dureau can give them good field positions and his kicking game may be the difference which helps cause something of an upset.
Sunday
Bradford v Castleford (+2)
I think Castleford are in good pre-season form. They've had a good build-up, they have greater depth than in previous years and more front-rowers which will give them the ability to make metres and give the likes of Daryl Clark more space.
Life without Rangi Chase is the big test but they did beat Bradford convincingly in a trial game. The Bulls could be fighting for their lives this year, especially if more players leave, and with behind-the-scenes uncertainty they're not in great shape to start the season.
Castleford can win this one.
Hull KR (+8) v Leeds
Leeds probably have the best set of outside backs in Super League, but with the weather as it is they might be better staying on the bus.
The KR players looked a bit off the pace in a prep game against Huddersfield and some looked in need of game time. They should be hard to beat at home this season but Leeds could be vying for the big prizes this year and should ultimately come out on top.
However, with the weather as it is the start looks big so I'll go with Hull KR on the handicap; albeit in better conditions Leeds would be the call.
Salford v Wakefield (+14)
This is very early in the season to call it make or break, but it feels like that for Salford. They need confidence and cohesion and wins to create that.
Wakefield's half-back has only just arrived and they may progress in time from a slow start. In contrast, Salford will have their full-strength team out and have a class advantage.
In addition, the field at Salford is a good one for wet weather and despite the pressure which comes with expectation, Salford are ready to get off to a winning start and cover the handicap.
Widnes v London Broncos (+20)
We're on an all-weather pitch here and London are still putting their squad together - this could be one-way traffic.
Widnes will score plenty of points and I expect them to win comfortably. Led by Kevin Brown, they should fly out of the blocks and cover even this big handicap.
I expect Widnes to end the weekend at the top of the standings.
NRL
It's a sell out at Eden Park for each of the two days of the NRL Auckland Nines. The winner gets a million dollars in this new concept and it should be a lot of fun.
Sam Tomkins will make his debut for New Zealand Warriors; they have an athletic team who will enjoy the open spaces this format brings. They'll have a strong crowd roaring them on and are a good bet to go all the way.
Watch out for Pat Richards' team, West Tigers. They have lots of youth and speed and could go well. Also watch out for Newcastle Knights, who are mobile in the forward line. These two can prove the dangers but NZ are taken to win.
Posted at 1445 GMT on 13/02/2014.