England to end on winning note
Our Dave Tickner thinks England can end their nightmare tour of Australia on a positive note by winning the T20 series.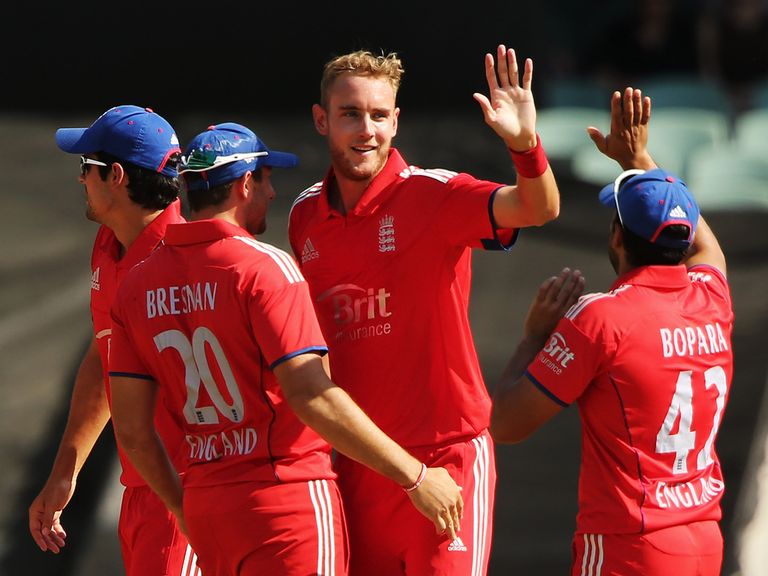 Nearly done. After three months of agony, there are only three Twenty20 internationals between England and the end of a nightmarish tour of Australia.
They were thrashed in the Tests, embarrassed themselves in the ODIs, and now take on the shortest form of the game.
And, whisper it, they really ought to prevail. At the very least they should not be the outsiders they are with the layers.
It's tricky to block out all that's gone before, and indeed it would be unwise to completely ignore the clues to England's state of mind in the manner of their defeats in the second and fifth ODIs.
But this is another different format, and a pair of much-changed squads.
And on paper, taking this series in isolation, it's hard to make a case for Australia to be favourites. Simply put, the England squad looks a far stronger one.
There are few players bearing major scars from their time in Australia. Alastair Cook has gone home and is replaced as leader by Stuart Broad.
Broad was one of only two England players to impress in the Ashes, and he's joined in this squad by the other, Ben Stokes.
And there are others, like Eoin Morgan, Jos Buttler and Chris Jordan who carry no Ashes baggage and performed impressively during the one-dayers. They should not be short of confidence.
With Luke Wright, Alex Hales and Michael Lumb all joining the squad after stints in the Big Bash, this squad looks in better shape than any other England have put together this winter.
And Australia's squad is barely recognisable from the rest of the winter. Only George Bailey - who leads the side - survives from the Ashes. There is no David Warner, no Shane Watson, no Mitchell Johnson and no Clint McKay.
Man for man, England appear to have the measure of this particular squad.
Yes, it's impossible and unwise to completely overlook what's gone before, and the persistent thrashings Australia have dished out in the other formats perhaps just about justifies favouritism for the home side.
But this is cricket's shortest and thus most unpredictable environment. Favourites are more successfully opposed here than anywhere else, and Australia - with this squad - are simply far too short here against an England side who should be rejuvenated by fresh faces.
England don't have a great recent record in T20s, but it's steady enough - five wins and five losses in their last 10 completed matches. Their previous record in three-match series is encouraging, too: they have won in New Zealand and against Pakistan in the UAE over that distance - 2-1 both times - while their only other experience of this length series ended in a 1-1 draw with one NR against South Africa.
Australia, meanwhile, have lost seven of their last eight, have selected a weak squad and have an injury doubt over James Faulkner, who showed his value with both bat and ball during the ODIs.
England are 7/4 at Hills and bet365 to win the series - far too big - but let's get a touch greedier still. A 2-1 series win for the tourists is widely available at 5/2 and that looks a fine piece of business given the respective squads and formlines.
Posted at 1425 GMT on 27/01/2014.