Tuck into Baltimore field goals
David John says the market on field goals could be the key to profits when Baltimore host New England in the NFL.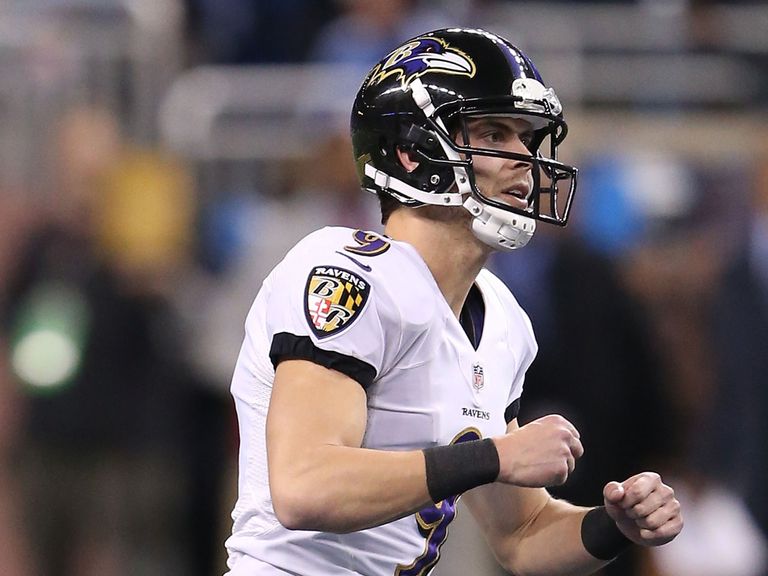 Two very good kickers take to field in the game and it could come down to them to sort out who gets the victory.
Meanwhile, in Sky Sports' early game, underdogs New Orleans can get off to a quick start on the way to a vital victory in terms of the play-off picture.
New Orleans at Carolina (1800GMT)
This is exactly the kind of game we all look forward to at this time of the year as both teams battle it out for the title in the NFC South and their seeding position in the post-season.
It is quite straightforward for the Saints. A victory would lock up the division and ensure the NFC's number two seed with a bye week and at least one home game in the play-offs.
They defeated the Panthers convincingly 31-13 as recently as December 8 at the Mercedes-Benz Superdome but events since mean they are three-point underdogs for this road trip to Charlotte.
And it has been on the road where New Orleans have suffered with a 3-4 record compared to 7-0 on their own turf with losses at the New York Jets, Seattle and last week in St Louis all pretty horrific performances.
That latest defeat to the Rams has seen head coach Sean Payton take swift and decisive action.
He benched left tackle Charles Brown during the game and his place this week will go to rookie Terron Armstead.
Kicker Garrett Hartley, who won a Super Bowl with the team back in 2010, has been axed completely after two missed field goals with former Bengal Shayne Graham signed to replace him.
So Payton's message is two-fold. No-one is immune if they are not producing on the field and he clearly wants to jolt his team into a positive reaction and rectify these unacceptable road performances going forward.
The Panthers lie patiently in wait with nine wins from 10 - the only loss was the aforementioned one against Sunday's rivals - making them a bit of a surprise package this season.
A ruthless defense ranked only behind Seattle and the maturation of quarterback Cam Newton have been the building blocks for a campaign that has them on the verge of that NFC South title.
The defense has 17 interceptions to date, which is good enough to tie for sixth in the NFL, while their tally of 45 sacks has only been bettered by the Buffalo Bills.
Defensive end Greg Hardy has eight of those and would be a warm favourite on paper to add to his tally and get the better of Armstead on the problem blind side of Saints quaterback Drew Brees.
The whole approach to this game from a betting perspective comes down to how much faith you have in Payton and Brees getting things rectified.
The spotlight in the build-up has been on the shortcomings of the Saints but it also has to be noted that Carolina have not been a game of this magnitude for quite some time and you wonder how they will deal with the pressure when push comes to shove.
So I quietly fancy the visitors to take care of business and highlight their Super Bowl credentials.
Payton remains one of the most aggressive play-callers in the league and I would not be shocked if New Orleans try to turn the screw straight from the first kick-off.
They can win the race to 10 points along the way as they test how much stomach their rivals have for the fight in what is sure to be a pressure-packed encounter.
Verdict: New Orleans 24 Carolina 21
New England at Baltimore (2125GMT)
The Ravens looked long odds-against a few weeks ago to go anywhere near defending their Super Bowl crown but have quietly found some form just when it matters.
They are on a four-game winning roll - the best currently in the AFC - and the confidence that is growing within the organisation makes them a dangerous opponent for anyone and well capable of another post-season shot at glory.
Win out and they will take the AFC North for a third straight season with the key all of a sudden being an abilitty to get across the line in the close games.
Last week's dramatic 18-16 victory at Detroit illustrates that point ideally with wide receiver Torrey Smith quoting afterwards that "no-one throws in the towel".
Their blue-collar determination has managed to mask a number of shortfalls, particularly on offense.
The running game has been almost non-existent while big plays from the big arm of Joe Flacco have been less forthcoming - they have had 43 plays of 20 yards or more compared to a league-best 71 from Philadelphia.
Flacco and the offense have regularly ground to a halt but that has seen kicker Justin Tucker jog on to the field and this season has seen him progress to one of the game's elite.
He smashed the game winner over from 61 yards to thwart the Lions, scoring all 18 Ravens points and he has now made 35 from 37 field goals attempted.
Opposite number Stephen Gostkowski has a 32-35 record having also been deployed effectively when Tom Brady and the Pats have failed to find the end zone.
And you just get the impression it could come down to the pair trading scores as these two once again slug it out in attritional fashion.
Patriots head coach Bill Belichick more often than not comes up with a plan to neutralise the opposition's best player but that task becomes much harder when it is the kicker.
So expect Tucker to thrive again and I am quite tempted by over 4.5 field goals in the game - if you extend that theory to a natural conclusion then I think the total points will fall short of the 45.5 quoted.
Verdict: New England 16 Baltimore 19
More week 16 verdicts:
Cleveland 17 New York Jets 20
Dallas 30 Washington 21
Denver 35 Houston 17
Indianapolis 21 Kansas City 28
Miami 23 Buffalo 14
Minnesota 20 Cincinnati 30
Tampa Bay 22 St Louis 220
Tennessee 21 Jacksonville 24
Arizona 22 Seattle 27
New York Giants 14 Detroit 29
Oakland 13 San Diego 27
Pittsburgh 16 Green Bay 12
Chicago 27 Philadelphia 30
Atlanta 14 San Francisco 28
Posted at 2225 GMT on 19/12/2013.