Ingram ready to make his Mark
New Orleans running back Mark Ingram is the focus of David John's preview for this week's Thursday Night Football.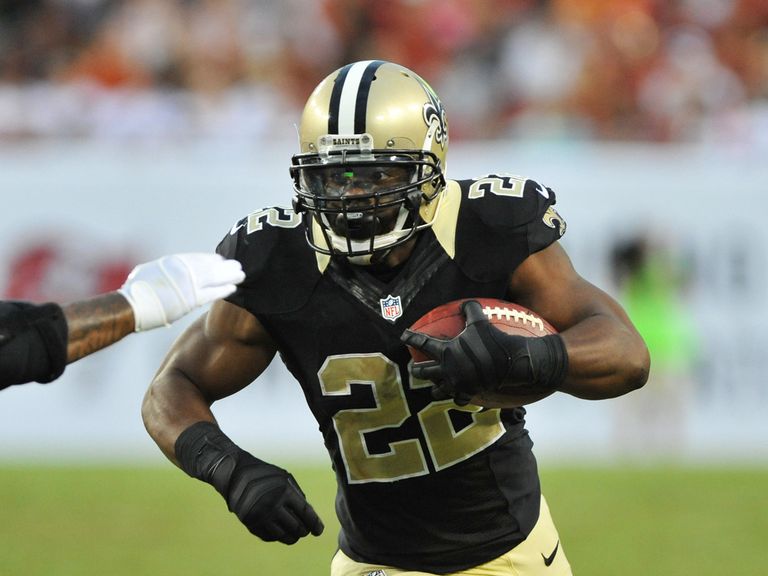 New Orleans at Atlanta (Friday 0125GMT)
This will have looked a hugely attractive Thursday night fixture when the schedulers got their heads together in the close season but it now has an extremely one-sided look on paper.
The Saints sit at 8-2 atop the NFC South with a dangerous Carolina - not Atlanta - their challengers for the divisional crown heading down the stretch.
They are nine-point favourites on the road as well in Georgia and anything near a convincing win will really affirm their status as one of the leading contenders for this season's Super Bowl.
Sean Payton's team steamrollered Dallas a fortnight ago and then emerged triumphant from a much more physical encounter against the 49ers. Now looks the time to consolidate.
But the short week and a divisional clash can make a mockery of the best laid plans so punters should tread carefully when considering playing the Saints giving up a pretty hefty start - even against the ultra-disappointing hosts.
Injuries have taken their toll for sure but one observer summed up Atlanta this season succinctly and accurately - they just aren't very good.
They have been outscored by 74 points in their last four games and lost them all.
"That was unacceptable," head coach Mike Smith said after the 41-28 defeat at Tampa last week after they trailed 38-6 late in the third quarter.
Quarterback Matt Ryan threw two more picks and the gamble on restocking talent with players like Julio Jones and Steven Jackson in a bid to win now may well have backfired and could well cost Smith his job.
But last Sunday's humiliation and a clash with the Saints could galvanise the Falcons into action and as I pointed out earlier in the season when these two met, rarely is there a great deal between them over 60 minutes.
We will get a better idea of just how far the Falcons have sunk after this game but a nine-point headstart at home could be on the generous side.
But I just can't trust them and a more interesting approach could be going high on the total rushing yards of Mark Ingram.
He has looked like a bust to me since being taken in the first round of the Draft back in 2011 but perhaps he has turned a corner after a big performance in the Dallas game.
Finally healthy after a some niggling problems too, Ingram has the physical tools to dominate and despite only gaining 25 yards against the 49ers, he looked very close to breaking off a big run on more than one occasion.
He now faces a rushing defense ranked 30th in the NFL and coming off a performance that saw Tampa third-stringer Bobby Rainey gallop loose for 163 yards.
With Darren Sproles' involvement more than likely limited due to a knee sprain, this looks another good chance for Ingram to feature and give the Saints a nice balance to go with the passing prowess of Drew Brees.
If he can't muster the required 41 yards rushing here then his NFL career is going to be of the distinctly short variety.
Verdict: New Orleans 30 Atlanta 22
Posted at 1340 GMT on 20/11/2013.