Browns to rule roost in Ohio
David John reckons Cleveland will put up a good show on Sunday in their key divisional battle against Cincinnati.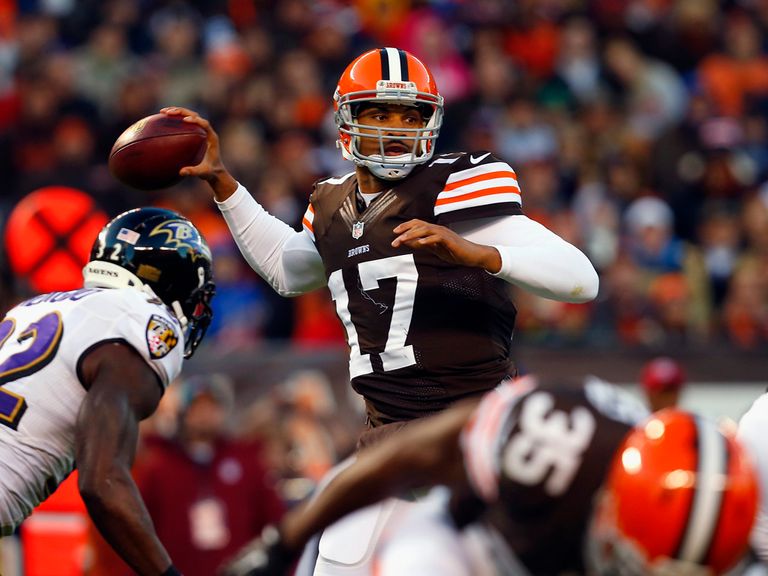 Cleveland at Cincinnati (1800GMT)
The second self-proclaimed 'Battle Of Ohio' this season has some real meaning as the race for top spot in the AFC North reaches a fascinating stage.
The Bengals were 6-2 a couple of weeks ago but back-to-back losses on the road have opened up the division again.
So much so, that wins here for Cleveland and at home against Pittsburgh next week (when the Bengals are on the bye) would see the Browns tied for top spot with the best record against their divisional rivals as well.
That would be quite an achievement for a team that has seemingly settled on its third quarterback of the season in veteran Jason Campbell, traded away their best offensive player ahead of week three - running back Trent Richardson - and now has Willis McGahee taking the lion's share of the carries on the ground.
But a defense ranked fifth overall in the NFL has shown ability to keep them in games when seemingly overmatched - a good case in point was when this pair met back at the end of September with the Bengals held to just two field goals in a 17-6 defeat.
Cleveland return from their own week off to freshen up. They remain relatively healthy for the time of the year and certainly have some confidence going into this game.
Defensive end D'Qwell Jackson expanded: "We are in a good place right now and we want to keep it that way."
The Bengals have played four of their last five games on the road and looked well in command of the race to top spot in the AFC North but the two aforementioned defeats mean yet more questions - most of them aimed in the direction of quarterback Andy Dalton.
He has thrown six interceptions in his last two starts and has failed to get the expected productivity out of a very talented offense since their blowout success over the Jets.
I just get the feeling that the Browns scent blood here and can prey on any deficiencies the Bengals may have in their self-belief.
Campbell seems to handle Norv Turner's offense sufficiently while the defense definitely has some swagger to it currently and that combination should certainly be enough to keep it close - and perhaps even win out - in a tense affair.
Verdict: Cleveland 17 Cincinnati 16
San Francisco at New Orleans (2125GMT)
The Saints enter a testing section of their schedule over the next month starting here at home with games against Seattle and Carolina on the horizon.
But they could not be in better mood having whipped a depleted Dallas 49-17, setting records for first downs (40) and a franchise-best of 625 total yards on offense.
The remarkable Drew Brees threw for another 392 yards and four touchdowns as the Cowboys defense went into meltdown but he has spoken this week of a much sterner test ahead posed by one of the most aggressive units they will face all year.
On the face of it, Brees should be able to make hay once again with the 49ers' passing defense currently ranked 23rd in the NFL.
He may only be able to get limited service once more from tight end Jimmy Graham as the latter manages a foot injury but wide receiver Marques Colston is healthy (107 yards last week, one TD) while the emergence of rookie Kenny Stills has been more than a little impressive.
Such was the Saints' dominance even running back Mark Ingram got in on the act with a breakout 145 yards rushing so his performance against a notoriously stiff running defence should be monitored closely.
But while Brees rightly receives the plaudits, his opposite number on Sunday, Colin Kaepernick, continues to take the brickbats.
After his startling entrance to the NFL 12 months ago as part of the 49ers' run to the Super Bowl, the expected progression he was expected to make towards the elite tier of players under centre has stagnated.
He delivered the worst performance of his 19-start career in the 10-9 loss to the improving Panthers last week, managing just 91 yards through the air as he completed 11 of 22 attempts for a passer rating of just 42.0. No pass went for longer than an insipid 14 yards.
Super Bowl-winning quarterback-turned-analyst Trent Dilfer labelled Kaepernick a "remedial passer" unable to work through his progressions.
Kaepernick has since hit back but he will be under a fair bit of scrutiny as he tries to find some form against the third best passing defense in the league.
So the key then for the 49ers could be running back Frank Gore.
His bruising style against a Saints defense that is not great against the run should have the dual effect of helping Kaepernick regather his poise while some potentially time-consuming drives will keep Brees where he poses no threat - on the sidelines.
The Saints did slip up a couple of weeks ago on the road against the aggressive defense of the Jets and the slight worry is a similar scenario developing here with Brees constantly under pressure to get the ball out of his hands accurately.
But back in the familiar surroundings of the Mercedes-Benz Superdome, where he has 18 touchdowns to one interception in five games this season, Brees is fancied to mastermind another important win.
Verdict: San Francisco 17 New Orleans 27
Week 11 verdicts:
Arizona 21 Jacksonville 16
Atlanta 17 Tampa Bay 21
Baltimore 13 Chicago 22
Detroit 19 Pittsburgh 14
NY Jets 18 Buffalo 12
Oakland 20 Houston 24
Washington 21 Philadelphia 27
San Diego 24 Miami 16
Green Bay 14 NY Giants 23
Minnesota 9 Seattle 21
Kansas City 20 Denver 24
New England 16 Carolina 19
Posted at 2120 GMT on 14/11/2013.