On the run with Kaepernick
Colin Kaepernick's running game is the focus for David John's preview of the 49ers clash with the Jaguars at Wembley.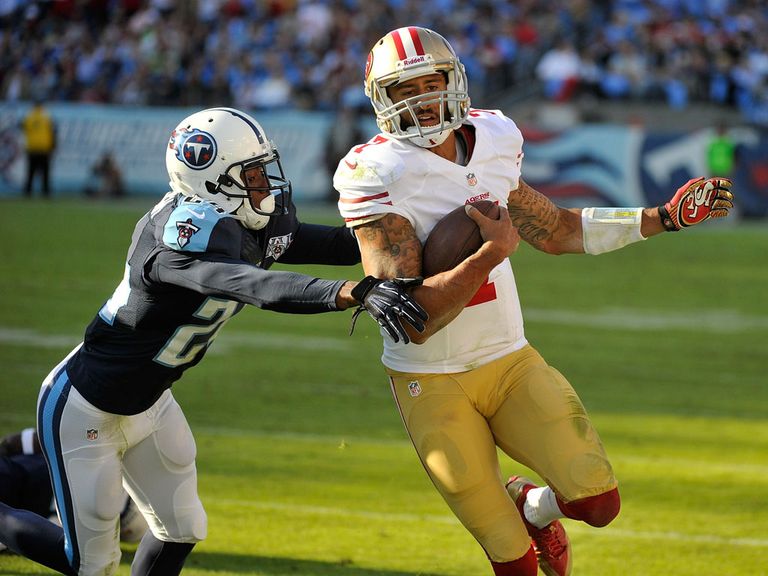 San Francisco at Jacksonville (1700GMT Wembley)
The great debate continues to rage as to the suitability of an NFL franchise in London but for the time being, British and European fans of the sport have not had it so good with 2013's second regular season game at Wembley.
There will now be three next year as well and after the relative excitement of Minnesota's close win over Pittsburgh a month ago, this clash has the ingredients - on paper at least - of a one-sided affair with the 49ers favoured by over two touchdowns.
The Jaguars have yet to win a game this season and an NFL analyst during one of the round-up montages last week labelled them "inept".
Harsh perhaps, but an opinion that was seemingly confirmed by running back Maurice Jones-Drew in an interview this week, as he felt his side had regressed in the 24-6 loss to San Diego following a spirited, if ultimately futile, performance against Denver.
The 49ers seem to be over an early wobble which saw them embarrassed by Seattle and Indianapolis but four wins on the trot since has seen them outscore opponents 132-51 and got Jim Harbaugh's men firmly back on course.
"We are coming. This team is special," said running back Frank Gore with the prospect of them strengthening still further as wide receivers Mario Manningham and Michael Crabtree are due back next month from injury while troubled defensive end Aldon Smith could rejoin the organisation sooner rather than later.
Much-vaunted quarterback Colin Kaepernick looks to have regained his poise too and an interesting aspect of his performance last week in the 31-17 success at Tennessee was the 68 yards he gained on the ground to go with the 199 passing.
The 49ers felt that aspects of the Titans rushing defense were there to be challenged at that could well be the case once more against a unit that is ranked 32nd and last in the NFL and allows on average over 153 yards per game.
Sky Bet have set Kaepernick's total rushing yards for the game at 42.5 and that looks the best way into a game - if you believe certain weather forecasts - which could be played in a storm that is set to batter the southern part of England.
Verdict: San Francisco 30 Jacksonville 13
Washington at Denver (2025GMT)
The Broncos remain favourites for next February's Super Bowl and will be looking to confirm that position with a quick bounce back after suffering their first defeat of the season at Indianapolis last week.
Quarterback Peyton Manning got a tremendous reception from the Colts fans prior to the game but that was as convivial as it got for him as a late rally from his side came up short.
Manning looked a little out of sorts with a number of wobbly throws and it later transpired he had suffered an ankle injury which then kept him out of practice on Wednesday.
All connected with the Broncos can beathe a collective sigh of relief though as he has since been at full speed on Thursday and Friday and should have no problems come game time.
This could be an emotional day for Washington head coach Mike Shanahan as he returns to face the side that he guided to two Super Bowl wins in the late 1990s with John Elway under centre.
His current side sit at 2-4 in a wide-open NFC East and arrive off the back of a 45-41 shootout success over Chicago which saw the Redskins offense rack up 499 yards.
With their quarterback Robert Griffin III getting sharper by the week they may just feel they have some prospects against a Denver defense that has given up more than their fair share of yards and points, particulalrly through the air.
The latter will be without cornerback Champ Bailey after he injured his foot again in the Colts game but Wesley Woodyard returns at linebacker while Von Miller should have blown away some cobwebs after his return from a league suspension.
The layers clearly expect Denver to be back on song and make them 11.5-point favourites but like the earlier game, it is a player maket that catches the eye.
Denver's rally last week all but ended when running back Ronnie Hillman fumbled deep in the red zone and he has since been deactivated.
That should see an opportunity for rookie running back CJ Anderson to get involved with Knowshon Moreno currently having to carry too much of the load.
Bookmakers seem to have missed the fact that Hillman is gone so taking advantage by backing any other Denver Bronco to score a touchdown at 11/4 with Hills puts Anderson very much in play.
Moreno failed last week on a couple of third-and-short situations and the more robust Anderson could be the man to turn to close to the goal-line.
Verdict: Washington 23 Denver 36
Week eight verdicts:
Buffalo 17 New Orleans 27
Cleveland 12 Kansas City 20
Dallas 31 Detroit 27
Miami 14 New England 21
NY Giants 21 Philadelphia 17
NY Jets 17 Cincinnati 24
Pittsburgh 17 Oakland 14
Green Bay 31 Minnesota 9
Seattle 24 St Louis 6
Posted at 1540 BST on 26/10/2013.