Grosjean offers Indian value
Our F1 expert Tom Millard earned bumper profits in Japan and now he's backing Romain Grosjean to shine in the Indian Grand Prix.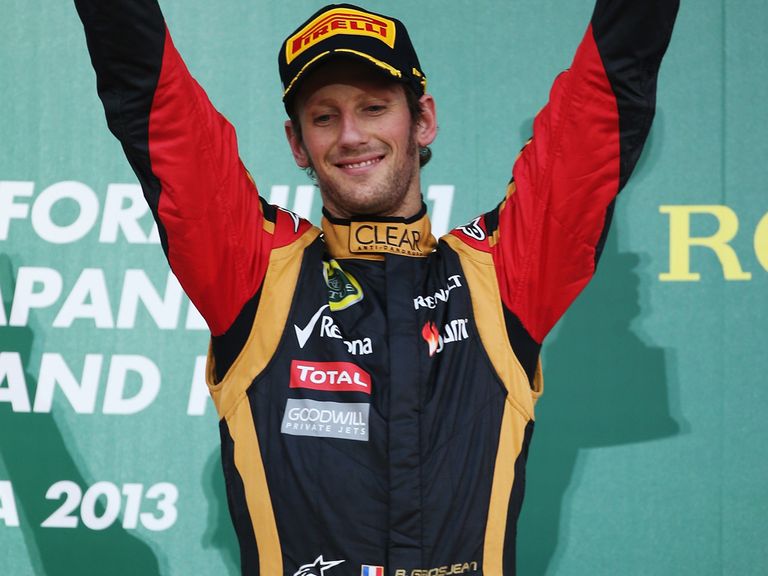 It's been nigh on a decade since the last time a German F1 driver took four consecutive drivers' titles, but don't fear, the long wait will soon be over.
A top-five finish in Sunday's Indian Grand Prix would guarantee Sebastian Vettel follows compatriot Michael Schumacher into the pantheon of begrudged greats, those winning machines whose achievements attract respect and indifference in equal measure.
Vettel is often described by the press as a pantomime villain, but he's not exactly Nelson Piquet - all impudence, cutting barbs and handfuls of oversteer.
Unlike with Nigel Mansell, the audience can't quite summon the enthusiasm to warn Mark Webber that "he's behind you" because on the rare occasions he is, we feel we've read the script and we know what's coming next.
For all the records he's broken and acclaim he's deservedly received, there remains a feeling that success has just come a little too easily for Vettel - something, funnily enough, people were saying about Lewis Hamilton five years ago.
But of the 90 races since the Brazilian Grand Prix of 2008, when Hamilton became the sport's youngest champion, Vettel has won 34 and taken 41 pole positions.
He's no bigger than 1/2 to take what would be a sixth successive victory this weekend and potentially a hat-trick at the Buddh International Circuit, a track at which, inevitably, he won both previous events from pole.
A predictably straightforward race is probably in prospect but the price is just short enough to give the favourite a wide berth when realistically just bringing the car home safely would see him clinch the title.
Vettel would dearly love to extend his winning record but at some point Red Bull are going to try to engineer a victory for his team-mate, so backing odds-on quotes in the next four races will be playing with fire.
But although Webber took pole position and came within a whisker of the win in Japan last time out, he might not find himself quite so close this weekend.
This technical circuit is much more suited to Vettel's style than the sweeping Suzuka track and we expect to see the old order restored in qualifying.
In fact, a Red Bull lockout is far from a certainty and it might be worth gambling on current form horse Romain Grosjean to join Vettel on the front row.
The Frenchman was written off midway through last season but Lotus persevered and have been rewarded with a series of blistering qualifying laps and some increasingly classy drives in the latter half of this season.
Grosjean's last two outings have each seen him collect podium finishes, while qualifying form of 3-4-4 suggests there might just be some mileage in getting him onside on Saturday afternoon.
Any lingering hopes of seeing one-fifth odds for three places on the grid have finally bitten the dust but bet365's and Coral's 40/1 is enough to make the incorporated 13.33/1 on a front row start worth an interest.
Ladbrokes, meanwhile, are offering 7/1 on Grosjean to win the race without Vettel, which is slightly more appealing than their 8/1 on the pair combined in a dual forecast.
He came close to winning this market in both Korea and Japan, losing out to late-race passes from team-mate Kimi Raikkonen and Webber respectively.
Another clean sweep from the Anglo-Austrian team is rated just an even-money shot, which opens up the book for the likes of Grosjean and Hamilton.
Both drivers should qualify well and provide a stern test for Webber on this track, meaning the 100/1 that those two finish first and second (in either order) is worth a fraction of a point in the unlikely event that Vettel slips up.
Finally, maintain the faith in the much-improved Sauber team.
We collected on Nico Hulkenberg's top-six finish in Japan at 11/2 and the bookies have belatedly recognised his threat, chopping him into just 7/4 here.
But they're not quite as convinced about rookie Esteban Gutierrez, who has nevertheless shown a marked improvement in form since his car's reconfigured exhaust system improved its driveability.
The Brazilian made the top-10 shootout in both Singapore and Korea and finally registered his first points of the season with a solid seventh at Suzuka.
It's a congested midfield and Gutierrez still lacks polish but the 12/5 that he and Hulkenberg take a double points-finish for Sauber looks just long enough to warrant an interest.
Friday's practice sessions will take place at 0530 and 0930; Saturday's at 0630, with qualifying at 0930 (all BST). The race is scheduled for 0930 on Sunday (GMT).
Posted at 1350 BST on 23/10/2013.