Take Texans to stun Chiefs
David John previews this weekend's NFL and is backing the Houston Texans to shock the Kansas City Chiefs.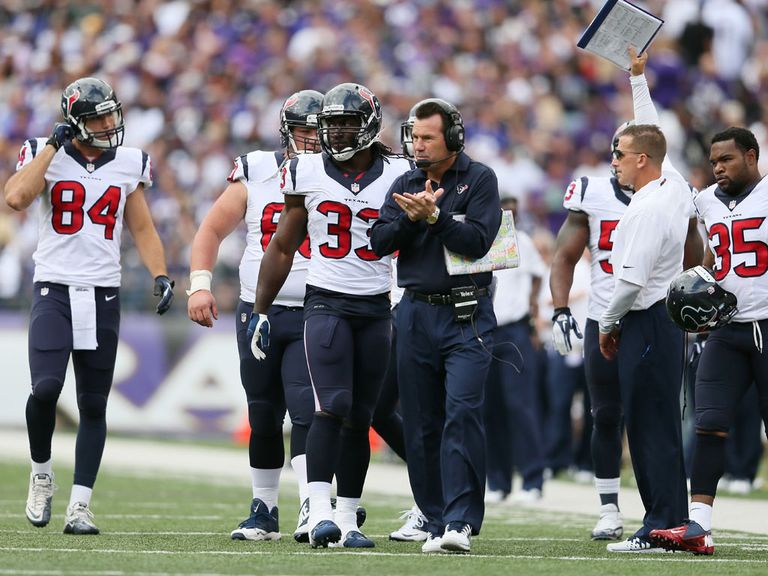 Cincinnati at Detroit (1800BST)
It is probably not unreasonable to expect a decent game with both teams at 4-2, either leading or in a share of the lead in their respective divisions and both boasting some considerable firepower on offense.
And it is the latter aspect that is the focus as we hunt for a bet on the early live Sky game.
Both teams arrive on the back of a victory as the Lions saw off Cleveland 31-17 with quarterback Matthew Stafford hooking up with tight end Joseph Fauria for three touchdowns along the way.
The news for their passing attack has got better too in the week with wide receiver Calvin Johnson able to take part in practice for three days in a row and he seems set to play a full role on Sunday.
The Bengals seemed to be caught a bit unawares by Thad Lewis on his first start under centre in Buffalo last week but to their credit, they emerged with a 27-24 success after overtime.
It saw quarterback Andy Dalton find his form once again as he threw three touchdown passes and it would not be unfair to assume that the Red Rifle could be in for another good afternoon up against a shaky Lions secondary that is ranked 21st against the pass.
His top target AJ Green is coming off a 100-yard game himself and while he will again attract plenty of attention, it could be the improving Marvin Jones who gets in on the action once more.
He came up with a number of big plays against the Bills from just three catches - including a touchdown - and a quote of 10/3 for him to find the end zone at some stage is on the generous side.
Finally, with both teams capable of lighting up the scoreboard and not having to contend with any potential weather issues inside Ford Field, I thought the total points line would be set somewhere beyond 50 points.
That is not the case and 46.5 should be eclipsed.
Verdict: Cincinnati 28 Detroit 31
Houston at Kansas City (2125BST)
Arrowhead stages a clash between two very surprising teams in so much as how strongly the hosts have started and how quickly the wheels have come off the Texans.
But cards on the table, I have a feeling that the much-maligned visitors could have a decent shot against the Chiefs and may not be a forlorn hope in terms of ending their unbeaten season.
Houston are on a four-game slide and things surely can't get much worse than last week's 38-13 loss at home to the Rams.
Quarterback Matt Schaub had been under immense pressure after a rash of costly mistakes but an ankle injury mid-game last week saw him replaced by TJ Yates.
Two interceptions from the latter - one going back for yet another touchdown - means head coach Gary Kubiak has now turned to third-stringer Case Keenum, who has not played a meaningful snap since his college days in Houston back in 2012.
"We are looking for a spark," Kubiak explained this week as he also wants to see his team play some-mistake free football in a bid to get things turned around.
To that end, Kubiak has even introduced some new practice drills in a bid to address the issue.
Keenum knows the offense well and put up some astronomical figures in his college career. He is a bit undersized for the position in the NFL at 6-1 and 205lbs and is no stranger to being told what he won't be able to do in his career having gone undrafted.
But he is a confident character and like all back-ups, relishing the prospect of being given his shot. The team certainly seem to be rallying around their new starter as offensive tackle Duane Brown summed up the mood: "Us winning the game will mean everything."
Kansas City have the chance to move to 7-0 as their new coaching staff under Andy Reid and quarterback Alex Smith have settled into the roles seemingly without missing a beat.
The defense has been spectacular at times and last week sacked Terrelle Pryor nine times (one was taken away by the NFL on review) so the timing of Keenum's debut has arrived when his side has to travel to one of the most hostile venues anywhere.
On the other side of the ball though, the Chiefs offense has spluttered a little of late.
Smith, who would be only the second quarterback to go 7-0 with a new team since 1970, has not had a touchdown pass in his last two games while his completion percentage and passer rating has started to slide.
And although last week's result may suggest otherwise, Houston still possess the NFL's top-ranked defense overall and also against the pass.
The loss of starting strong safety Danieal Manning for the season with a knee injury is a blow but defensive end JJ Watt's stony address to the media after practice in the week emphasises a certain resolve among his team-mates that some sort of line has been drawn in the sand.
So I am going to take the Texans with the start and risk a small wager on them in the outright betting too.
Another angle to look at is going low on Smith's total passing yards - it is set at a generous-looking 233.5 considering how his form has dipped of late and the defense on a mission he is now up against.
Verdict: Houston 20 Kansas City 16
Week seven verdicts:
Buffalo 20 Miami 24
Chicago 28 Washington 20
Dallas 27 Philadelphia 31
New England 26 NY Jets 16
San Diego 24 Jacksonville 20
St Louis 17 Carolina 23
Tampa Bay 10 Atlanta 24
San Francisco 21 Tennessee 16
Baltimore 16 Pittsburgh 13
Cleveland 16 Green Bay 30
Denver 35 Indianapolis 24
Minnesota 16 NY Giants 21
Posted at 1300 BST on 19/10/2013.