Local ties key to Shriners success
Ben Coley previews the Shriners Hospitals for Children Open and fancies local favourite Scott Piercy to go close.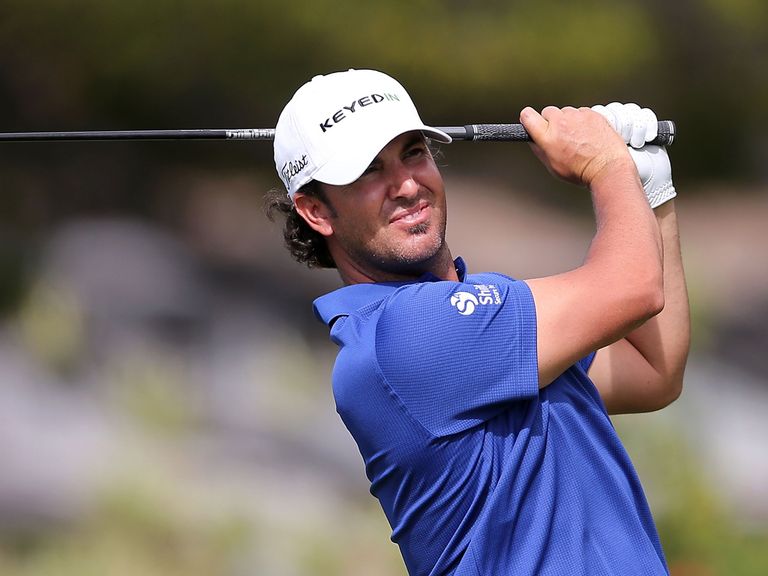 It's a shame the Shriners Hospitals for Children Open is such a mouthful to articulate, as this week's PGA Tour event generates a fantastic amount of money for local charities and should be given full credit whenever possible.
Whether you're a fan of the affable but whiny Timberlake and his particular sonic exploits or not, there's little denying that he's much to do with the success of this event down the years.
As Steve Rawlings has so kindly pointed out, that association between golf and music has ended as far as this event goes, but we are back at TPC Summerlin once more and a strong enough field is set to assemble.
The course, as befitting of most resort-style venues, is pretty straightforward. Although moderations have been made to toughen things up a little, it plays as a short par 71 and there are birdie opportunities around every corner.
While a winning score closer to Martin Laird's 19-under total in 2009 than Ryan Moore's 24-under from last year is likely, this isn't a tournament which can realistically be won with fewer than five birdies per round on average.
Part of the reason the course plays so short, despite stretching well beyond 7,000 yards, is that it's at altitude. As I'm sure most readers will know, the golf ball will travel typically something in the region of 10 per cent further and distance control becomes of paramount importance, particularly with such an emphasis on hitting approaches close.
The fact that this course is at altitude and there are so many off-course distractions perhaps explains one of the key dynamics in play here at TPC Summerlin, which is for those with local ties to be at a significant advantage.
We saw it just last year when University of Nevada Las Vegas graduate Ryan Moore dominated from day one, succeeding course member and fellow local resident Kevin Na as champion. 2010 saw North Carolina dominate but a year earlier Martin Laird, who has no local ties as such but went to college in the mountains of Colorado, bested course specialist George McNeill and local favourite Chad Campbell in a play-off.
Certainly, the trend for locals to do well appears to be strengthening if anything, and the players are more than aware. Last year, when asked who would play well in the event, Na replied: "I would pick Piercy, Watney, Moore, Hoffman. I would pick those guys, yeah."
Why's that? I'll let him explain: "First of all, you know the golf course very well because guys come out here and practise and you know the greens.
"I think the big key is distance control here because the ball goes further out here. Some of the guys have trouble adjusting to that.
"But if you live out here you know how far your ball is flying, so it's easier to club yourself with the irons. That's a big edge on everybody else in the field.
"If I was honest...if you gave me a handful of guys to pick, I would pick all the local guys."
So, in that spirit that's where I focused my attentions and the pick of the bunch looks to be the aforementioned Scott Piercy at 33/1.
Born, raised and residing in Las Vegas, this is very much a home game for California-educated Piercy, who has a wealth of experience playing golf in the west.
It's experience he's put to good use here at TPC Summerlin, a course he says is the only one he plays in Vegas. Piercy showed he could score at the course at virtually the first time of asking, carding a second-round 65 back in 2005, but has really got to grips with things lately with last year's sixth a personal best.
That effort came despite a third-round 73 - quite simply a no-no if you've designs on winning this event - and we saw something similar a year earlier when he finished 10th despite a Saturday round of 70. Back in 2009, it was Sunday which cost him - the then-maiden carding a round of 73 to slip outside the top 10.
It's no coincidence he's getting better at the course, as his career progression matches that profile and his pair of top-10 finishes came after he'd won a first tour title in Reno, the other PGA Tour event held in Nevada.
That gives him a formline of 14-MC-28-1-10-6 in his home state and means Piercy will be excited and prepared for this return, having played some eye-catching golf throughout the closing weeks of the 2013 season as a niggling injury began to wear off.
It's no surprise that his best result of the FedEx Cup play-offs came at the birdie-bonanza that is TPC Boston, and while I'd have liked to have seen more from him at Conway Farms that course, one which was new to him, held Piercy back from playing the aggressive golf he likes.
Here at TPC Summerlin there are no such concerns and having won twice over the last couple of years and found his form at this time in 2012, he looks primed for another big week in front of his home crowd.
"You know, I've shot 60 around this golf course a few times," said Piercy a couple of years ago and with no doubts about his ability to shoot the number required to win, he looks extremely backable at 33/1.
The other player with local ties I want on side here is Andres Gonzales at a massive 200/1.
The big-hitter from Washington studied journalism at the University of Nevada, and it's no surprise to me that he's played much of his best golf in this part of the world.
Okay, it's not Nevada in which he's truly thrived but neighbouring California, where he won the 2012 Soboba Golf Classic having finished runner-up a year earlier.
More recently, we saw Gonzales miss out on a full PGA Tour card by one spot after a heart-breaking end to the Web.com Tour Championship, but his previous eighth in the Wyndham meant he got into the Frys.com Open last week and he took advantage, a second-round 62 the trigger for a good weekend and an eventual share of 16th.
It appears to me that Gonzales is determined not to leave his fate in the hands of others again, which is what effectively happened in the Tour Championship, and he's playing the type of aggressive golf which could reap rewards here at TPC Summerlin.
Clearly, Gonzales hasn't demonstrated a great affinity for the course just yet but as a player with strong local ties who has finished eighth and 16th in his last two PGA Tour starts and led the field in putting average last time, he looks overpriced at the 200/1 mark.
Graham DeLaet is a vastly more likely contender here and I can see him going very close to a maiden PGA Tour title.
Under the previous PGA Tour calendar, these Fall events always used to offer a fine chance for supremely talented under-achievers to break through and while I had my doubts as to whether that trend would continue, Jimmy Walker's victory at the Frys.com Open suggests it perhaps will.
There is, for my money, no more talented PGA Tour maiden than DeLaet and his performance in the Presidents Cup expelled any doubt as to the all-round strengths of this tremendous Canadian. He's long, he's straight, and his short-game is getting there - he's almost a carbon-copy of Hunter Mahan and a win should come very soon.
When I say very soon, I'm more than hopeful it could be this week as DeLaet returns to Summerlin for the first time since 2010, when he carded a second-round 63 on his way to 18th.
His only other tour start in Nevada came at the Reno-Tahoe Open, an event which has proved to be a decent pointer for this, and again a third-round 62 demonstrated exactly what he can to.
What I find particularly interesting about that round is more what followed it, and that was DeLaet's interview with local reporters. He confirmed to them that his wife is from Nevada and confessed that it was great to be there, which means that while hidden, he too has some strong local ties.
DeLaet also went to college in neighbouring Idaho and said of playing at Montreux: "It's similar to Boise. It's high and dry, so I feel pretty good here."
Clearly, DeLaet's game is in shape courtesy of that fine Presidents Cup debut and two top-three finishes in his previous four starts, while his stats offer further confirmation of his excellence throughout the bag, particularly when it comes to finding the low numbers required here.
Aside from the local ties and the course's suitability, the real trigger for a DeLaet win could well be the realisation that he is good enough to lead this field a merry dance if on song from the off. The Presidents Cup showed him that, and if he can recreate the passion he showed at Muirfield Village he will win soon.
"Yeah, I got some really kind words from Mr Jack Nicklaus on the first tee today saying it's really going to build my confidence, and I think that's true," he said at the Presidents Cup.
"I think it's going to build some confidence for sure. I've always kind of believed in myself, but to have a good performance, with really the best players in the world, it's an unbelievable feeling."
DeLaet can cap a fine season with the win his play merits so take the 25/1.
Of the remainder there's a temptation to chance Andres Romero at a price given his excellent form both here and at Montreux, while top-20 backers should consider California's Brendan Steele.
The man to beat is arguably another local, Nick Watney, but his price is about right and if he does win it's a fine way to kick off his bid for the money list, which I've advised him for at 100/1.
Posted at 1115 BST on 15/10/2013.