Saints to show NFC class
David John previews this weekend's NFL and is backing New Orleans to prove they're the class of the NFC.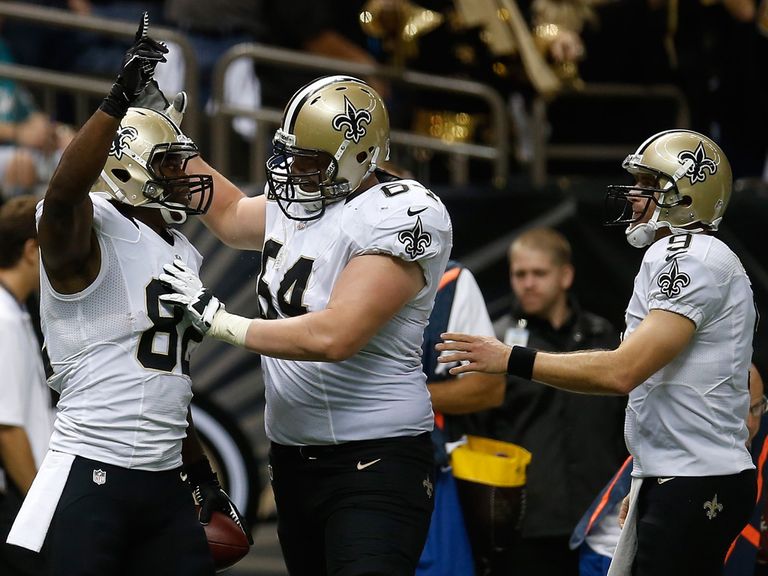 Green Bay at Baltimore (1800 BST)
There were certainly some signs last week that reigning Super Bowl champions Baltimore might be getting their act together after a narrow win at Miami.
The talk since in Maryland has been of them now producing a statement win to kick-start their season and getting one over the visiting Green Bay Packers might well achieve that.
The Ravens almost shot themselves in the foot in Florida as they blew a 10-point advantage in the final quarter and had to survive a missed field goal as time ran out that would have levelled the scores.
But things worked out and they are now tied atop a tight AFC North at 3-2 with the prospect of getting some key players back like wide receivers Jacoby Jones and Marlon Brown, who have both returned to practice.
Throw in the addition of Eugene Monroe on the offensive line - he has been working and studying hard since his arrival from Jacksonville - to help protect quarterback Joe Flacco then the latter's claim that "a lot of things are going to come right at the same time" does ring true to a certain extent.
There was also a brighter outlook to the running game with feature back Ray Rice, who has been battling a hip problem, scoring two touchdowns and seemingly involved in the gameplan once again. He was even more positive and said "we are right there".
The visitors continue to flex their muscles on offense and rank third in the league in both yards per game and points per game currently.
The main news emerging from Wisconsin though is that linebacker Clay Matthews could be out for around a month having had surgery on the thumb he broke last week in the win over the Lions.
That will mean a reshuffle on defense and a chance for the Ravens to get something going consistently with their rivals' best player watching from the sidelines.
Ravens head coach John Harbaugh admits his side will have their hands full but I don't think it is insurmountable task with three points in their favour on the handicap at home.
I also quite like taking the overs on the longest field goal in this one at 43.5 yards.
Packers kicker Mason Crosby had a torrid time in 2012 but has come back to his best and nailed five from last week against the Lions up to 52 yards while opposite number Justin Tucker has one of the strongest legs in the league and is a reliable performer when called on.
Verdict: Green Bay 22 Ravens 28
New Orleans at New England (2125)
They 5-0 Saints were sneakily impressive last week at the Chicago Bears but this is arguably their biggest examination yet and another victory would put them right in the top bracket as the best side in the NFC.
Sean Payton's return to the sidelines after a year-long NFL ban has re-energised quarterback Drew Brees but he and the stellar play from tight end Jimmy Graham come up against a Patriots defense that has surprisingly eclipsed Tom Brady's offense.
They have allowed just 70 points over the first five games as the secondary has caught the eye in particular with Aqib Talib and Devin McCourty playing at a Pro Bowl level.
The unit as whole will have to continue in a similar vein as they battle the absence of Vince Wilfork and now Tommy Kelly at defensive tackle. It will also have to help paper over the cracks as Brady struggles way below his usual standard.
The latter could well have tight end Rob Gronkowski back in the line up after a lengthy injury absence but the offense has stuttered along with dropped catches, a misfiring running game and Brady himself unusually off-target with throws to some new targets this season that have highlighted a distinct lack of chemistry.
It all adds up to 24th in the league with just 19 points per game on average with Brady's streak of consecutive games with a touchdown pass ended at 52 last week in a 13-6 loss at the Bengals. He completed just 18 of 38 passes.
The Saints defense under Rob Ryan they will face is not exactly 'lights-out' but as I have said in earlier previews, it is reminiscent of their Super Bowl winning outfit that might give up plenty of yards but will come up with a crucial stop, interception or sack.
That invariably leaves Brees in good field position to work his magic with main target Graham proving once again he is more than a match for any defensive player in the league.
Brees tore the Patriots apart last time they met, throwing for 371 yards with five touchdowns and although that sort of display will be harder to replicate on the road, the visitors certainly look good value getting a start on the handicap judged on what the Patriots have shown us so far.
Verdict: New Orleans 27 Patriots 20
Weekend verdicts:
Carolina 14 Minnesota 23
Cincinnati 21 Buffalo 9
Detroit 16 Cleveland 12
Oakland 17 Kansas City 24
Philadelphia 24 Tampa Bay 10
Pittsburgh 16 New York Jets 22
St Louis 14 Houston 31
Jacksonville 6 Denver 45
Tennessee 14 Seattle 19
Arizona 21 San Francisco 24
Washington 21 Dallas 34
Indianapolis 28 San Diego 22
Posted at 1645 BST on 10/10/2013.