Red Bulls to the fore at Suzuka
Mark Webber can back up Red Bull team-mate Sebastian Vettel in this weekend's Japanese Grand Prix.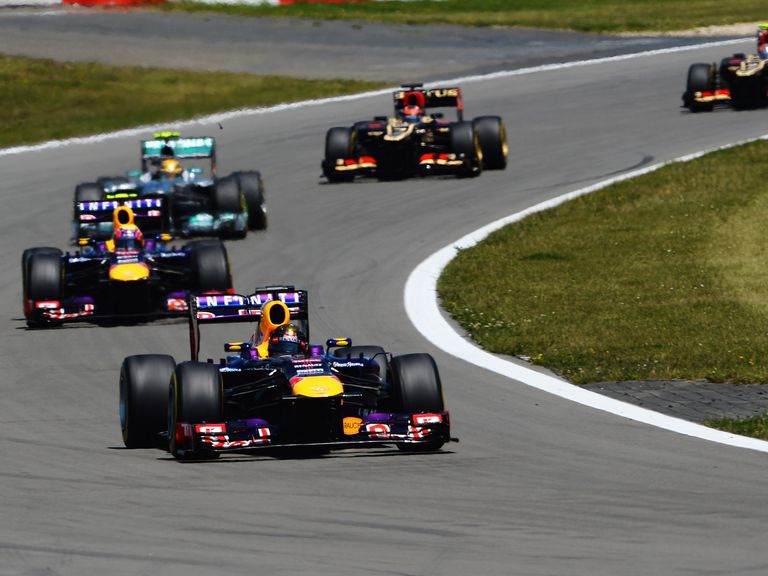 Sebastian Vettel's scorecard since returning from the summer break - Races: 4. Wins: 4. Pole positions: 3.
And his record at Suzuka when driving for Red Bull - Races: 4. Wins: 3. Pole positions: 4.
It's legitimate to ask whether it's actually worth Vettel's rivals turning up in Japan this weekend as the Red Bull steamroller shows no sign of slowing.
In fact Lewis Hamilton raised eyebrows in the media this week when he suggested that his rival's dominance was a turn-off for the fans, although there's an element of Mandy Rice-Davies in his protestations - he would say that, wouldn't he?
Regardless, bet365's early 8/11 on the four-time champion-elect has been swiftly scythed into 1/2, leaving him at a best price of 8/13 with Betfred to take a fifth consecutive win to all-but wrap up another championship.
A Vettel win, combined with Fernando Alonso failing to finish in the top eight, would mathematically put the other drivers out of their misery, which is an outcome far from unthinkable given Ferrari's poor race pace in Korea and the emergence of Nico Hulkenberg as a genuine top-six contender.
The title celebrations will probably have to wait until after the Indian Grand Prix in two weeks' time but it's difficult not to see short-odds punters rewarded in the race win market given the ease with which Vettel has taken the last four races.
But far chunkier prices are available on the sister Red Bull of Mark Webber, the Australian driver who has been made to look second-rate by Vettel in the last three seasons.
Webber cannot harness the potential of this lineage of car to anywhere near the same extent of his younger team-mate, particularly in the slower corners, where Vettel excels.
The world champion has a knack of rotating the car under braking and getting onto the throttle earlier in the corner than Webber, which then allows the RB9's exhaust gases to work their magic at the rear of the car, producing lashings of mid-corner downforce.
This downforce then squares with speed as the car accelerates, producing a positive feedback loop which allows Vettel to exit the corner far quicker than his rivals, including the man sat scowling in the garage next door.
We saw in Singapore how Webber could match Vettel for the majority of the lap but was left floundering on the tricky, technical stretch of track in the final sector.
Fortunately for the Aussie, Suzuka is all about the kind of medium- and high-speed corners which should suit his car but not play to Vettel's specific strengths.
Webber has always been at home on the Barcelona/Silverstone/Suzuka old-style tracks where commitment is key - he's never actually won in Japan but he qualified on the front row (just behind you-know-who) in 2012 and 2010 and looks worth following on Saturday.
He's 12/1 with Sky Bet to take pole position, which would be an average price without the one-fifth place terms for each-way bets.
The place part would have copped four times in the past six races and even the win half of the bet is not without hope given that we expect Webber to keep his nemesis honest this weekend.
Also combine the Red Bull pair for a good value bet on Sunday.
Ladbrokes' 5/1 that the feuding duo finish one-two looks fair value but even better is Paddy Power's 13/5 that RBR record a double podium finish.
This bet covers three outcomes rather than just one, essentially allowing one or both drivers to be pipped by a rival, for only a small insurance premium.
Webber's not been the easiest driver to maintain faith in this season, following a run of bad luck and bad judgement calls, but if there's a track on which he can remind the world he's still a capable driver, this is it.
Finally, Nico Hulkenberg can cement his burgeoning reputation with another solid drive in the newly-configured Sauber.
The German transcended his car in Italy and Korea with fifth and fourth place finishes respectively and looks to have been underrated by Ladbrokes, who price him at 11/2 for another top six finish.
It's difficult to say whether his car will be as well suited to this circuit as it was at Monza and Yeongam but the Magic Sign are taking quite a chance if it is.
Hulkenberg got a break in Korea but ultimately earned his result on merit so neither result was a fluke - he's 7/2 in places and on current form the 11/2 looks a cheap play.
As with last weekend, Friday's practice sessions will take place at 0200 and 0600; Saturday's at 0300, with qualifying at 0600. The race is scheduled for 0700 on Sunday (BST).
Posted at 1420 BST on 09/10/2013.