Dallas unlikely to slow Manning
David John previews Sunday's live NFL games on Sky and can't see Dallas putting the brakes on Peyton Manning and Denver.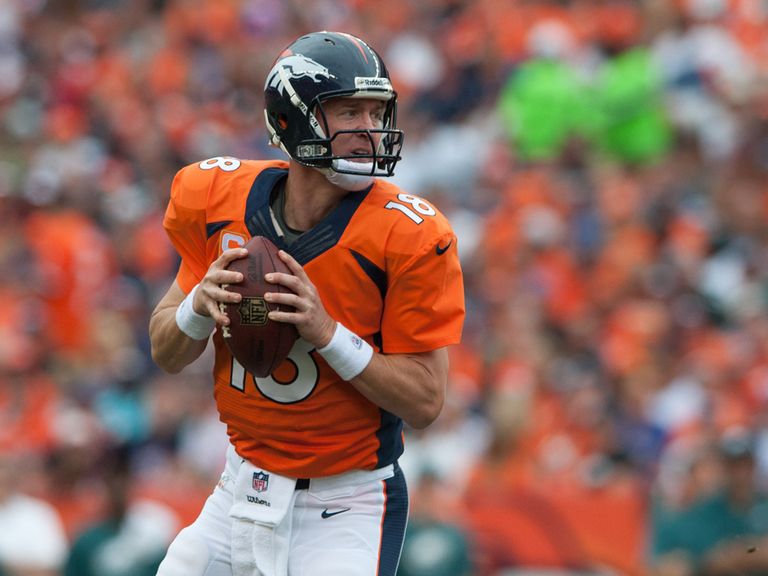 The latter are unbeaten with their Hall of Fame quarterback smashing every record in sight currently on offense.
In the early game, Miami are fancied to get back on track after a first defeat of the season against a struggling Baltimore outfit.
Baltimore at Miami (1800BST)
Super Bowl winning head coach Jim Harbaugh tore a few strips off some of his players after their loss at Buffalo last weekend with tight end Ed Dickson and the whole offensive line receiving the brunt of the battering.
The latter have been a weak point all season and have consistently looked unable to give quarterback Joe Flacco anywhere near enough protection or generate a push to get the running game going .
"There have been too many mental mistakes. It is basic protection rules," Harbaugh opined and has moved to address the situation by signing left tackle Eugene Monroe from Jacksonville to help solidify things in front of Flacco.
The latter ended up throwing five interceptions last week and equally worrying was the fact that the Ravens - a traditional hard-nosed running football team - had just nine carries on the ground for 24 yards, an all-time franchise low.
The key for the Dolphins then is will their defense be able to take advantage and keep Flacco under the kosh?
They have ace pass-rusher Cameron Wake and cornerback Dimitri Patterson battling to be fit and they certainly were no match for Drew Brees and the New Orleans Saints as they were handed their first loss of the season.
The 38-17 defeat in Louisiana exposed them as a good rather than a great team at the moment and a measure of how far they will progress this season can be measured this week in how they respond.
Second-year quarterback Ryan Tannehill was responsible for four turnovers against the Saints while there still seems to be little chemistry between himself and wide receiver Mike Wallace after his big-money summer arrival.
"We are not happy," said Tannehill. "But you look at it and there are things that you can correct."
The layers seem to think that their problems in the short term will be easier to solve as well and make them three-point favourites.
They did not get to 3-0 prior to last week by fluke and the Floridians look well worth another chance back on their own patch.
Verdict: Baltimore 17 Miami 26
Denver at Dallas (2125BST)
It looks a similar story for the Cowboys this season.
They let a 21-10 lead slip from their grasp on the road at San Diego last week as once again the sum of the talent on the field is not adding up to ticks in the win column.
"We squandered a few opportunities," quarterback Tony Romo reflected afterwards as his offense failed to produce anything of note after the break in California while a defense that had looked very productive fell apart as Philip Rivers burned them for 401 yards through the air.
This is a team that can't seem to get out of its own way at times and is struggling to deal with mentally being anything better than a .500 outfit despite the genuine depth available on the roster.
And if the news could not get any worse, Peyton Manning and the Broncos are in town and on pace for a record-breaking season offensivly.
They have beaten their four rivals so far by an average of 22 points - plain and simple, that is making it extremely difficult for the opposition to compete with Denver let alone win.
Manning has yet to throw an interception and is on course for 64 touchdown passes - keep in mind that the previous best was Tom Brady back in 2007 with 50!
And all this at 37 years old. There does not seem to be a defense that can come up with a scheme to cope with Manning at the moment and I doubt the Cowboys are going to bring anything to the table to change that opinion.
Edge rusher DeMarcus Ware is one of the premier performers and offers the best opportunity for Dallas to get some pressure in Manning's face.
But Manning has been just too good at deciphering how a defense is lining up to go with his quick release of the ball to an open receiver. He is two if not three steps ahead of his rivals on the field when the ball is snapped.
Dallas do have that unpredictable streak in their nature to make this interesting if things fall into place but surely getting only a touchdown start on the handicap is going to be ruthlessly exposed as inadequate.
Verdict: Denver 44 Dallas 21
Week five verdicts
Green Bay 35 Detroit 31
Jacksonville 14 St Louis 23
Kansas City 21 Tennessee 17
New England 21 Cincinnati 23
New Orleans 31 Chicago 24
Philadelphia 24 New York Giants 19
Seattle 23 Indianapolis 20
Carolina 21 Arizona 24
Houston 26 San Francisco 24
San Diego 32 Oakland 17
New York Jets 16 Atlanta 24
Posted at 2120 BST on 03/10/2013.