Match play finalists offer value
Ben Coley previews the Presidents Cup and fancies two match play specialists to star for Team USA.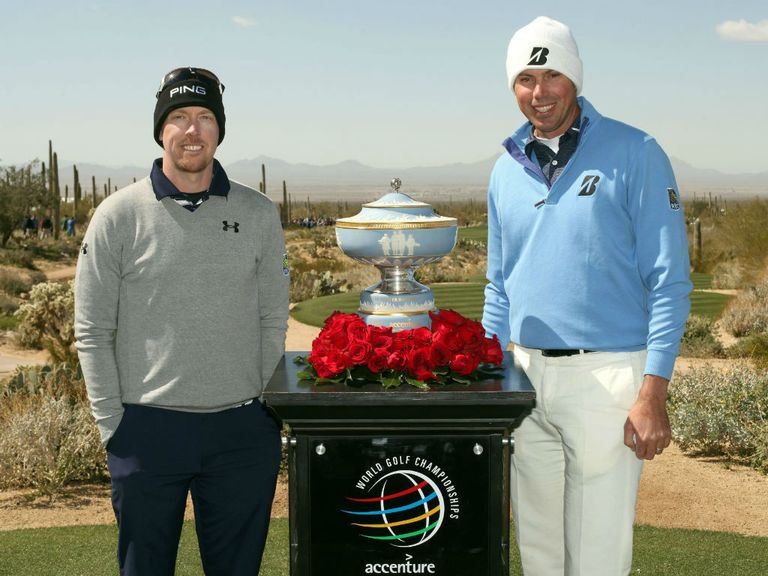 The Presidents Cup goes to Muirfield Village this week, a course designed by honourary host Jack Nicklaus and one on which the home team should thrive.
Regular playground for the Memorial Tournament, it's a course familiar to almost every player across both the USA and International sides but it's the US players who've thrived, with three of their number winning the last three renewals.
This, of course, is just the tip of the iceberg. Dig deeper and you'll find that the USA, who've won seven of nine Presidents Cups so far and all five played on home soil, hold a distinct advantage across the board.
That they could leave out Jim Furyk, the second best all-time top scorer in the Presidents Cup for Team USA and a player in rude health, tells you much about the strength in depth at Fred Couples' disposal.
And while these comments also apply to the Ryder Cup, there the US face a cohesive European unit who can call upon years of success. The International side, in which there are seven debutants and two players who've not yet won on the PGA Tour, do not have much in the locker to take inspiration from.
Of course, they could well thrive in their role as underdogs and 11/4 about any team in this format is worthy of consideration, but I can find no logical argument for an upset and expect Team USA to win and win well.
The trouble is, they were 1/2 a month ago and are now shorter than 1/3, a price which doesn't offer sufficient value for the lumpy wager required to generate substantial profit. I'm also against the idea of playing the handicaps, because to do so is to rely on players performing at their best when the match is already over.
Consequently, as with my preview of the Seve Trophy, I'm compelled to look to the side markets for value.
Those who, like me, are convinced that the USA will romp to victory, should look closely at the top combined points scorer market. In seven of the eight Presidents Cups in which there's been a clear winner, the top overall scorer has come from the winning side, a fact which should surprise nobody.
Even the exception would've seen backers of Chris DiMarco collect a dead-heat payout as he scored four and a half points for a triumphant US side only to be matched by a sterling performance from Retief Goosen.
That two International players, both with losing Presidents Cup records, fill two of the top five places in the betting only further enhances the case for finding a value American here and Hunter Mahan is one of two selections.
Mahan is a confirmed format specialist thanks to his victory over Rory McIlroy in the 2012 WGC-Accenture World Match Play final and excellent defence of that title this year, when only Matt Kuchar proved too good.
This excellence in match play stretches back to an amateur career which saw him finish runner-up in the US Amateur, and while many will hold Mahan's famous Ryder Cup defeat to Graeme McDowell against him, it should be remembered that in 2008 he'd gone through five matches unbeaten as a rookie.
Mahan has also had plenty of time to banish those Celtic Manor demons and he was exceptional in USA's victory in Melbourne two years ago, winning four points, while in three Presidents Cup appearances he's only lost three matches.
All of that combines to give Mahan the best winning percentage of any player in the US side, and given a solid bank of Muirfield Village form there's every reason to expect he'll produce his best golf having done so consistently since July. He also has something of a point to prove having been left out of the last US Ryder Cup side and from a personal point of view I'm pleased to see him back where he belongs.
My chief concern is that I don't know what the plan is with Mahan and there can be no guarantee he'll play all five matches. Last time he teamed up really nicely with David Toms, and my hope is he's put together with a sharp putter like Brandt Snedeker and that whoever his partner is, they get off to a flying start.
Certainly, it'll be hard for Couples to leave someone with Mahan's credentials out of a set of matches if he starts well, despite the undisputed options at his disposal.
Reading into course form may seem an over-simplistic way to approach a pretty unique event, but it worked at Celtic Manor where 2010 Wales Open winner McDowell excelled as well as that year's third Luke Donald.
For that reason, I'm prepared to narrow down the US team by using their efforts at Muirfield as a guide. With Jason Dufner and Zach Johnson likely partners, it has to rate a slight concern that neither has done particularly well at Muirfield and the same goes for possible Carolina pairing Webb Simpson and Bill Haas, who've struggled there of late.
Following this logic, it's quite possible that Steve Stricker and Tiger Woods could banish the demons of the last Ryder Cup if again put together given that both have won here, but that's very much been factored into their prices and I wouldn't be at all surprised were they separated.
Brian Wacker makes a case for Matt Kuchar teaming up with Woods and, whether he does or not, he looks value at 16/1.
As mentioned, Kuchar is the reigning WGC-Accenture Match Play champion and looking back it's hard to work out why he was only given three matches at Medinah, where he won twice before losing to Lee Westwood in the singles.
Kuchar has a tremendous record when playing with a partner in team competitions having not yet lost either a four-ball or foursome match through two Ryder Cups, and while he lost three times at Royal Melbourne, each of those three matches went down the last.
Combine that with the fact he's probably the best scrambler across both teams and won the Memorial earlier this season and it's clear to me that Kuchar has a big role to play in the US side.
If he's alongside Woods, they could well go unbeaten, while it's possible he could be put with Jordan Spieth or even the aforementioned Mahan. At the price he should give us a very good run.
Looking at the top International scorer market, three players appeal - Ernie Els, Charl Schwartzel and Hideki Matsuyama.
There's no way in my mind that Els should be two and a half times the price of Adam Scott, and at 10/1 he's definitely worth a bet.
In a side lacking in experience, International captain Nick Price seems sure to call upon Ernie to play at least four if not five games and he'll have been delighted therefore to see The Big Easy return to some sort of form in Scotland last week.
Els commented that a relaxing week on the links with his father was exactly what he needed, and it should provide him with a nice platform from which to produce his best at a course he's won on before.
Els' record in this event is bettered only by Schwartzel, who made an excellent debut two years ago but will do well to still have a positive record when he's played as many matches as Els.
Considering that the International side have won just one of nine renewals, it really is impressive that Els has won more points than he's lost and we know all about his ability to produce when he really needs to.
Two years ago, Els struggled to a solitary point but his previous three appearances saw him record two three-point hauls and one excellent return of four, all of which would give him a very strong shout in this market.
Clearly, he can play with anyone and my hope is he forms a strong partnership with Matsuyama, who makes appeal on his debut.
The Japanese star has shot to fame this season despite having only turned professional in the spring. Top-10 finishes in both the US Open and Open Championship have demonstrated just what he's capable of and they suggest that he has what it takes to produce at the first time of asking.
Since finishing 19th in the PGA Championship - three top-20s from three majors this year is wildly impressive for a man of just 21 years of age - Matsuyama has returned to Asia to make it three wins out there already this year, and in terms of latent ability he has what it takes to go all the way to the top.
The difficulty is working out who he'll play with but given his form and the doubts surrounding several of his team-mates, I'd be surprised were he not involved throughout the event.
Matsuyama has taken advice from Shigeki Maruyama, who won all five of his matches on his Presidents Cup debut, and while it's asking a lot for Matsuyama to emulate his compatriot I cannot express strongly enough how much he's impressed me this year.
While all eyes are on Spieth, this boy is just as good so back him to show it.
Posted at 1340 BST on 01/10/2013.