Points on the menu in Washington
David John previews this weekend's NFL action and expects entertainment when Detroit go to Washington.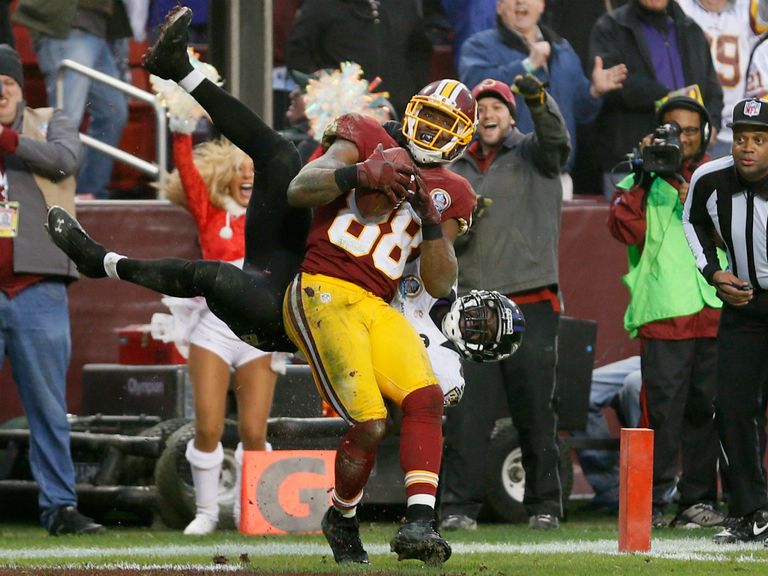 Detroit at Washington (1800 BST)
Everyone loves a stat from the NFL so here is a good one.
Detroit have never won on the road in Washington. That is 21 straight games and the last time they did manage to beat the Redskins away from the Motor City was back in 1935 when the pair clashed under different names at Boston's Fenway Park!
So perhaps the Lions might just fancy their chances of ending this rather remarkable run against a team that is 0-2, has looked dreadful on defense and has question marks over its star player.
The latter is quarterback Robert Griffin III and perhaps we have all been a bit guilty of raising our expectations too high after what has been a remarkable return regardless from an extremely serious injury.
He did manage to pass for over 300 yards last week and three touchdowns in a losing cause at Green Bay but the electric running game that made such an impact 12 months ago is understandably still a work in progress until he regains full confidence in his surgically repaired knee.
A greater worry for the hosts has to be on defense. They have allowed over 1,000 yards in the first two games and conceded an average of 35.5 points.
This has to be the area which the Lions will look to exploit once more with quarterback Matthew Stafford and wide receiver Calvin Johnson one of the most dynamic combinations in the league.
Stafford will perhaps look to stretch the field a bit more with some deeper balls thrown although the receiving corps has to be a bit sharper if they are to take full advantage - they lead the NFL this season with nine drops.
"We are two desperate teams," said RGIII in the build up this week and certainly an 0-3 start from Washington would be a serious dent in their chances of getting back to the play-offs after all the promise from last season.
Meanwhile, the Lions have that terrible history in the capital hanging over their heads and picking a winner is not easy.
However, I do think this could become a scoring bonanza so a bet on over 48.5 points looks a solid route to take while a touchdown anytime for Pierre Garcon also appeals as these two try and blaze their way to a valuable victory.
Verdict: Detroit 28 Washington 31
Indianapolis at San Francisco (2125)
The 49ers were many people's selection this season for the Super Bowl and they face the first real test of their credentials against the Colts.
Not that the Colts are considered really strong candidates themselves but the hosts will be under the microscope in terms of how they react to last week's embarrassing 29-3 loss at Seattle.
Jim Harbaugh's outfit looked anything but a team destined for another deep run in the play-offs.
The run game was non-existent, wide receiver Anquan Boldin, who had racked up over 200 yards in the first game, did not catch a ball until the fourth quarter while quarterback Colin Kaepernick was given little time to operate by a super-aggressive defense.
But perhaps what will have upset Harbaugh most would have been the self-inflicted wounds. The 49ers gave up 105 yards in penalties on the night with players repeatedly showing a lack of composure against their fiercest NFC West rivals in a cauldron atmosphere.
That said, I am expecting a response of a positive nature.
The 49ers remain a hugely talented and exciting team and to be honest, it is rare these days to see even the best go through a season without one or two hiccups along the way.
Players and coaching staff have talked this week of how things will be turned around with running back Frank Gore saying: "We have got to get it done. No matter what."
He should certainly have more of a chance to kick-start the ground game facing a Colts defense that is currently ranked 29th against the run.
But the visitors have big news of their own this week on the other side of the ball after a blockbuster trade for Cleveland running back Trent Richardson that has come as a real shock to the NFL.
Richardson is barely into his second year after being taken third in the draft by the Browns in 2012. It seems he has - bizarrely - been deemed surplus to requirements in Ohio but their loss is a massive boost in Indianapolis as the whole trade seems to have re-energised the franchise after they suffered some key losses on offense over the past week.
How much game time Richardson gets remains to be seen despite head coach Chuck Pagano saying he is "not here to be the waterboy" while he does face a stout run defense on home soil who will not want a high-profile, opposition running back making the headlines in Monday's newspapers.
Throw in as well that the game sees Colts quarterback Andrew Luck face his old Stanford coach Harbaugh and you once again have a typical NFL match-up containing a handful of interesting side issues to go alongside the main event.
Although the Colts have the potential this season to remain on their upward curve, I don't think they will face many tougher games than this and I expect the 49ers to get their act together and enjoy a comfortable evening.
Verdict: Indianapolis 14 San Francisco 31
Best of the rest:
The New York Giants stand on the brink of an early crisis having lost their first two games with a couple of pretty sloppy efforts.
They are now on the road in Carolina, another team still to break their duck, and I think the visitors are well worth support to arrest their slide getting a start of 1.5 points.
"There has to be a sense of urgency," said defensive end Justin Tuck so expect a team of veterans with a savvy head coach in Tom Coughlin to look a lot sharper as three opening defeats would take some overcoming looking at the bigger picture.
Week Three verdicts:
Arizona 17 New Orleans 34
New York Giants 24 Carolina 16
Cleveland 6 Minnesota 20
Green Bay 24 Cincinnati 20
Houston 21 Baltimore 16
San Diego 23 Tennessee 17
St Louis 20 Dallas 23
Tampa Bay 17 New England 24
Atlanta 16 Miami 21
Buffalo 9 New York Jets 16
Jacksonville 6 Seattle 24
Chicago 20 Pittsburgh 21
Oakland 12 Denver 31
Preview posted at 1610 BST on 21/09/2013.