Get rich with Randle at 10/3
David John has three selections as he previews Sunday's live action in week two of the NFL.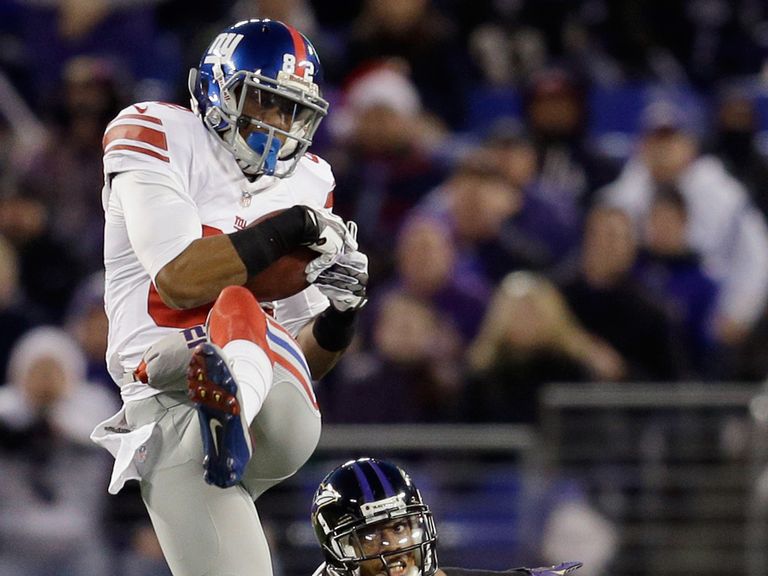 He expects Chicago to cover the handicap against Minnesota while he also has two anytime touchdown scorer bets.
Rueben Randle looks good value for the Giants while Ben Tate really caught the eye for the Texans last week.
Minnesota at Chicago (1800BST)
The Vikings appear up against it once more at Soldier Field as they try and improve on a recent 1-11 record having dropped the last five encounters against their NFC North rivals in Illinois.
The prospects of arresting the slide don't look particularly great either having lost 34-24 in week one on the road at Detroit.
An early 78-yard touchdown run from the incredible Adrian Peterson was soon eclipsed by another sub-par effort from Christian Ponder as the Lions took advantage of three interceptions and a lost fumble with Minnesota's quarterback seemingly in an increasingly precarious position in terms of job security.
He now faces a rival who has forced 14 turnovers in the above five-game winning streak and one that has averaged 36 points per game as he attempts to rebuild his fragile confidence and take the franchise forward.
Tight end Kyle Rudolph is a quality performer but it is Peterson who remains the fulcrum in this team's offence. But the Bears will have been studying film of Detroit all week as after his early scamper to the end zone, Peterson was held to just 15 more yards on 17 carries.
Neutralise Peterson and the rest should take care of itself.
While Chicago have under-achieved themselves, they look to have found a fresh belief under new head coach Marc Trestman and his more offensive-minded philosophy replacing the much-maligned Lovie Smith.
That should mean Jay Cutler at last finally reaching somewhere near his potential under centre and the signs, you would have to say last week, were promising.
Trailing 21-10 at home to the Bengals, they fought back to win 24-21 with Cutler orchestrating scoring drives of 80 and 81 yards.
I would certainly not be rushing off to back them for the Super Bowl but that has to be an encouraging sign for the long-suffering fans in Chi-Town.
There should be more to come too from versatile running back Matt Forte while Cutler must have been delighted behind his two new rookie offensive linemen, who kept him protected and importantly, upright.
Ponder seems to have the backing of his team-mates for now but he still seems unable to make defenses pay despite them stacking the box with eight men in a bid to stop Peterson.
His lack of self-belief at the moment going against a team that will come up with the big turnover leads to a conclusion of the Bears covering the spread on this occasion.
Verdict: Minnesota 10 Chicago 27
Denver at New York Giants (2125BST)
It is Manning Bowl III as Eli hosts big brother Peyton at MetLife Stadium in New Jersey, the venue for the Super Bowl in February.
Peyton holds the upper hand with a 2-0 advantage from his Indianapolis days and his Denver team are 4.5-point favourites to make it three out of three for him.
It is fair to say as well he enjoyed a better time of it in week one.
While he was throwing a record-equalling seven touchdown passes in the 49-27 dismantling of current Super Bowl champions Baltimore, Eli was overseeing his side self-destruct in Dallas.
Head coach Tom Coughlin stood on the sidelines and watched the Giants commit three turnovers in their first three possessions in what he described as the "worst half of football I have ever seen".
Another three turnovers followed but somehow the Giants still only managed to lose the game 36-31 with Manning passing for 450 yards.
Eli has proven in the past what a very short memory he has and an ability to move on and forget bad displays. What is more worrying though was running back David Wilson's two lost fumbles.
He cut a forlorn figure sat on the bench and the Giants have been perturbed enough to sign Brandon Jacobs off the streets after a shambolic spell last season in San Francisco.
He has had nine months out of the game after very little action with the 49ers so what sort of shape he is in, who knows?
Wilson still seems to have the trust of Coughlin and the team after a meeting on Monday - he is too much of a game-changer to discard out of hand and I would not be shocked to see him given another shot.
Nor would I be shocked to see a more efficient effort from the Giants.
While the wheels were sporadically falling off in Texas, wide receiver Rueben Randle had an excellent game with five catches for 101 yards.
He is going to have a tough time dislodging Victor Cruz and Hakeem Nicks at number one and number two but Coughlin has always thought the world of this guy and he showed some real poise last week in difficult circumstances.
Bet365 have chalked him up at 10/3 for a touchdown anytime - that looks lovely and the best bet of the game.
Verdict: Denver 28 New York Giants 24
Best of the rest:
Houston host Tennessee on Sunday and I like Ben Tate to score a touchdown a some stage for the former at 11/10 with Sky Bet.
Tate remains a very useful second choice behind Arian Foster but I thought he ran with real speed and ferocity in their opener at San Diego for his 55 yards on nine carries.
His effort clearly caught the eye of head coach Gary Kubiak, who revealed in the week that he and Foster are likely to share the workload a bit more evenly - which should be beneficial to both in the longer term.
Tate to hit the end zone at some stage this week represents decent business.
Week Two Verdicts:
Carolina 14 Buffalo 17
Cleveland 17 Baltimore 20
Dallas 21 Kansas 14
Miami 16 Indianapolis 21
San Diego 26 Philadalphia 33
St Louis 21 Atlanta 26
Tennessee 12 Houston 28
Washington 17 Green Bay 30
Detroit 24 Arizona 23
New Orleans 31 Tampa Bay 21
Jacksonville 9 Oakland 16
San Francisco 38 Seattle 16
Pittsburgh 18 Cincinnati 28
Preview posted at 1940 BST on 13/09/2013.