Colin can land a touch
David John believes Colin Kaepernick can live up to the hype as he previews the weekend's action in the NFL.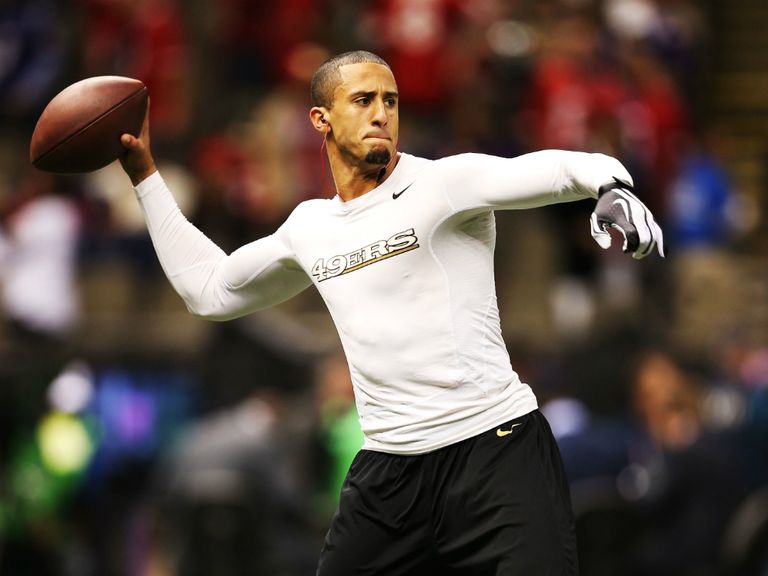 Atlanta could be set for a close encounter with New Orleans while second-year quarterback Colin Kaepernick looks set for a big season and David believes he's worth backing to score a touchdown.
Atlanta at New Orleans (1800BST)
The Saints are one of our outright picks for the Super Bowl next February and are hosting NFC South rivals Atlanta in a fascinating opening encounter for a team that welcomes back head coach Sean Payton after a year's hiatus.
Payton was one of the coaching staff punished for their involvement in Bountygate as the NFL served up a lengthy suspension. The Saints slumped to a losing 7-9 record and the return one of the league's best offensive playcallers means some cause for optimism in the Big Easy.
The excitement is palpable but Payton has been at pains to try and deflect some focus from his comeback and insists - rightly - that football still comes down to the fundamentals of passing, blocking and tackling.
That said, quarterback Drew Brees is sure to have an extra spring in his step with his old ally back on the sidelines as the pair look to boost their 10-2 record together against the visitors.
It is the other side of the ball that is a concern with Rob Ryan now taking over as co-ordinator on a unit that set new records for ineptitude last season. It is hoped that the players buy into both his charisma and new 3-4 scheme quickly - they lack any real star quality and that has been shorn further with linebacker Jonathan Vilma out for the opening weeks of the season due to persistent knee trouble.
So unless there is an instant turnaround in that department, the Falcons will be optimistic of some success in this game themselves considering they have a dynamic wide receiver combination in Roddy White and Julio Jones while record-breaking veteran tight end Tony Gonzalez has agreed to shelve retirement plans for at least one more season.
Steven Jackson arrives from St Louis to be the feature running back in place of the regressive Mike Turner and although Jackson has plenty of miles on the clock, he should provide an upgrade at the position.
The Falcons were the NFC's number one seeds last year after their 13-3 record and they only came up a game shy of the Super Bowl so clearly have a little less to prove than the hosts in terms of this fixture.
But I don't underestimate the influence of Payton's return for one second and there is little doubt the Saints' offense with Brees, Jimmy Graham and Darren Sproles can paper over plenty of the cracks they may have in the early stages on defense.
Seven out of 10 meetings between these two have gone down to the last possession. Splitting the two teams is not easy so with that in mind we might be able to eke out a little bit of profit by backing both to come out on top by a narrow margin.
Verdict: Atlanta 23 New Orleans 27
Green Bay at San Francisco (2125BST)
Like Baltimore's game with Denver on Thursday night, this is a rematch from last season's play-offs which the 49ers won 45-31.
On that January night in the Bay area, second-year quarterback Colin Kaepernick truly came of age having been handed the starting job part-way through the regular campaign after Alex Smith went down with a concussion.
Kaepernick's athleticism saw him gallop all around Candlestick Park for a record 181 yards with Green Bay's defense grasping at shadows as he ran the game and ultimately guided his team to a mammoth 579 yards of offense in total on the night.
Kaepernick's performance will be key as the two teams lock horns again. Green Bay have spent a good deal of the summer preparing for the 'read option' offense that both the 49ers and week two rivals Washington run. They have even sent coaching staff down to college Texas A&M to get some of the lowdown on what looks they may see in the 49ers formations.
Their plan is try to unsettle CK often and early and with players like linebacker Clay Matthews they have the personnel to at least contain him and minimise the damage he can do with his legs.
"I would like to think that we are better prepared," Matthews revealed.
That said, head coach Jim Harbaugh may allow Kaepernick the chance to open up the playbook a little more in the passing game as he is not just a one dimensional player - he possesses an elite arm at this level well capable of beating defenses.
He is without favourite target Michael Crabtree this season due to a torn Achilles so his chemistry with new arrival and veteran Anquan Bolding and the relatively untested Kyle Williams will be something to monitor.
The Packers offense behind Aaron Rodgers did manage to put 31 points on the board here when they last met but it is likely they will have their work cut out against a consistently hard-nosed defense.
One or two names may have departed but this is a unit who has some elite performers - Patrick Willis, Navarro Bowman and Justin Smith to name a few - and has featured among the best when it comes to defensive statistics over the past couple of years.
It will be up to Rodgers then to try and put his stamp on the game when he is on the field. He should have an extra dimension to help after they drafted running back Eddie Lacy in April - he gives his new employers a tough, between-the-tackles rusher who had over 1,300 yards in his final season in college at BCS champions Alabama.
However, he is up against a defense that has allowed just 10 rushing touchdowns in two seasons while Rodgers will have his fingers crossed that the line in front of him stands up a bit better, particularly with rookie David Bakhtiari guarding his blind side - he took 51 sacks last season.
The 49ers are favourites by 4.5pts but this is all about Kaepernick. The Packers claim to be more ready for him but it may still not be enough - an odds-against quote for him scoring a touchdown is worth an investment.
Verdict: Green Bay 21 San Francisco 27
Weekend Verdicts:
Cincinnati 21 Chicago 18
Kansas City 16 Jacksonville 12
Miami 16 Cleveland 20
Minnesota 14 Detroit 21
New England 28 Buffalo 16
Oakland 3 Indianapolis 17
Seattle 21 Carolina 24
Tampa Bay 17 NY Jets 10
Tennessee 10 Pittsburgh 24
Arizona 14 St Louis 17
NY Giants 16 Dallas 20
Philadelphia 21 Washington 16
Houston 18 San Diego 21
Preview posted at 1515 BST on 06/09/2013.