Catch some 12/1 on dynamic Dez
David John picks out his best bets for most receiving and passing yards this season in the NFL.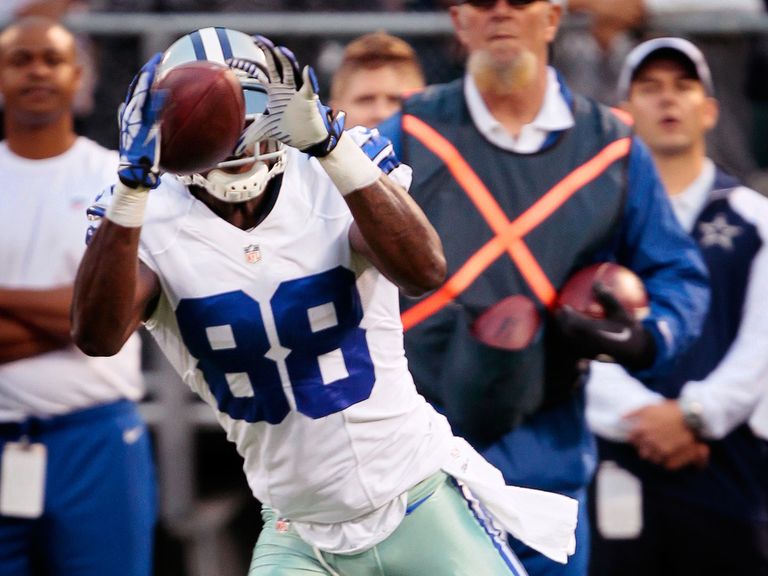 Dez Bryant has perhaps treated the NFL as a bit of a game since arriving on the scene in 2010 but the time may well have arrived for him to elevate himself to superstar status among the game's wide receivers.
Dallas held extremely high hopes that their first-round pick would step in and make an immediate impact but the former Oklahoma State standout has taken his time to adjust - or more accurately, grow up.
A number of off-field incidents have been a distraction throughout his first three seasons but there were definitely signs in the second half of last year that the penny had finally started to drop.
That translated to some incredibly productive play and his 10 touchdown catches in the final eight weeks led the league. If you hypothetically projected his yards gained over that period to a full season he would have topped 2,000.
I am not saying that is a cast-iron theory but it does highlight the tremendous physical potential Bryant possesses now he has got his head in the right place and can focus fully on performing at his best for the Cowboys.
Bear in mind as well he played the final three weeks with a badly broken finger but proved virtually unstoppable in week 16 against New Orleans when he hauled in nine catches for a whopping 224 yards and a couple of scores.
Quarterback Tony Romo has signed a new big deal to stay with the Cowboys and that is only good news for Bryant as well.
Romo is not scared to put the ball up for grabs downfield in the general direction of Bryant, if required, with the latter's 6ft 2in, 222lb frame able to dominate physically against any defender on the field.
Bryant's new-found maturity seems to have blossomed during training camp too with a 'team-first' ethic, so if he does put it all together and eliminate the mental lapses when the serious business starts, he can make a massive impact at 12/1.
A potentially big rick at the prices could be the 100/1 offered for Jimmy Graham to be gain most receiving yards this season.
The 6ft 7in tight end for the New Orleans Saints saw his productivity drop off somewhat in 2012 but a glance back to 2011 saw him hit the frame in this market with over 1,300 yards in receptions.
Last year was a bit of a shambles for the Saints with the Bountygate affair leaving coaching staff - including head coach Sean Payton - suspended as they struggled to a modest 7-9 record.
Graham still led the Saints in receptions with 85 (99 in 2011) but I have little doubt that his numbers will be back on a steep upward curve with Payton back at the helm and a talented team that has a point to prove.
I am inclined to agree with Graham that he believes he can be even better than 2011 as hard as that may seem but a strong training camp with quarterback Drew Brees and off-season surgery to sort out a nagging wrist injury could see him smashing records once again.
"Me and Drew are already in mid-season form. We are more dynamic offensively than we have ever been," was a quote from Graham recently - if you throw in the fact that he is in the final season of his rookie contract, he has every reason to turn on the style and rack up the yards.
All in all, I even think that the 40/1 on offer is generous so 100s looks an absolute steal. The problem is Paddy Power only bet 'to win' so I'll instead take the 66/1 and back the each-way option elsewhere.
Moving on to the quarterbacks and most passing yards, two players catch the eye - one pretty obvious the other a little less so.
Detroit's Matthew Stafford falls into the former category as the 7/1 third favourite in the betting and once again looks well worth following based purely on the number of passes he will attempt.
He smashed the NFL record in that category last year with 727 on the way to amassing just under 5,000 yards in total and while his mechanics have been questioned by purists, Stafford has proven an ability to get a ball to his receiver even if his technique can break down under duress.
He has last year's leading pass-catcher in Calvin Johnson to go up and get the ball along with the reliable Nate Burleson while tight end Tony Scheffler continues to improve.
New arrival Reggie Bush at running back adds another extra dimension too for the new campaign with his ability to catch the ball consistently coming out of the backfield.
2011 saw Stafford break through the 5,000-yard barrier and with the Lions' whole offensive strategy revolving around the arm of their quarterback, another big year statistically looks on the cards providing he can stay upright.
Sam Bradford at St Louis is a bit more of a speculative option at 80/1 but there are reasons to think that he could be ready to make a real impact in the league.
The three-year starter has looked poised during pre-season and now could be the time when he really starts to shine under head coach Jeff Fisher with the Rams finally starting to give him some viable threats downfield.
They drafted the ultra-speedy Tavon Austin in April while Jared Cook was a big-name free agency acquisition in the summer from Tennessee.
An improved offensive line, anchored by Jake Long, should give Bradford the necessary protection to use his elite arm strength to the maximum so it should be a case of the rest of the league having to watch out once the offense all get on the same page.
There is continuity too among the coaching staff with Brian Schottenheimer returning for a second season as offensive co-ordinator, Bradford naturally admitting that he is getting more comfortable in the system having endured three changes in that area already which have left him battling to catch-up.
It is not under debate that this is a young group on offense and there will be times when they don't all fire but Bradford seems to be embracing the role of leader on the team and it should see his numbers increase significantly for a team that has an outside chance of the post-season.
Preview posted at 1530 BST on 02/09/2013.