The Long Game: Premier League
The Long Game assesses next season's Premier League markets with West Brom offering potential value.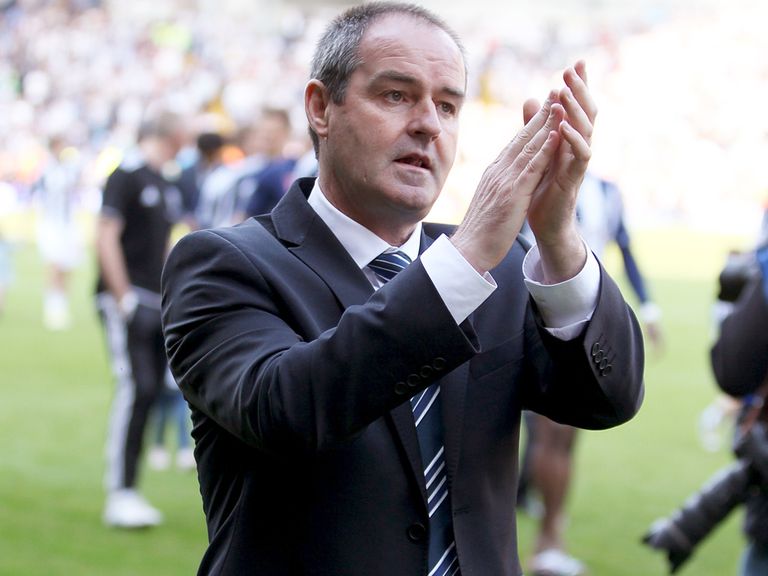 There's only one place to start when analysing next season's Premier League title race and that's by establishing one clear fact: this is realistically a three-horse race, writes Ben Coley.
Arsenal have next to no chance of winning the title. Every team has some sort of hope however forlorn, but theirs is in no way reflected by odds of 16/1. Something in the region of 40s would be more appropriate.
Tottenham, while holding scope to improve, have next to no chance, too. Perhaps they should also be 40/1. Needless to say, that doubles should Gareth Bale depart.
Liverpool have less of a chance than both, and that's if they manage to keep Luis Suarez who seems sure to be coveted by clubs who will be playing in the Champions League. Without him, reaching the top four will be very difficult let alone mounting a title challenge.
So we've a three-horse race in which both Manchester clubs can be backed at 2/1 and Chelsea, who've met support in recent weeks, can just about be backed at 3/1.
As ever with this particular feature, the first priority is not necessarily to predict who is going to win a trophy which won't be handed out for the best part of 12 months. Of course, that's the ultimate hope, but for now we want to see if we can back a team now who, come the first day of next season, may be significantly shorter.
Unfortunately, in the eyes of this writer this is a thankless task and the advice simply has to be no bet.
Let's take Manchester United as the first example of a side whose price looks about right.
On the one hand, their strike-rate of winning titles should make anything bigger than evens look worth taking but you don't need us to tell you that things have changed rather dramatically at Old Trafford.
It may be slightly over the top to predict that Sir Alex Ferguson's departure will facilitate a changing of the guard; the beginning of a demise that will see United forced to rebuild under a manager whose experience at this level is non-existent.
No, things should stay just about the same at Old Trafford. Sir Alex will presumably remain in a position of relative power and in David Moyes it's clear that the board have made an appointment designed to maintain equilibrium.
United remain the benchmark.
But should they be a shorter price than they were prior to the 2012-13 season, when they'd just signed the hottest striker in the Premier League? Probably not.
It seems likely that prices about City and Chelsea will prove the more volatile.
City, first and foremost, have such financial firepower that it's hard enough to predict which stars will adorn their starting line-up come next season let alone how that will be reflected in their price.
With no manager in place at the time of writing, theirs is a period of instability and having disappointed in their title defence it's very difficult to argue they're value at 2/1. At the same time, we have to acknowledge that one or two big-name additions could make them extremely popular with punters.
Perhaps not as popular as Chelsea, however.
The projected return of the special one mean backers have already been out in force, seemingly of the collective belief that Jose Mourinho in and Sir Alex out is enough to see Chelsea bridge what has been a widening gap of late.
They may well be right, but Mourinho's Real Madrid have been no match for a vulnerable Barcelona in La Liga and his relationship with Roman Abramovich has to be a cause for concern.
Chelsea may shorten regardless but at this stage punters are making several assumptions - that Mourinho will indeed come to Stamford Bridge, that he will be given backing to make what are required changes and that after these changes his side will be closer to those from Manchester.
It's a leap of faith and a general 11/4 isn't particularly inviting.
West Brom are hardly one of the top flight's glamour clubs and subsequently draw little attention, writes Andy Schooler. In many ways, an eighth-placed finish deserves much more credit, yet the lack of media coverage surrounding the club has also failed to highlight that the Baggies have endured a miserable second half of the season.
A record of four wins, four draws and 11 defeats in the second half of the campaign is relegation form and in reality their finishing position has masked the fact that they are much nearer to the relegation zone (13 points) than European football (23 points).
The question here is whether their malaise of the last four and a half months will continue when the new campaign begins and I would argue it certainly could.
It is hard to ignore the one big media story which surrounded West Brom this season - Peter Odemwingie's bizarre deadline-day drive to QPR.
While the events of January 31 did not coincide exactly with the Baggies' decline, it is hard not to link the poor second half of the season to the Nigerian's antics.
If I were a West Brom fan, of most concern would be the effect it has left in the dressing room. Steve Clarke's handling of the affair seemed odd to say the least. While he may have had one hand tied behind his back by a board looking to protect the value of an asset, Odemwingie's inclusion in matchday squads in recent months must have left a sour taste among the playing squad.
While the player will likely move on in the summer, that taste may prove more difficult to get rid of and the happiness of a squad which started Clarke's reign so well will be tough to recreate.
In addition, Romelu Lukaku, top scorer with 17 league goals for the Baggies and an undoubted loanee success story, could well be back at Chelsea by the time August arrives.
Of course, we don't know right now what the ins and outs will be at the Hawthorns this summer but history shows the Baggies are not ones to splash the cash. It's a tight-run ship and the likelihood is the squad that starts next season will not be too different to the one which has just taken 16 points from the final 19 games.
You can get 10/1 about West Brom going down now which looks fair enough. Certainly it's a worthy back-to-lay price.
The issues highlighted above will likely be spoken about on wider scale come pre-season and I wouldn't be surprised to see the Baggies go off shorter in the market.
Another club already being mentioned in places as possible value in the relegation market are Everton.
The loss of David Moyes undoubtedly is a major blow and key players Leighton Baines and Marouane Fellaini are likely transfer targets of big clubs this summer. Throw in the fact that it's a small, ageing squad at Goodison Park and you can see where the theory comes from.
They are already as short as 8/1 which makes the 33/1 offered elsewhere immediately look big. The latter price may well be a back-to-lay consideration as it could well shorten, particularly if Everton appoint from within - under-21 team boss Alan Stubbs has already been well backed.
However, in terms of a running bet, few can truly expect Everton to go down. Their points tally from this season would have to almost half and whoever takes over will find players who give their all and are a tough bunch to beat.
A Moyes-less Everton are likely to fall from their current heights but the slide looks more likely to be a gradual one.
Preview posted at 1035 BST on 20/05/2013.